AI copywriting tools such as Shortly AI Vs Simplified AI is becoming more popular these days.
But, it can be difficult to know which AI copywriting tool is the best for you. How to make sure you don't waste your time and money on the wrong tool?
Both Shortly AI Vs Simplified AI are popular copywriting tools that improve their services daily to compete with each other.
If you ever come across a post asking for advice on which of these two tools to pick, you'll find thousands of reviews with many pros and cons.
So, to help you make a decision, I have compared Shortly AI Vs Simplified AI in several areas, such as price, ease of use, quality of output, and features. To get a good idea of their strengths and weaknesses.
This would help you decide which of the two is the better option for you.
That's exactly what I did. So read on my Shortly AI Vs Simplified AI comparison to find out which AI writer is the right fit for you?
Shortly AI Vs Simplified AI: general info
Simplified AI is a more popular choice than Shortly AI because it is known for low prices and providing a wide range of content solutions that exceed expectations. Meanwhile, Shortly AI focuses only on writing.
It looks like there are more differences than similarities between this two writing software. Here's a quick overview:
| Features | Shortly AI | Simplified AI |
| --- | --- | --- |
| ⭐Our Rating | 4.5⭐⭐⭐⭐⭐ | 4.8⭐⭐⭐⭐⭐ |
| SEO integration | Supports Surfer SEO | ❌ |
| Long-form content | ✔️ | ✔️ |
| Integration with third-party apps | ❌ | Shopify, Facebook, Instagram, LinkedIn, and more |
| Free trial | ❌ | (Free Plan) |
| Pricing model | Monthly / Annual Subscription | Monthly / Annual Subscription |
| Plagiarism checker | ✔️ | ✔️ |
| Templates | ✔️(commands) | ✔️ |
| Organizing: folders | ❌ | ✔️ |
| Chrome extension | ❌ | ❌ |
| Multilingual | ❌ | +23 languages |
| AI Technology: GPT 3 | ✔️ | ✔️ |
| High-Quality Output | ✔️ | ✔️ |
| Website | shortlyai.com | simplified.co |
Shortly AI Review
In this Shortly AI Review, I'll be covering what Shortlyai is, its pros and cons, pricing, and features. I'll also be providing examples of the content generated by Shortly AI.
What is Shortly AI?
Shortly AI is artificial intelligence (AI) content generation tool that helps users create content for social media, blogs, and other marketing materials.
The platform uses GPT-3 and natural language processing (NLP) technology to understand the user's intent and generate content that is relevant and engaging.
Pros and cons of ShortlyAI
There are several advantages of using ShortlyAI:
Easy to use
No need to download or install any software.
It can write any type of content such as blog posts, social media posts, books, etc…
High-quality content.
Cons of ShortlyAI
Doesn't include a free plan, and in the free trial, you only get 5 generations of content.
The price of the service is $79 per month, which may not be affordable for everyone.
You always need to double-check the facts and numbers.
No built-in plagiarism checker
Who is ShortlyAI For?
If you are a blogger, content writer, or even a student, ShortlyAI can help you write content faster.
If you are a busy person and don't have time to write articles, ShortlyAI can help you get the job done quickly.
If you are not a native English speaker, ShortlyAI can help you write better English.
If you want to save time on writing, ShortlyAI is the right tool for you.
What can Shortly AI write for you
With the help of ShortlyAI, you can write any type of content you want. Here are some great things you can write:
Improve your writing skills by rewriting sentences or paragraphs to make them sound more natural.
Come up with new ideas for articles, blog posts, stories, or even books.
Create summaries of longer pieces of writing.
Generate ideas for marketing campaigns or social media posts.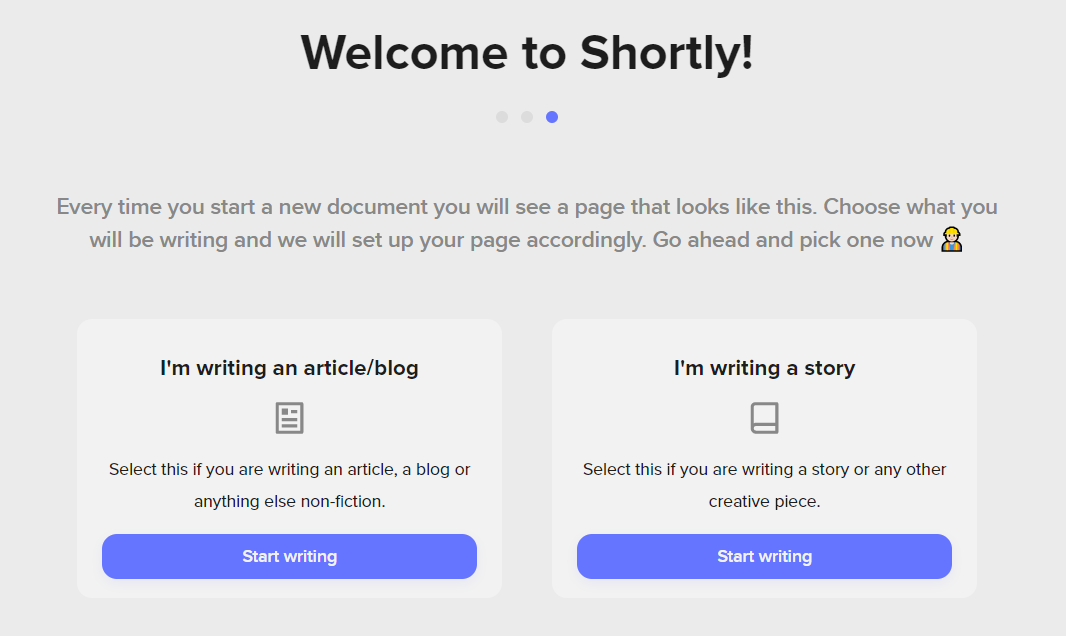 Here are two examples of content written by Shortly AI:
1. Blog posts
Blog posts are a great way to share your thoughts and ideas with the world, but it can be time-consuming to write them.
With Shortly AI, you can easily write blog posts on any topic. You can use the "instruct" command to write blog posts for your readers.
Suppose, you want to write a blog post about "What is SEO?". Then you can use instruct command like this:
\instruct[Write what is SEO?]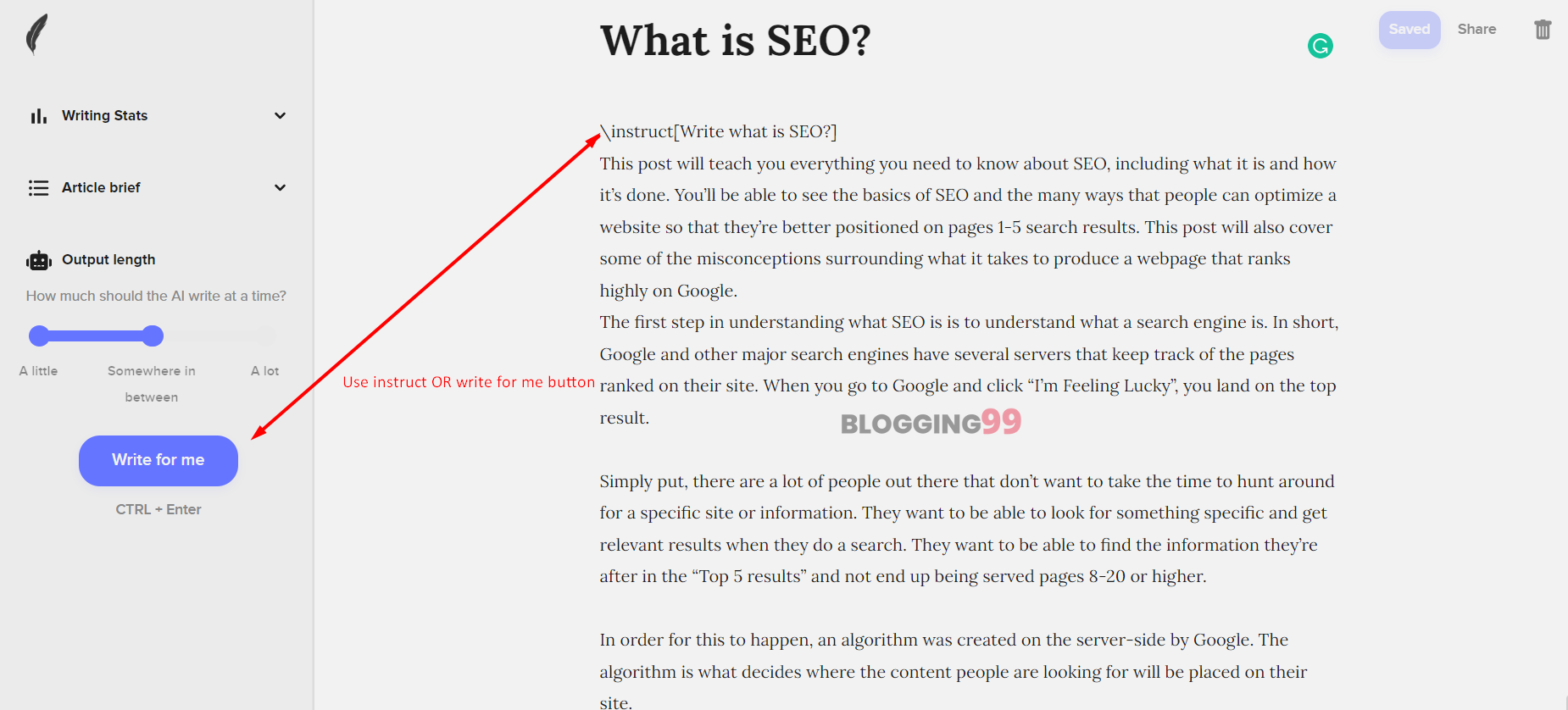 2. Copywriting Frameworks
Are you tired of copywriting that doesn't convert?
Would you like to learn how to write copy like a professional copywriter?
If so, Shortly AI can help.
With our AI-powered technology, you can create copy that sounds like it was written by the best copywriter in the world.
Plus, you can use any copywriting framework you want, including AIDA, Before-After-Bridge, and PAS.
So if you're ready to take your copywriting to the next level, sign up for ShortlyAI today.
PS This paragraph above except for this line was written entirely by Shortly AI.
I use this command:
\instruct[Write using AIDA Formula about How can Shortly AI help with Copywriting models.]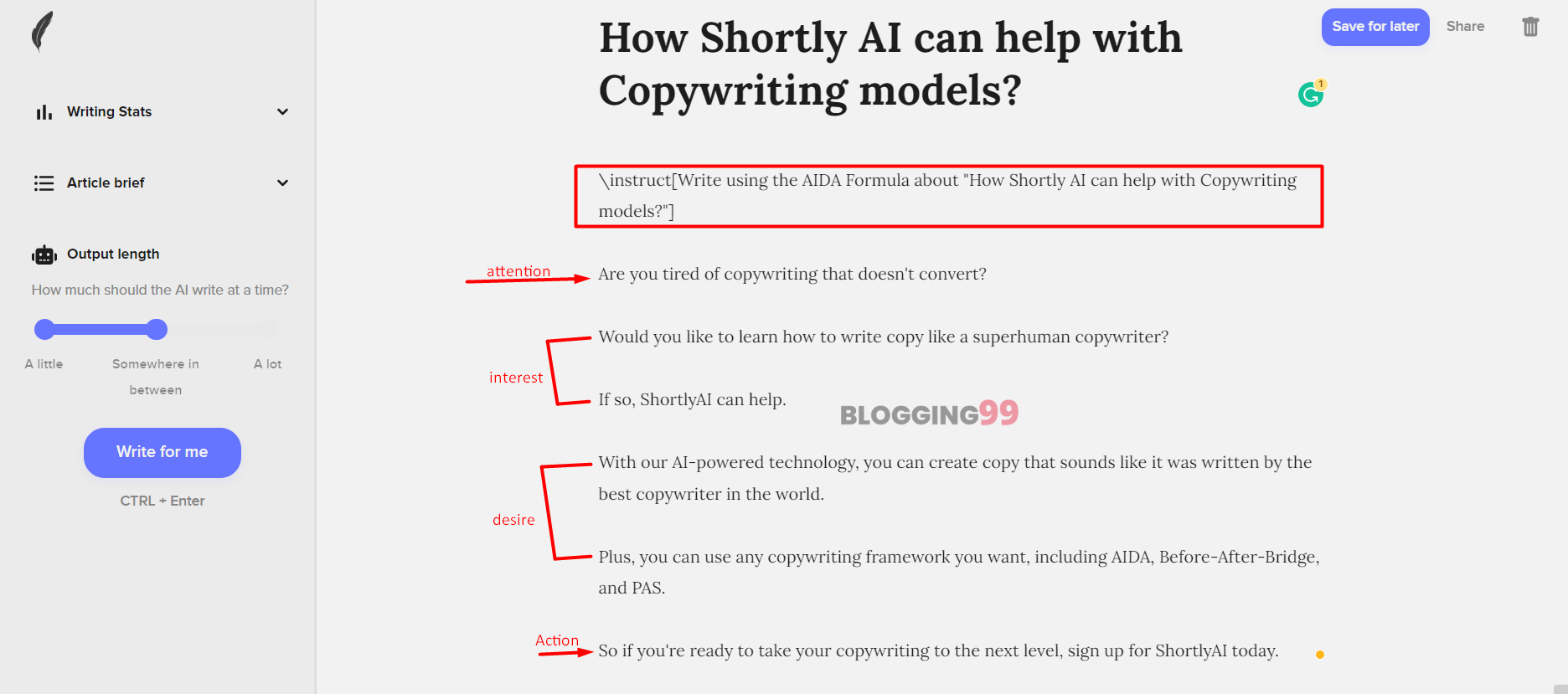 Watch this video to learn how to generate content on Shortly AI using commands:
Shortly AI Pricing
Shortly AI has two options:
With its monthly plan, you get unlimited word generation for just $79 per month. And if you opt for the yearly plan, you'll only pay $65 per month – that's two months free!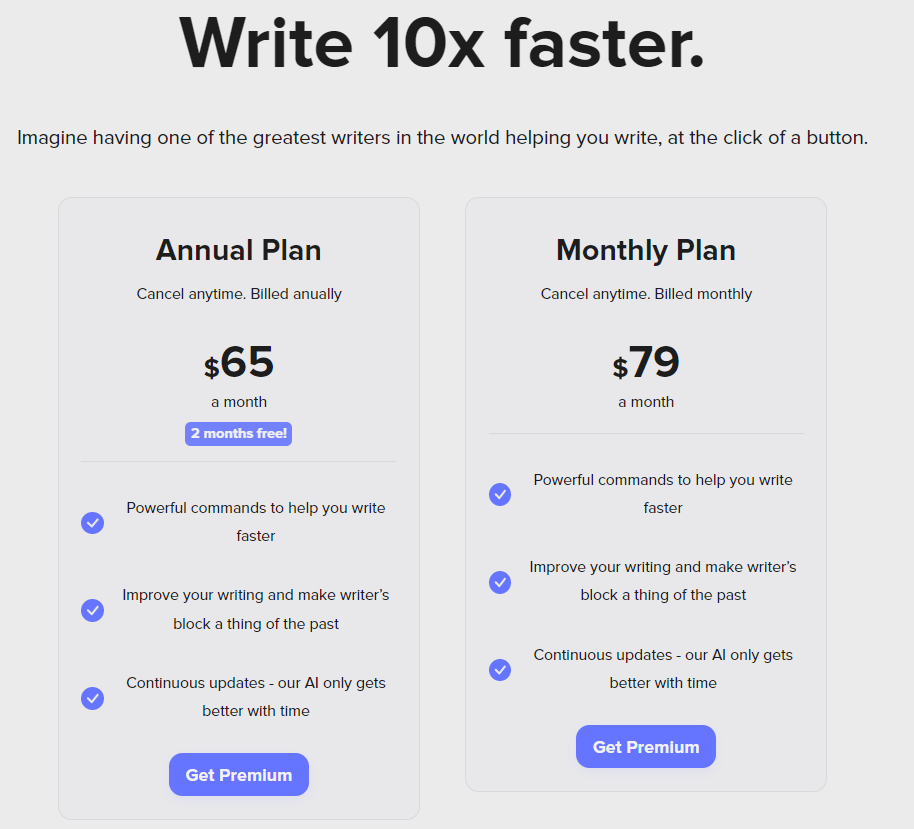 Update: Shortly AI has been acquired by Jasper AI, another popular AI copywriting tool.
Simplified AI Review
Let's take a detailed look at simplified AI:
What is Simplified AI?
Like Shortly AI, it is an AI content generation tool based on GPT-3 technology. However, it is a bit more user-friendly, with a simpler interface and more features geared towards content creation.
Who is Simplified AI For?
If you are a blogger, Solo freelance writer, Simplified AI can help you with content ideas, blog post outlines, writing articles, and so on.
If you are a graphic designer or video editor, Simplified AI can assist you with designing and creating better graphics and videos.
Simplified AI Core Features
Here are some of the features where Simplified AI is superior to Shortly AI.
Social media ads
Simplified AI is great for social media ads and content. With its many options, you can create ads that are truly effective and stand out from the rest. you have a lot of templates to choose from, such as:
Facebook ad copy headlines
Facebook ad primary text
Google ad descriptions
LinkedIn ad copy
Social media posts
Aside from its ability to write high-converting ads, Simplified AI has plenty of templates for writing all kinds of social media posts, such as:
Youtube video titles
Youtube video descriptions
Youtube video tags
Linkedin profile
Linkedin invitation
Hashtag generator
Social media quotes
And many more
Blog post templates
Shortly AI long-form blog post template can be costly.
As a good alternative, Simplified AI has a suite of blog post templates that can help you write a blog post without getting distracted or having difficulty flowing.
This can help generate:
Blog post titles
Blog post outline
Blog section completer
Copywriting Frameworks
Simplified AI also comes with a bunch of copywriting frameworks that you can use to structure your content. This makes it easy to write copy that's both effective and easy to read.
Some of the frameworks include:
AIDA framework (attention, interest, desire, action)
PAS framework (pain, agitate, solution)
BAB Framework (Before-After-Bridge)
The 4ps in marketing (problem, promise, proof, proposal)
Product Descriptions
If you're running an eCommerce store, Simplified AI can help you write product descriptions that sell. With its many templates and options, you can create descriptions that are both informative and convincing.
Amazon product listing
Product growth plan
Product name generator
Product value proposition
One-liner description
Product descriptions
Simplified AI also offers a wide range of features that make it a one-stop tool for all your design needs.
From AI-based design to social media scheduling and team collaboration, Simplified has everything you need in one place.
Cons of Simplified AI
The writing limit in the free plan is quite low: only 1k words per month.
Oftentimes, it can take a few tries to get wording that sounds natural, so you can sometimes have to either use a lot of credits for the same piece of writing or edit it yourself.
Simplified AI Pricing
Simplified AI operates on a freemium pricing model. The free forever plan gives you 1000 free words each month.
Here is a breakdown of the plans they provide: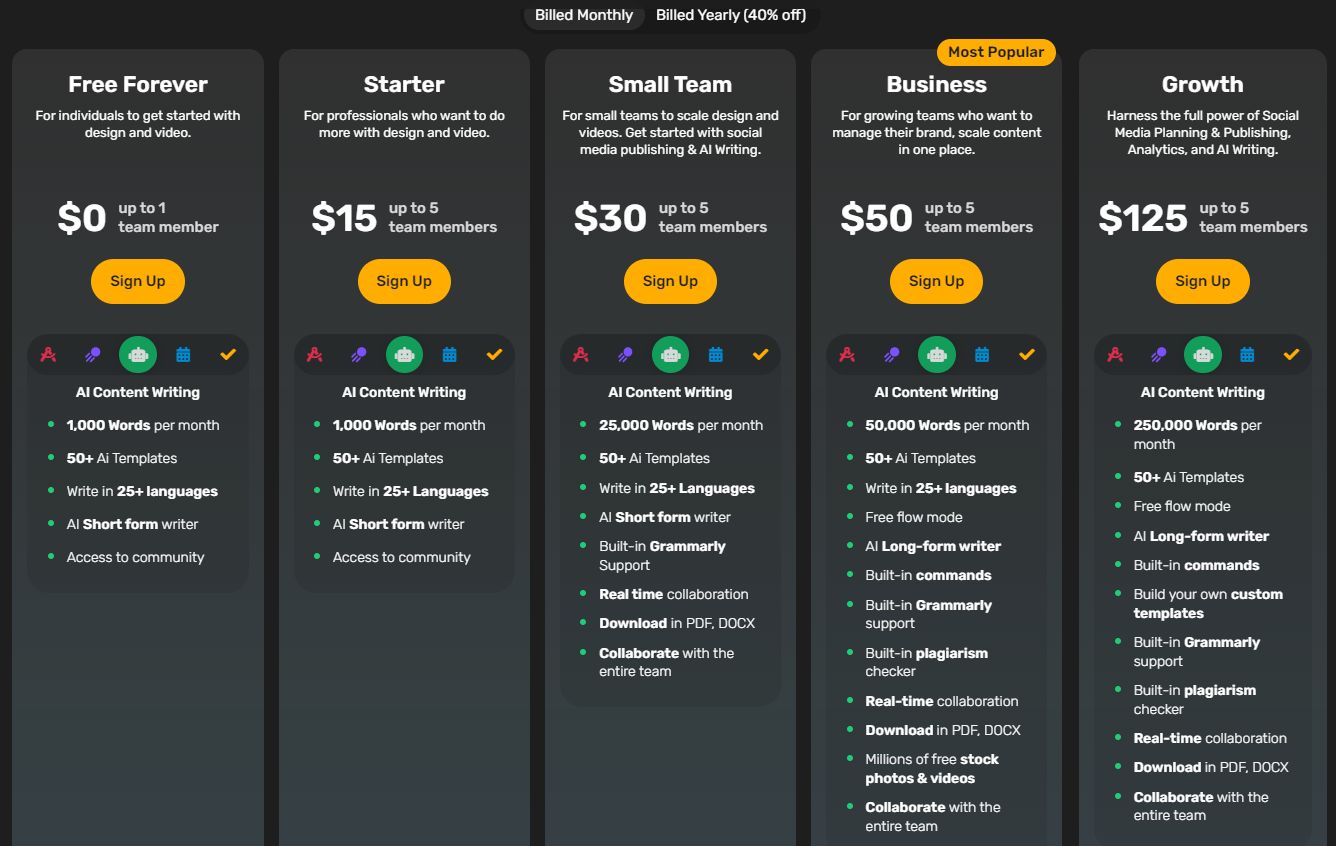 In the table below, I compared plans for the simplified AI content creation tool, To give you a quick summary of the features of each plan.
AI Writing
Free Forever
Starter
Small Team
Business
Growth
Monthly Pricing
$0
$15
$30
$50
$125
Annually Pricing
( 40% OFF)
$0
$108
$216
$360
$900
AI Words/Mo
1K Words
1K Words
25K Words
50K Words
250K Words
Long-Form
❌
❌
❌
✔️
✔️
Grammarly
❌
❌
✔️
✔️
✔️
Plagiarism Checker
❌
❌
❌
10K Credit

Unlimited credits

Free flow mode
❌
❌
❌
✔️
✔️
Regarding other features such as Video Editor & Animation, Graphics Design, and Social Media Publishing, you can compare them here.
Shortly AI Vs Simplified AI: Which AI Writing Partner is Best For You?
It depends on your needs. If you need a content generation tool that can write high-quality long-form blog posts, then Shortly AI is the better choice.
However, if you need a tool that is more user-friendly and has more features geared towards content creation, then Simplified AI is the best for you.
The major difference between them is that Simplified AI does well with generating social media content and other short-form copies, while Shortly AI performs well with long-form content.
Luckily, there is now a tool that can bridge the gap between these two, called Jasper AI.
Jasper AI is a tool that is designed to help you write any type of content in a fraction of the time.
So, If you're looking for a content writing tool that will help you create great long-form and short-form content, ad copies, social media content, and more, then you should check out Jasper AI.
Read my full Jasper AI Review to learn more about this great tool.
In conclusion, This was my full Shortly AI Vs Simplified AI comparison. I hope this helped you decide which of these two AI writing tools is the best for you. If you have any questions or thoughts, please feel free to leave a comment below.