Are you looking for the best AI writing software to help take your blogging to the next level? If you're not sure where to start, or what kind of software is right for you, then this blog post is for you.
Here, we'll take a look at 10 of the best AI writing software tools available, including my top 3 choices, to help you decide which one is right for you.
So whether you're a beginner blogger or a professional writer, there's sure to be an AI writing tool that's perfect for your needs. Let's get started!
We're reader-supported. When you buy through links on our site, we may earn an affiliate commission. You can always rely on us for honest reviews of the products you want, without any bias or predisposition.
What is the Best AI Writing Software?
When it comes to finding the best AI writing software, there are a few different things to take into consideration.
First and foremost, you'll want to consider the specific features that you need to get the most out of your investment.
For instance, some writing software programs offer spell and grammar checker features while others focus more on helping you organize your thoughts and come up with new ideas.
Additionally, you'll also want to think about the price tag attached to each program. While many of them offer free trials, eventually you'll need to pay for a subscription to continue using the software.
With all of that in mind, let's take a closer look at 10 of the best AI writing tools currently on the market.
1. Jasper AI

The future of content marketing is here. With Power of Jasper AI you can generate long-form articles, headlines, and ads that are more interesting than ever before – it's time to make your next move into this new era!
Jasper can help you overcome writer's block and take your writing to the next level by providing assistance with grammar mistakes, spelling, organization, brainstorming, and coming up with new content ideas.
With its wide range of features, Jasper is the perfect AI writing software for those who want to improve their writing skills.
You can now automate your writing with the amazing power of Jasper! Start typing and let this program do all that hard work for you.
It knows how to format, punctuate, and capitalize properly without fail every time–it's like having a professional editor at hand 24/7 who is always available when needed most (and doesn't require an hour-long Skype call).
Check out my full Jasper AI review for more information about this tool.
Jasper templates come with an easy-to-follow, modern and clean design. These are perfect for those who want something simple and effective without any fuss!
Blog posts: jasper can write entire articles from scratch with minimal input. it can write the intro and conclusion paragraphs for each of the generated text, as well as body parts and headlines or quotes you want to be included in your article.
Product description: Jasper can be used to create compelling product descriptions that are both informative and convincing. it takes into account all the key points that should be covered, such as features, benefits, and pricing; and presents them in an easily digestible format.
Facebook Ad (Headline and Primary Text): Create a Facebook ad that is both catchy and relevant to your target audience. It understands the importance of creating headlines and Body text that are both accurate and attention-grab.
Google Ads (Headline and description): not only does jasper writes headlines and descriptions for your Google Ads, but it also includes a call to action that is most likely to result in a conversion!
Quora Answers: jasper is the perfect Quora answer generator. It takes into account the question being asked and provides a well-thought-out, comprehensive answer.
Youtube Video title and description: Create an attention-grabbing title and description for your YouTube videos that accurately reflect their content.
SEO – Title and Meta Descriptions: Improve your website's ranking on search engines by optimizing your title and meta descriptions.
Short social post
Email subject line generator
Ridiculous Marketing Ideas
Sales copy
And many other templates
Jasper AI templates examples: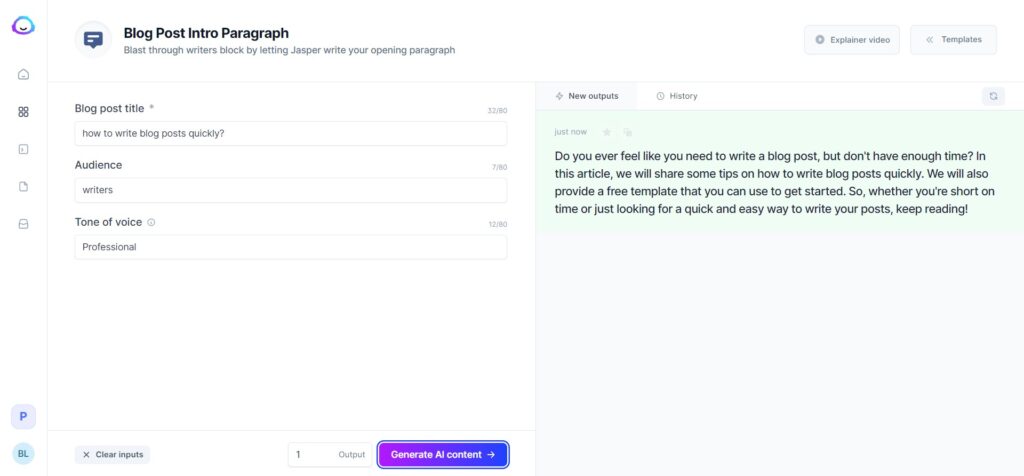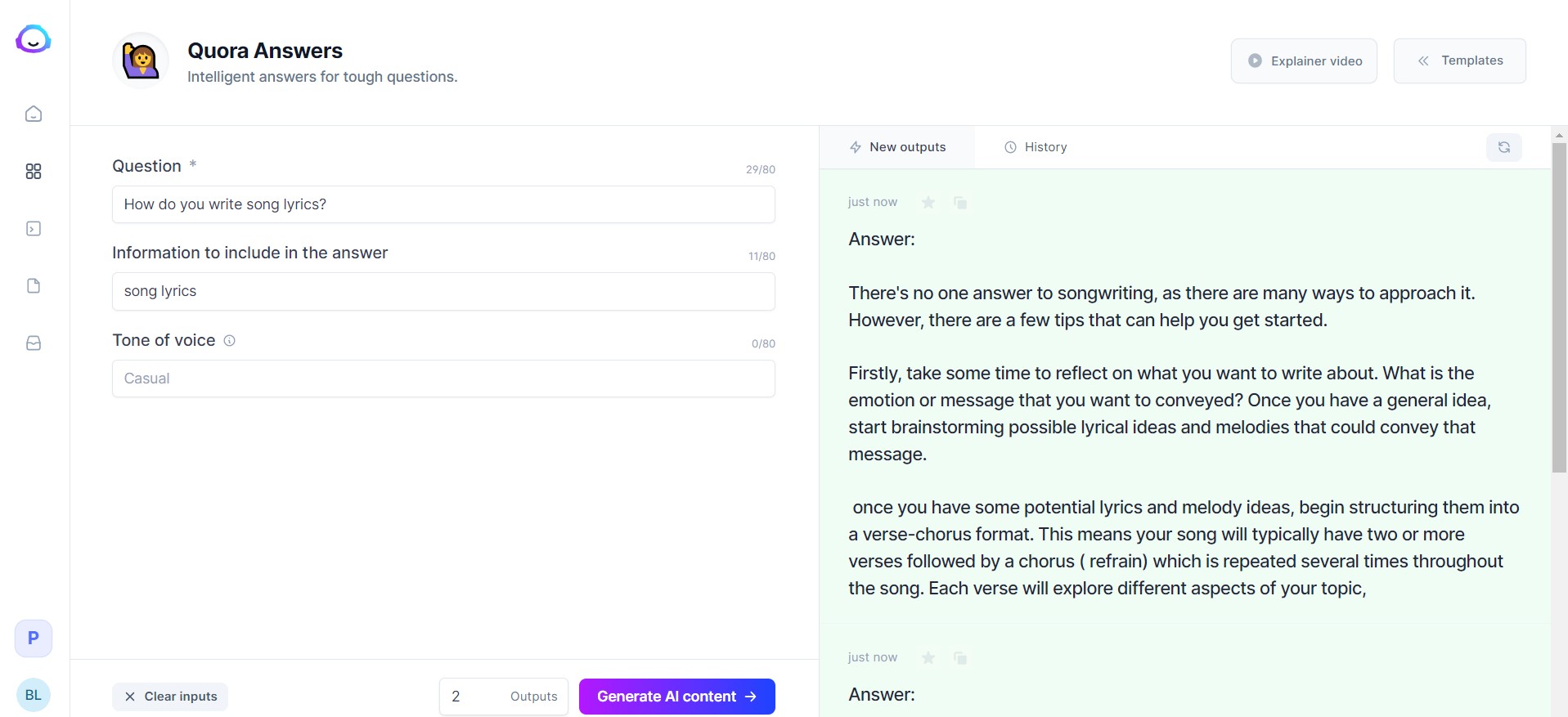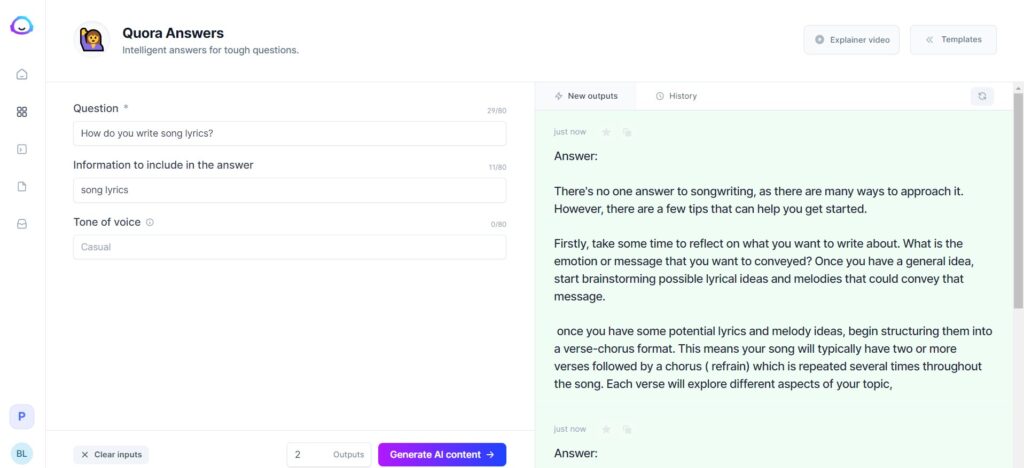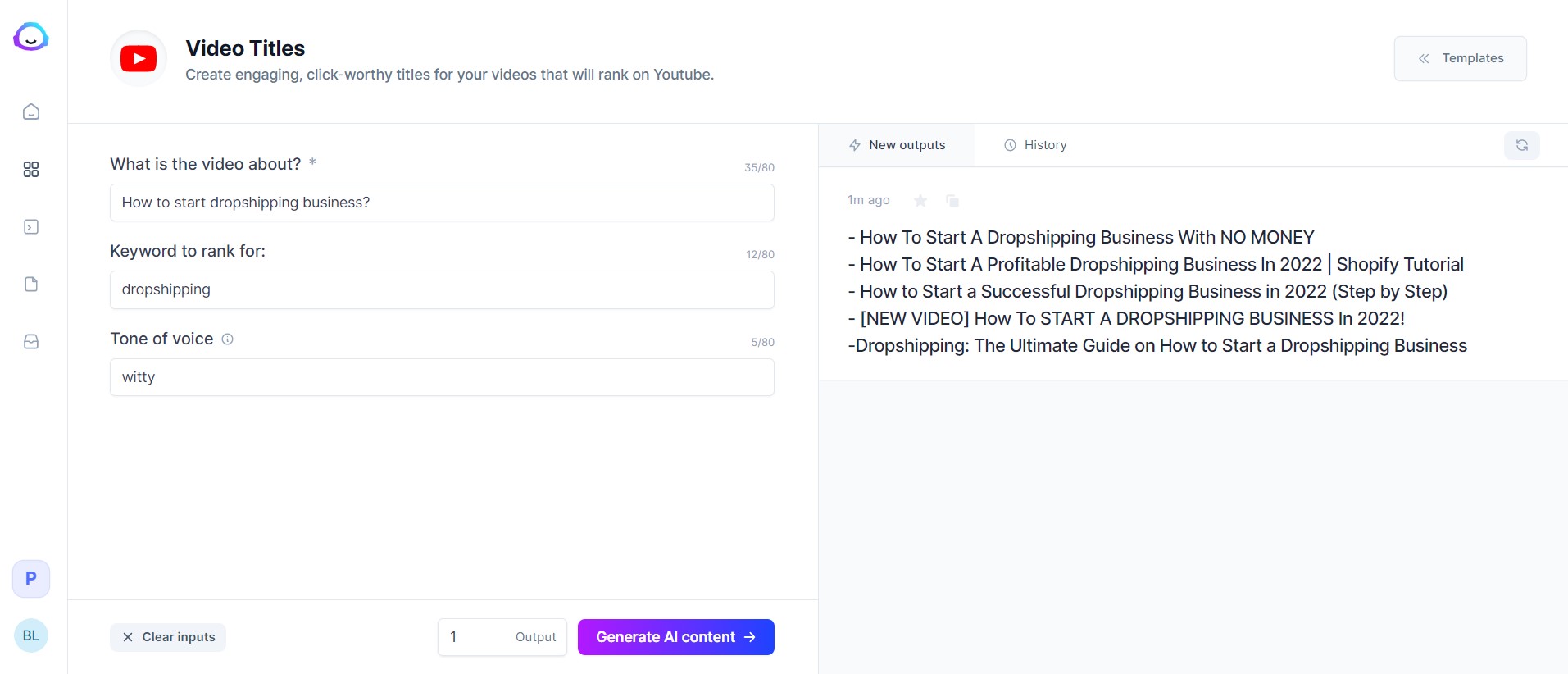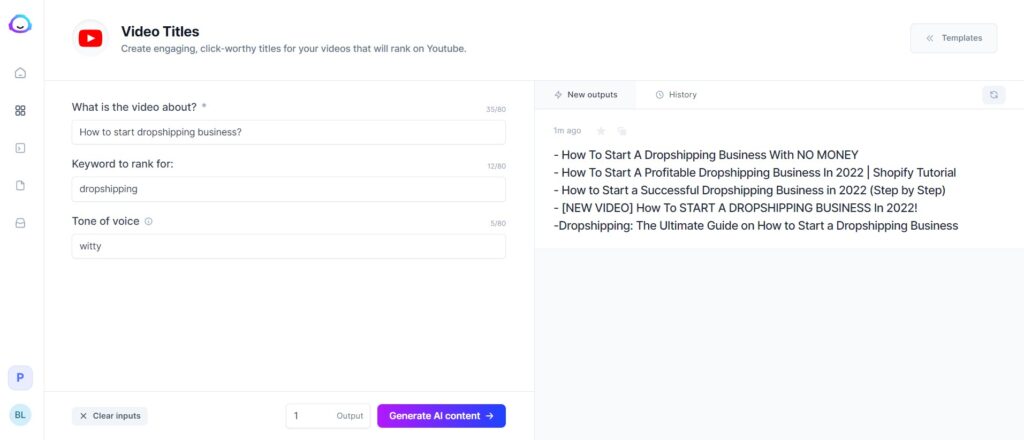 Jasper Main Features:
Get fast, high-quality copy that's custom-written for you with the power of artificial intelligence.
helps you create long-form content (+ 1500 words) with ease. No more spending hours on one sentence.
25+ languages supported: Currently, Jasper supports 25+ languages, making it one of the most versatile AI content writers on the market.
Get content written in a style that's consistent with your brand voice.
Brainstorm ideas for new content pieces with ease.
Get help with grammar, spelling, and punctuation.
Jasper is constantly learning and evolving to provide you with the best possible writing assistance.
Surfer SEO integration.
Plagiarism checker tool.
Excellent customer service
Now Some disadvantages:
The pricing structure is a bit confusing and it's not the cheapest option out there.
It takes a bit of time to get used to the interface and features.
Pricing:
Jasper AI has two plans: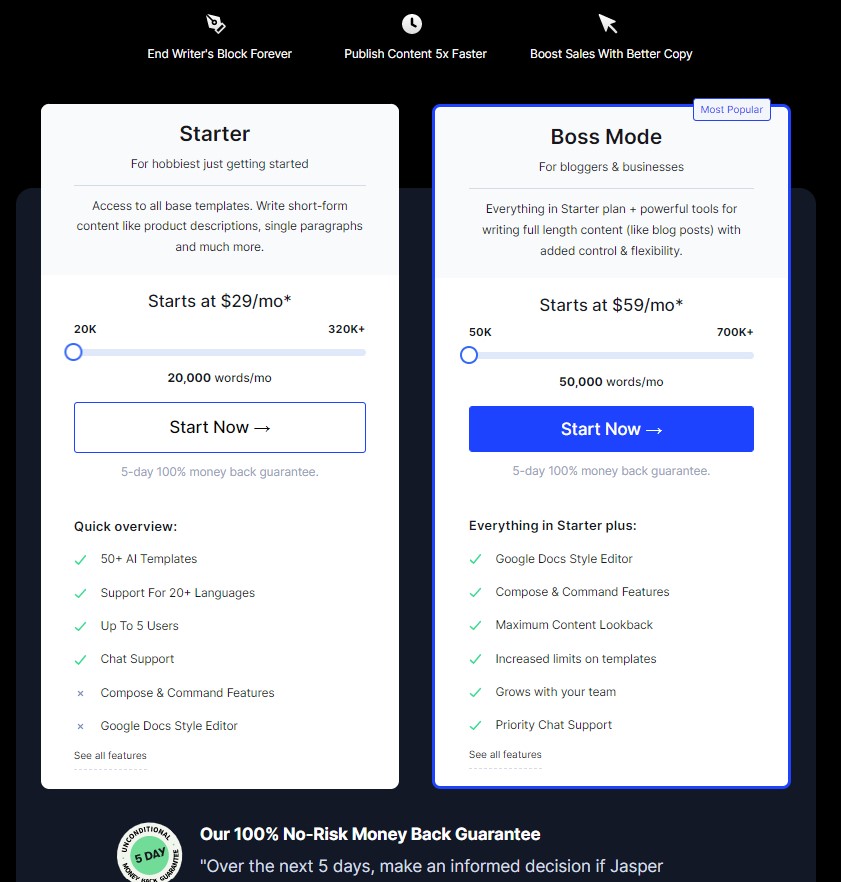 The Starter Plan – 29$/mo
If you're looking for a way to quickly and cheaply produce content, then check out this starter plan from Jasper. With up to 20K words per month plus 50+ different templates – it's perfect!
The only downside? This plan cannot create full-length blog posts from scratch.
The Boss Mode (long-form editor)– 59$/mo
The boss mode plan from Jasper comes with all of the features from the starter plan with up 50K words per month, plus the ability to create long articles from scratch, a plagiarism checker, Grammarly, and integration with Surfer SEO.
At $59 per month, it's slightly more expensive than the starter plan – but well worth it if you need all of the features!
Note: 65% of this entire article was written by Jasper AI software in about just 1 day, using their commands feature.

Surfer SEO is a content optimization tool with the Power of artificial intelligence that helps you analyze and improve existing content to rank higher on Google.
Surfer SEO analyzes your content and compares it to the top 10 results for your target keyword. It then gives you recommendations on how to improve your content to match or exceed the quality of those results.
The idea is to identify the commonalities between these pages and then apply them to your own site. This can be a great way to improve your chances of ranking highly in search engines.
While surfer SEO software can be a great tool, it is important to remember that it should only be used as a guide. ultimately, it is up to you to decide which changes to make to your site to achieve the best results.
This tool recently launched its own AI writing tool which can help you generate an outline, titles, headings, and paragraphs, and fill them with content.
All of the content is unique and keyword-optimized, making it easy for you to rank high in search engines.
On-Page SEO Audit: Optimize your existing articles based on data from the top 10 results.
Google SERP Analyzer: Find a correlation between the position in search results and on-page factors.
SEO Content Editor: Write and optimize your blog post directly within the Surfer suggestions.
Brief: creates AI outlines based on the keywords, phrases, or concepts extracted from the text so far – this means it'll be able to tailor its recommendations specifically for each individual user!
Free Chrome Extension lets you check monthly search volumes for keywords you search and Get content guidelines for it.
Keyword Research More advanced than free Extension.
Jasper integration: To make the content creation and optimization process better than ever.
Grow Flow
Now Some disadvantages:
The output of the Surfer AI writing tool can sometimes be confusing and short, as you cannot create long-form content based on a surfer alone. this is where the Jarvis integration comes in.
Pricing:
There are 3 pricing plans for Surfer SEO: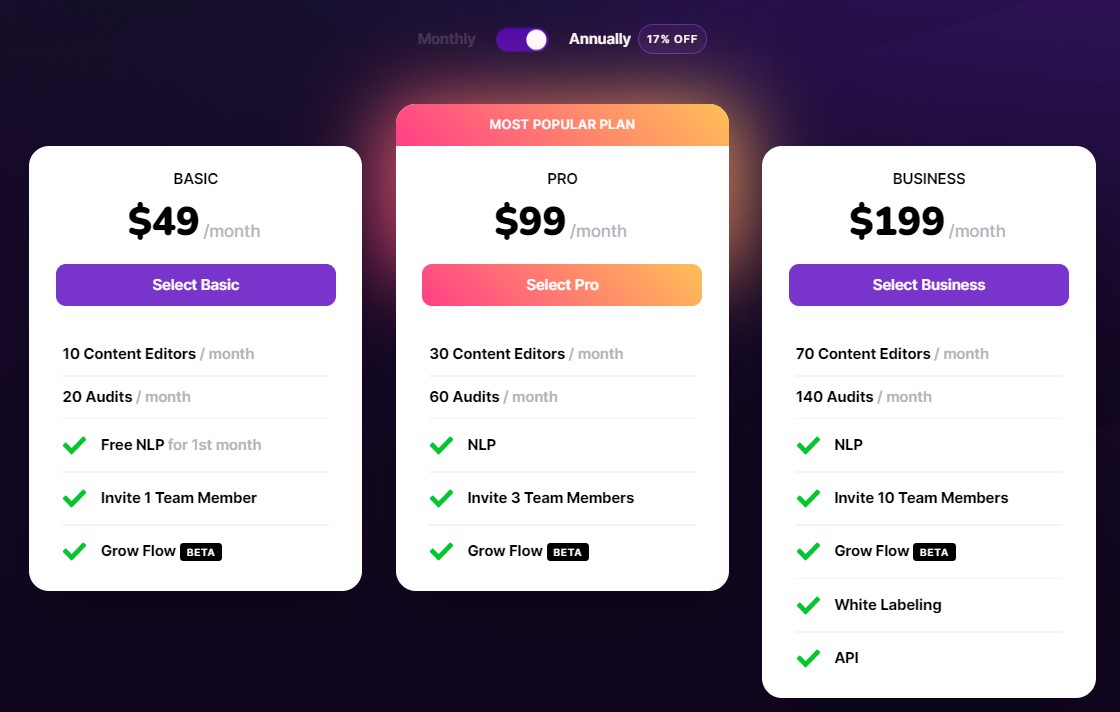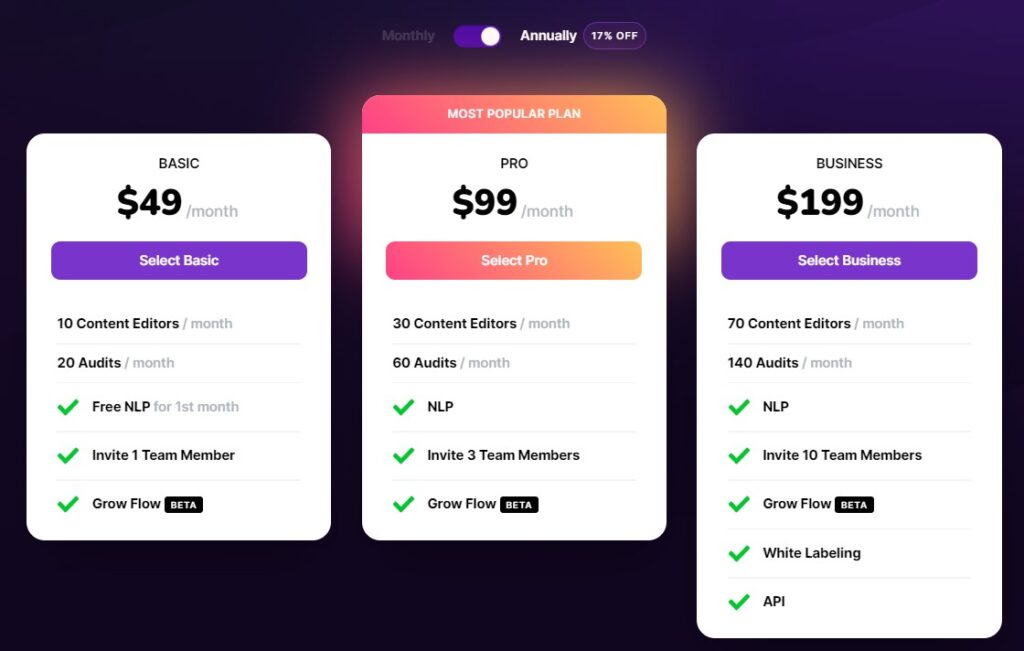 The Surfer Basic plan 49$/Month gives you all of the essential features you need to optimize your content, including the Content Planner and SERP Analyzer.
The Surfer Pro plan 99$/Month gives you all of the features of the Basic plan, plus additional credit on content editors and audits Features.
The Surfer Business plan 199$/Month gives you More credits, plus a team collaboration feature of up to 10 members, White Labeling, and access to the Surfer API.

CopyAI is the perfect AI writer for busy entrepreneurs and bloggers who don't have the time or energy to write articles all the time but still want to create high-quality content, that will resonate with their audience.
With this great copywriting tool, all you need to do is enter a topic, and sit back and watch the content creation process for you in just a few seconds from coming up with a catchy headline to writing your post correctly.
CopyAI is changing the game when it comes to Copywriting, and I highly recommend giving it a try if you're looking for an easier way to Write Blog Posts Faster using artificial intelligence.
Blog posts: it can generate an outline, intro paragraph, conclusion paragraph, and body text for you. this tool also gives you ideas for blog posts, so you can always be inspired and get your creative juices flowing.
Social Media Content: it can help you come up with ideas and content for your social media posts. it's great if you're looking for something new to post or if you're feeling stuck.
Product Descriptions: CopyAI can write product descriptions for you that are both accurate and attention-grabbing.
SEO Articles: it can write SEO-optimized titles and descriptions.
Website Copy: it can help you write website copy that is both user-friendly and optimized for search engines.
Email: this includes writing email subject lines and body with different templates.
and a lot more.
CopyAI templates Examples: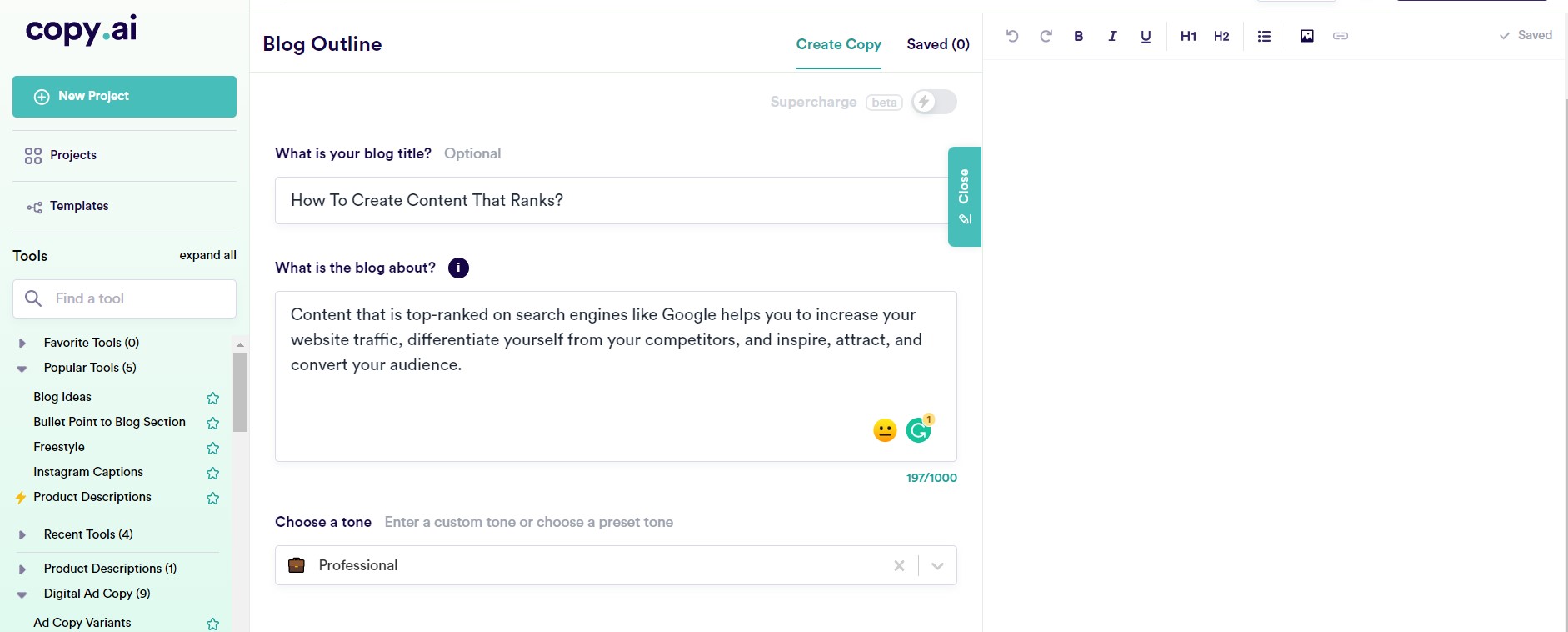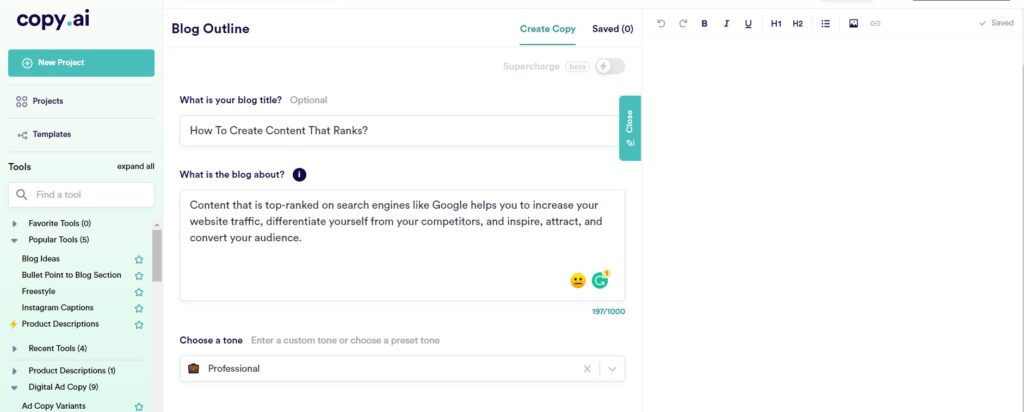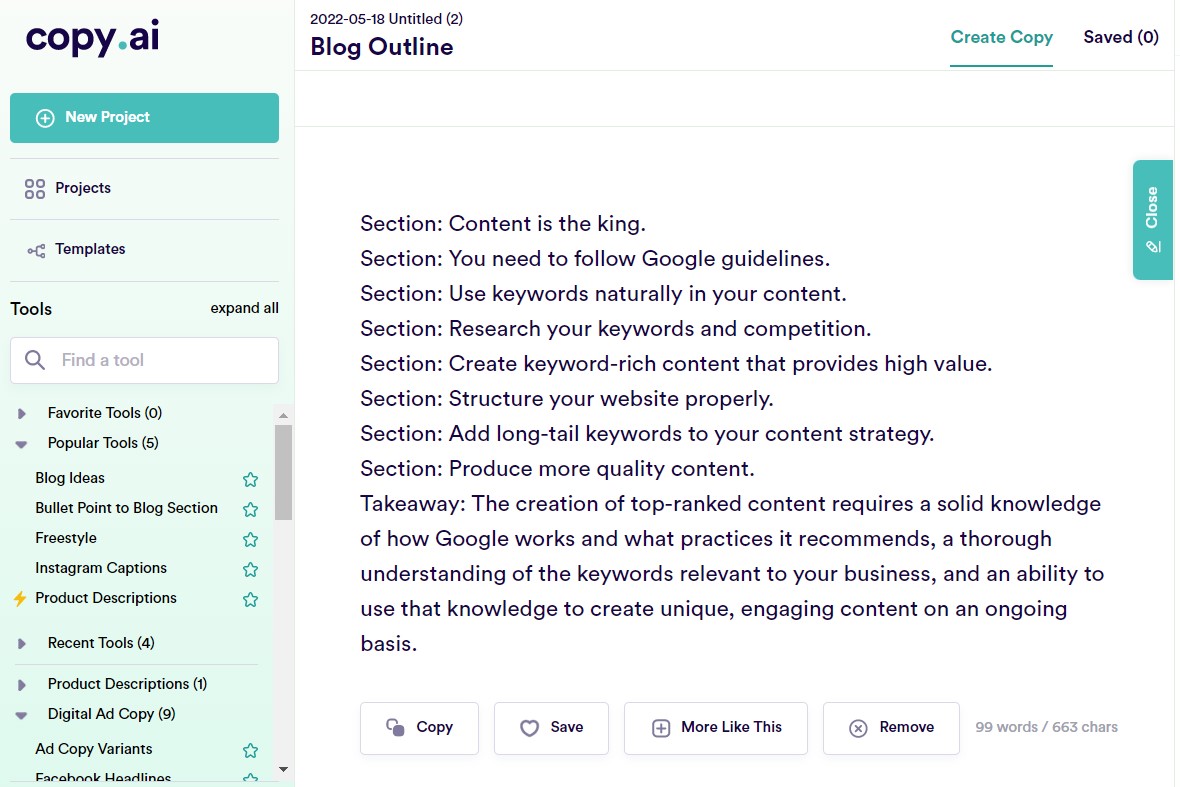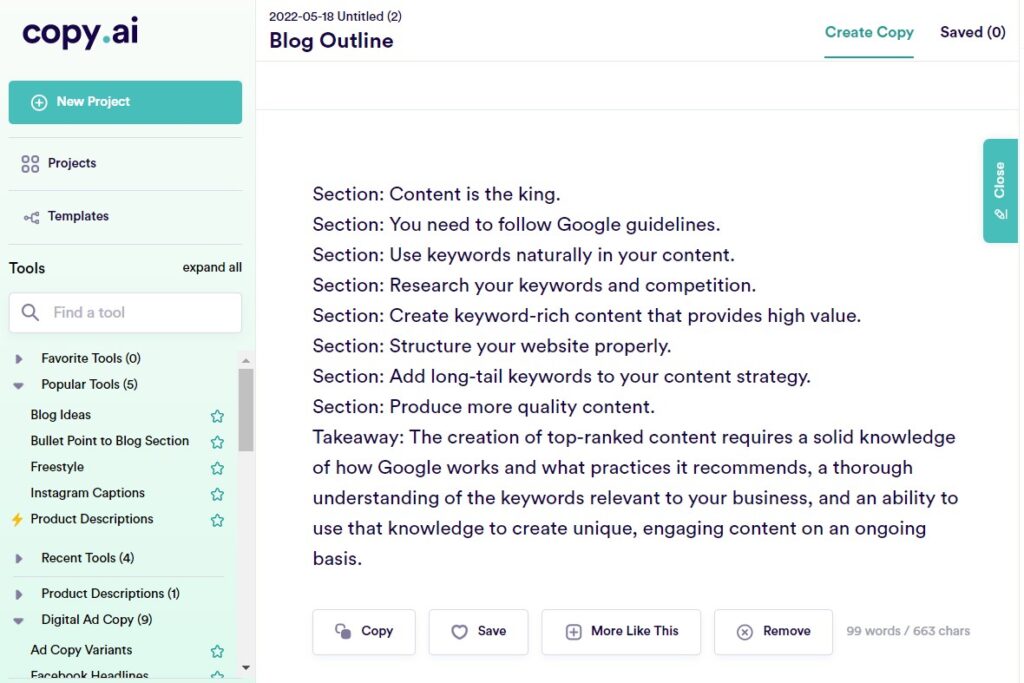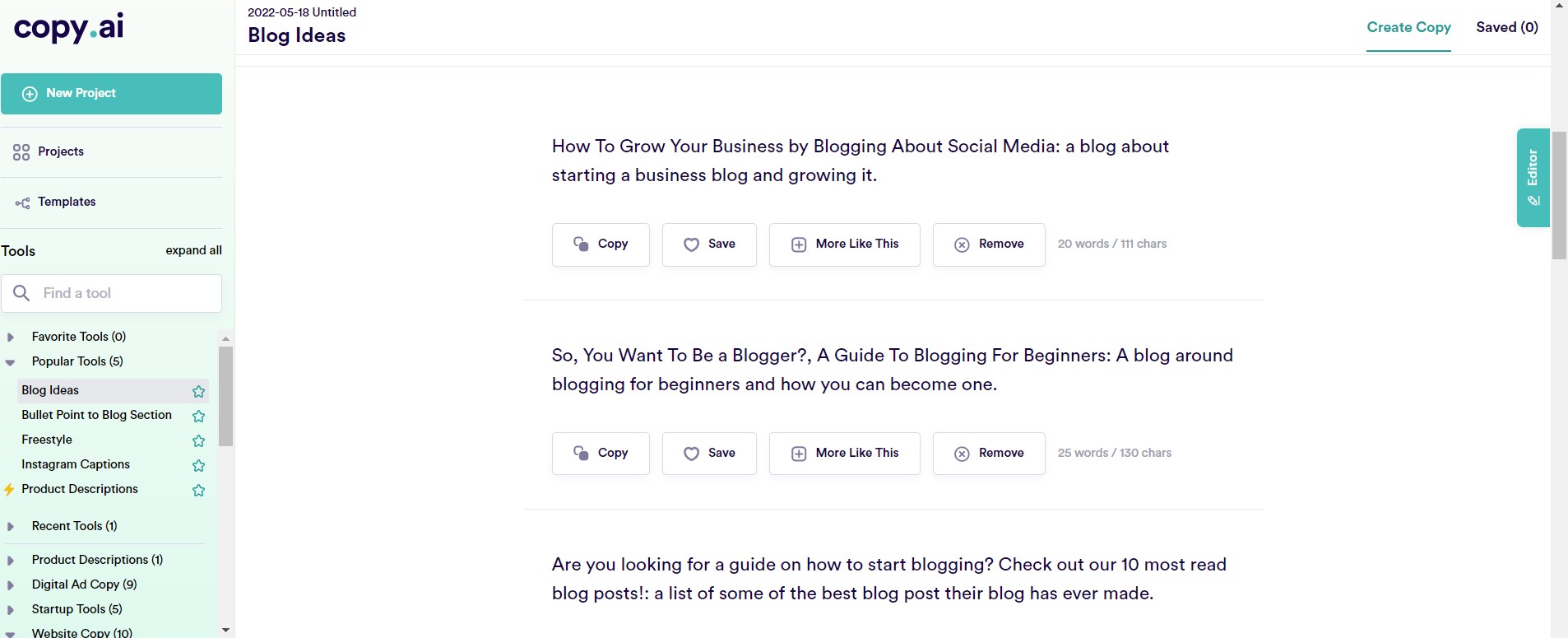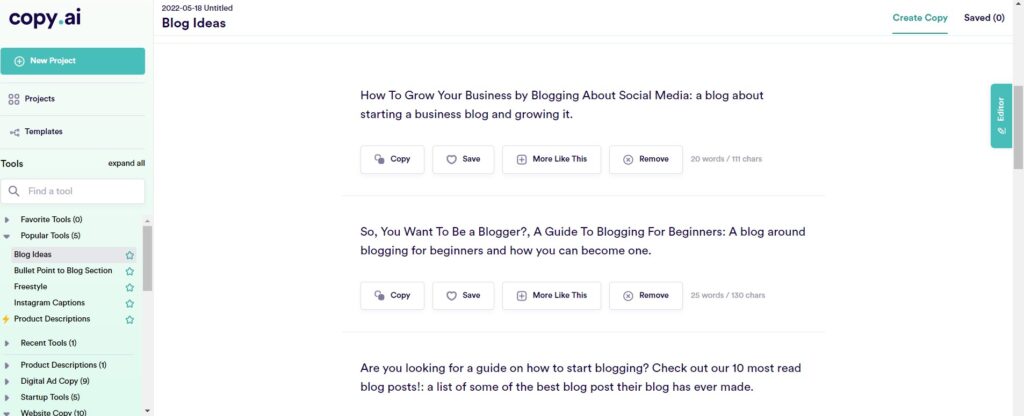 CopyAI Main Features:
It Creates blog post ideas and fills them with content related in minutes.
Help you come up with ideas and content for your social media posts.
Create content in Multilanguage.
Chrome Extension – This AI writer makes it simple to generate content on the go in Google Docs and other apps.
Weekly Live Demos
24/7 Support – for all plan
You can try it with No credit card required
Now Some disadvantages
The price is a bit high if you want to use all the features.
The interface is not as user-friendly as it could be.
Pricing:
CopyAI comes up with three options: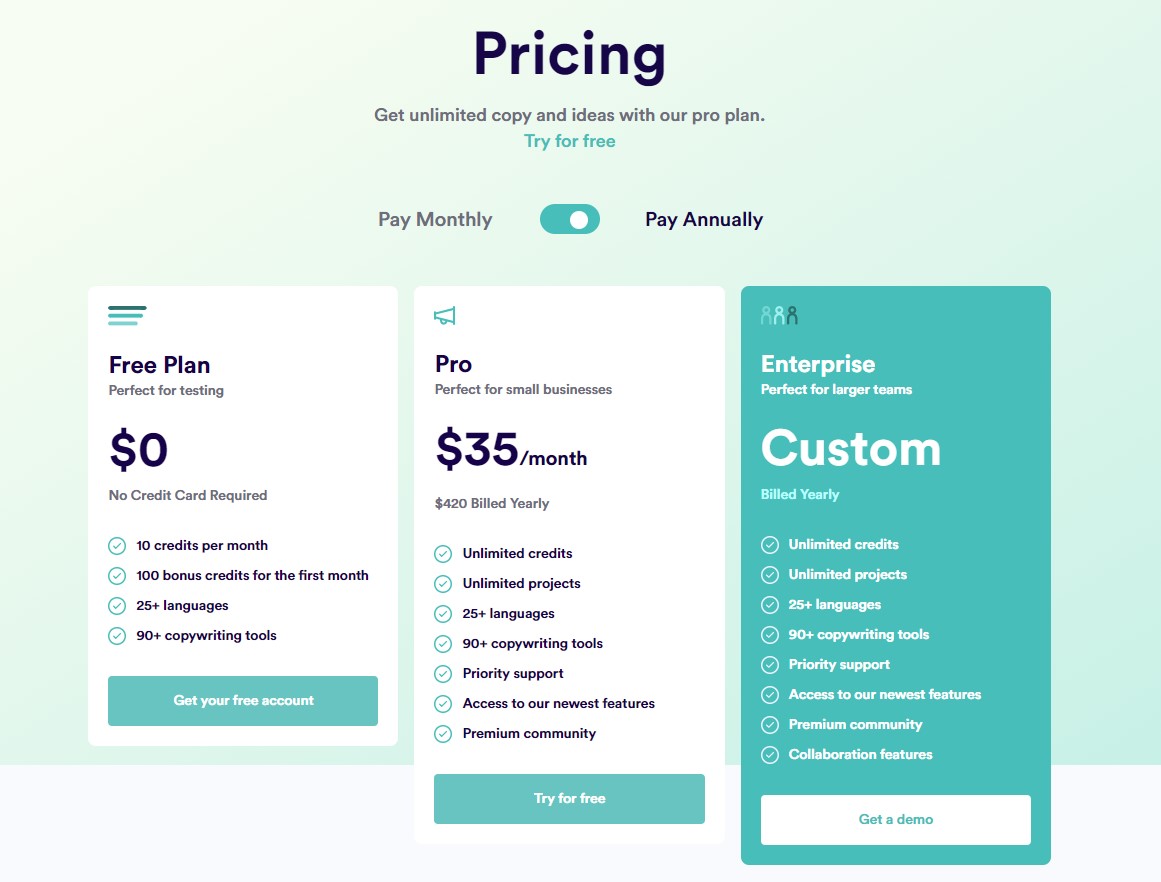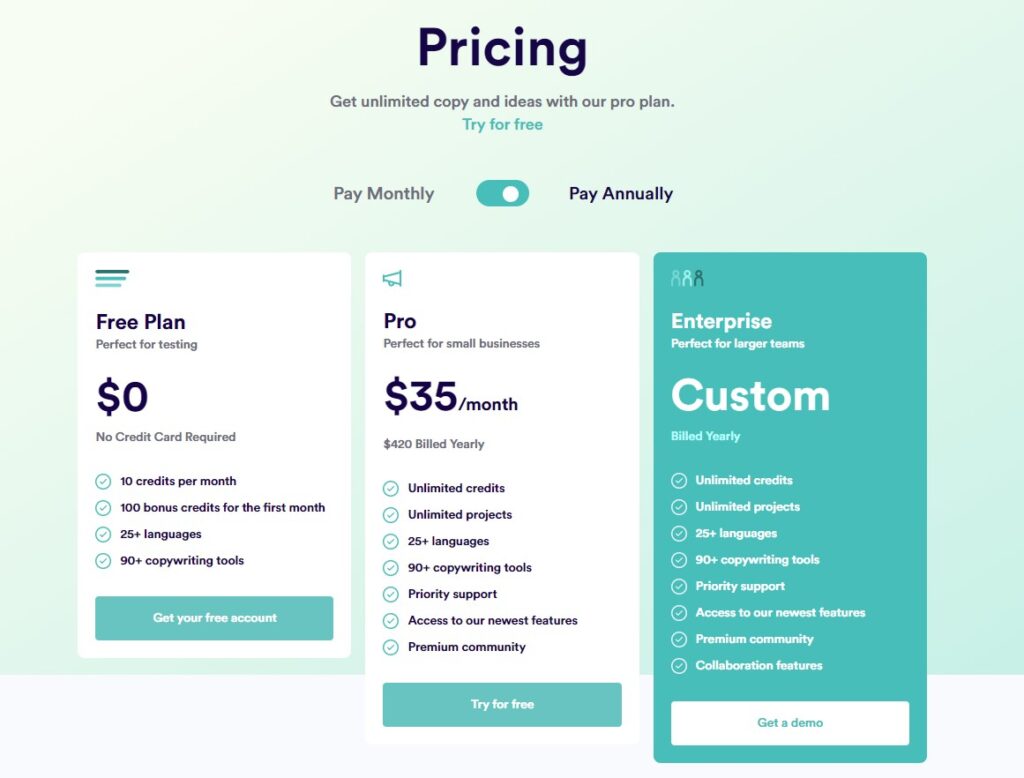 Free Plan: Perfect for testing the tool with 100 bonus credits for the first month.
Pro Plan: For those who need more content, it's $35 per month if you paid annually.
Enterprise: If you need an enterprise solution for your business, get contact the company for a custom quote.


Writesonic is an AI Writer that can help boost your website's SEO and generate more traffic. The Writesonic algorithm analyzes your Input and provides you with a list of relevant content ideas.
It then goes through a massive database of articles and blog posts to find the best possible match for those keywords.
Once it has found the best possible match, Writesonic writes the article for you, using the keywords that you provided.
The result is an article that is highly relevant to your site and that will help you rank higher in Google search results.
The Writesonic is a perfect AI Writer For content creation, blog posts, Google ads, Facebook ads, emails, eCommerce Copy, and more in a few clicks.
With Writesonic, businesses can save time and money by automating the writing process.
Website Copy: including Landing Pages, Sales copy, features to Benefit, Headers, and SEO Meta Descriptions.
Article/Blog Copy: provides users with ideas, outlines, Intros, and content rephrases to help them quickly create long-form content. The platform also includes a grammar mistakes fixer, readability checker, and content expander.
Ad Copy: Facebook Ads and Google Ads are perfect for promoting products and services, With Writesonic digital ad copy templates make it easy to create great ad copy that is sure to capture attention.
eCommerce Copy: you can easily create product descriptions, Amazon product titles, Amazon product features, and even Amazon sponsored ads. Writesonic is a Great tool for eCommerce businesses who want to create high-quality, engaging content that drives sales.
and other templates.
Writesonic templates Examples: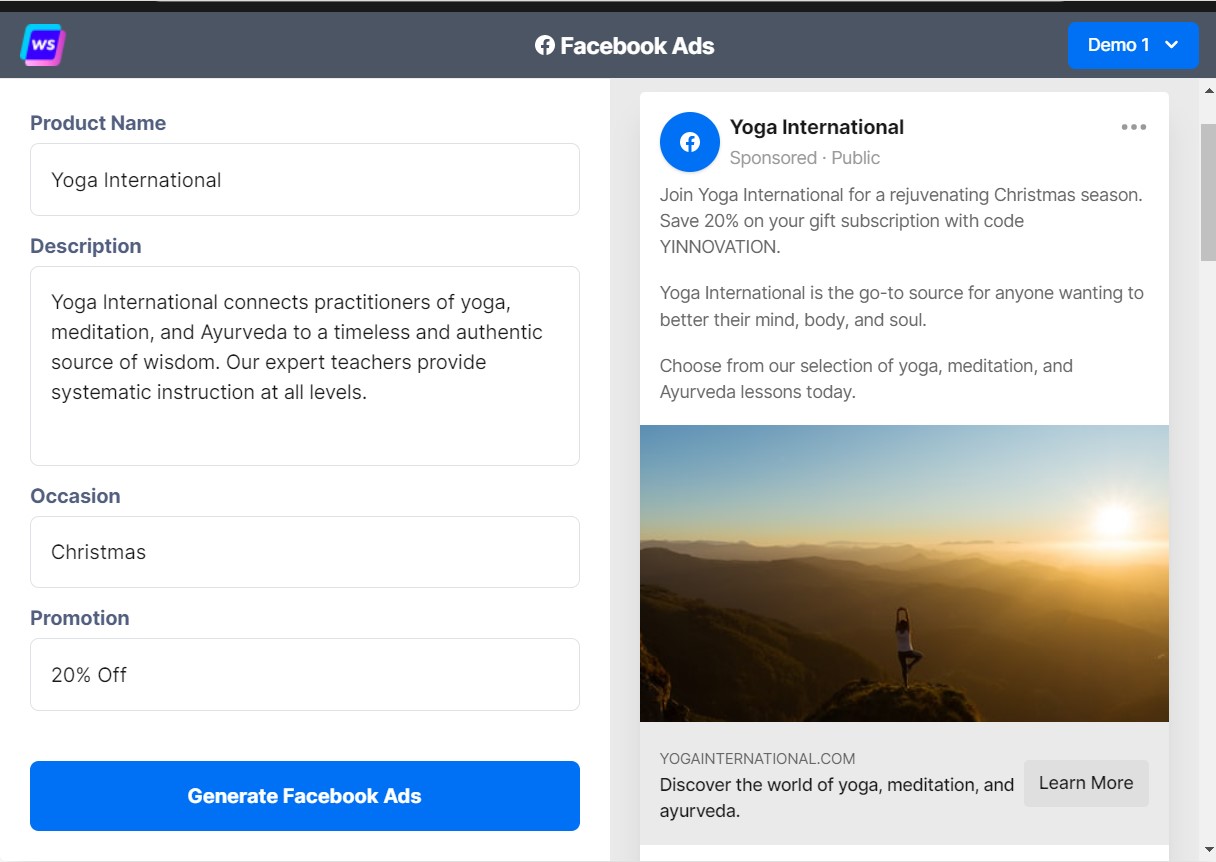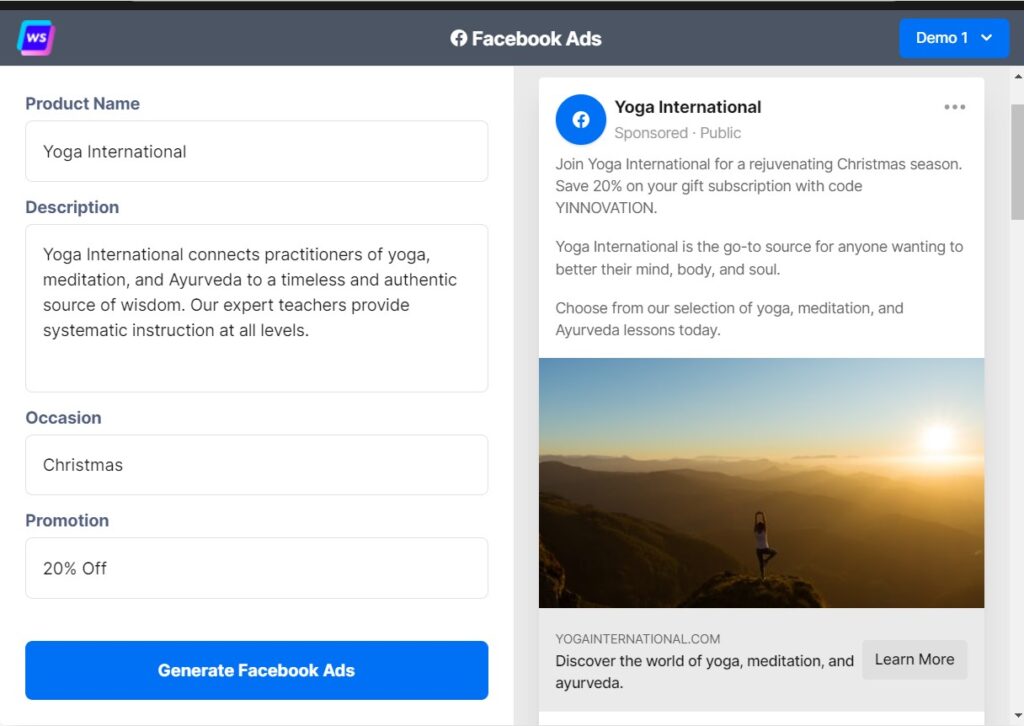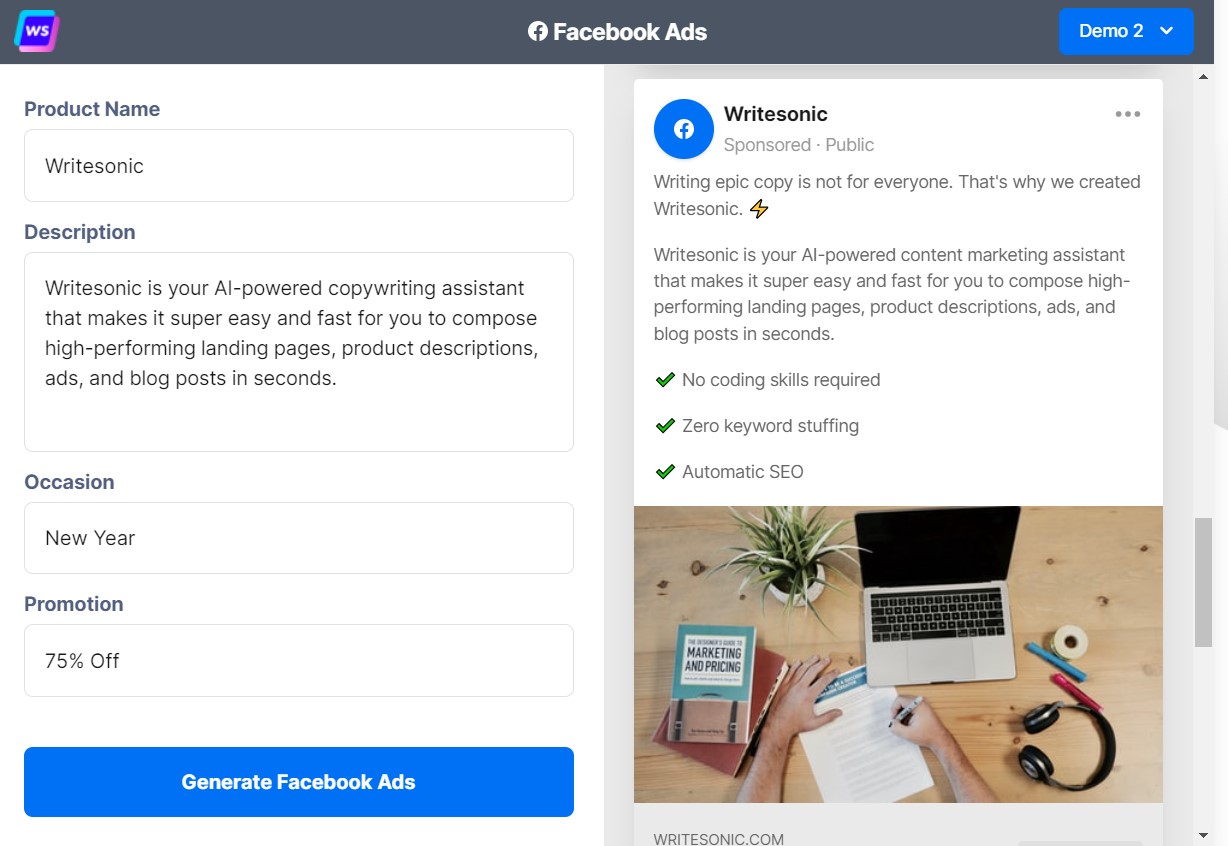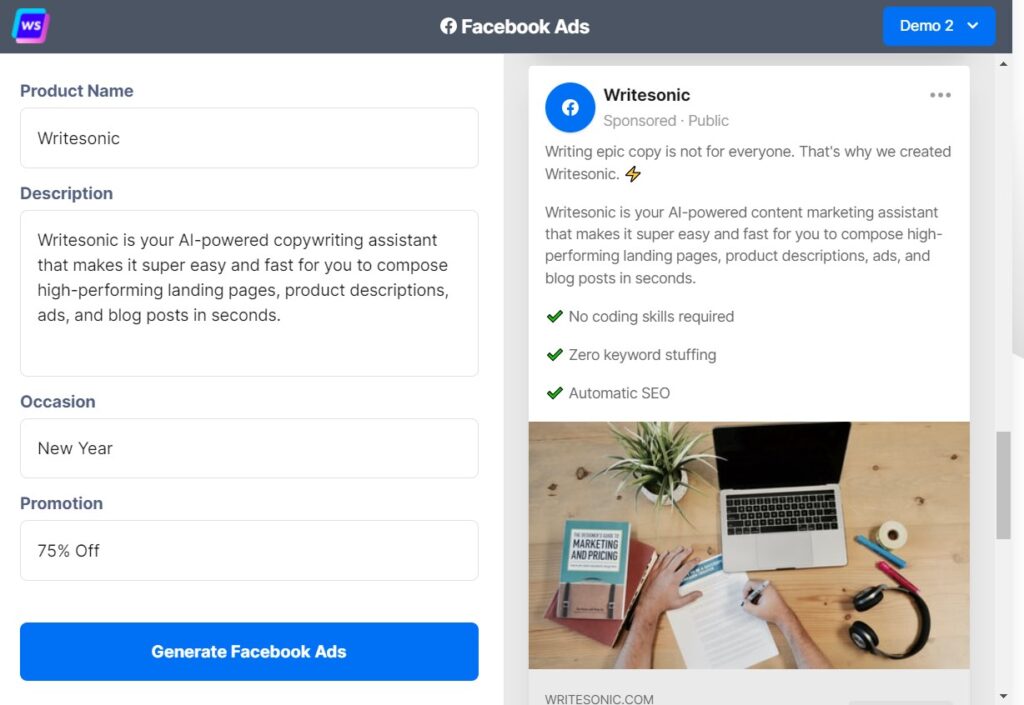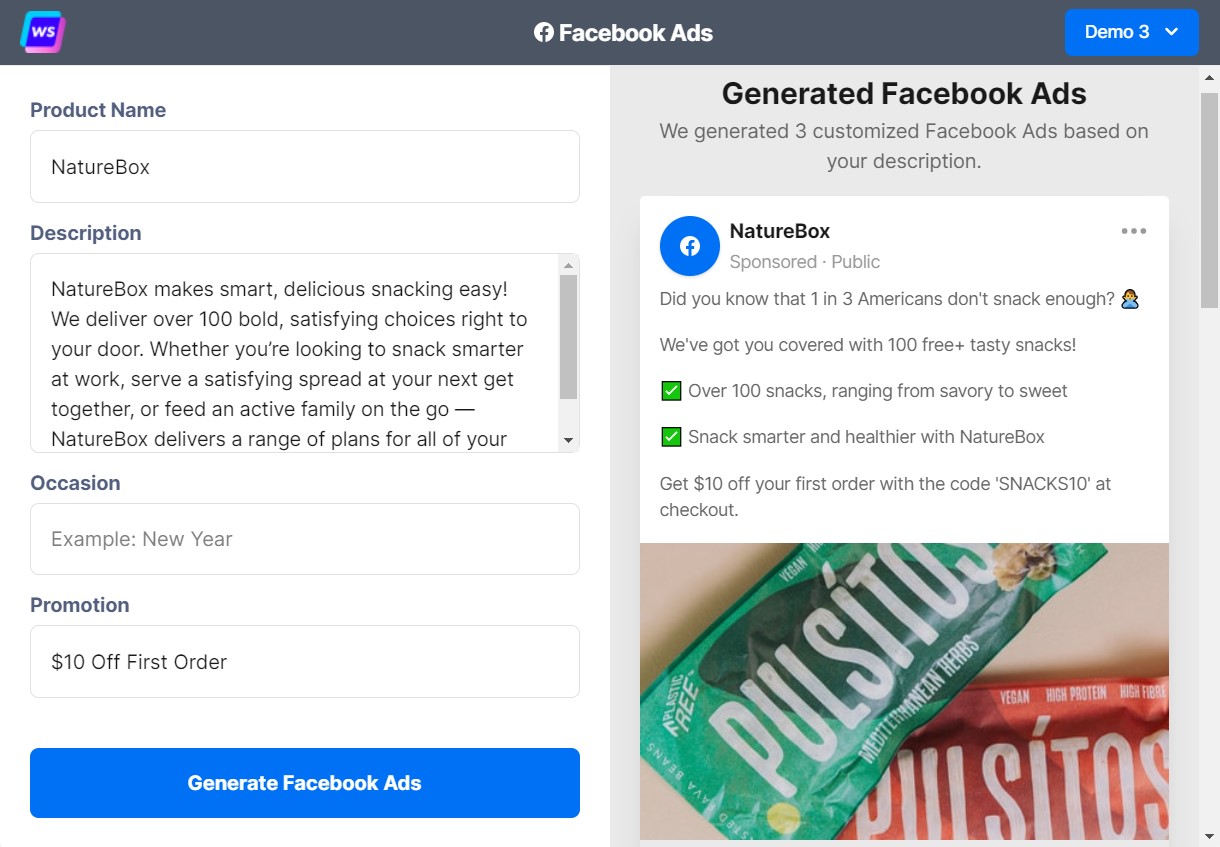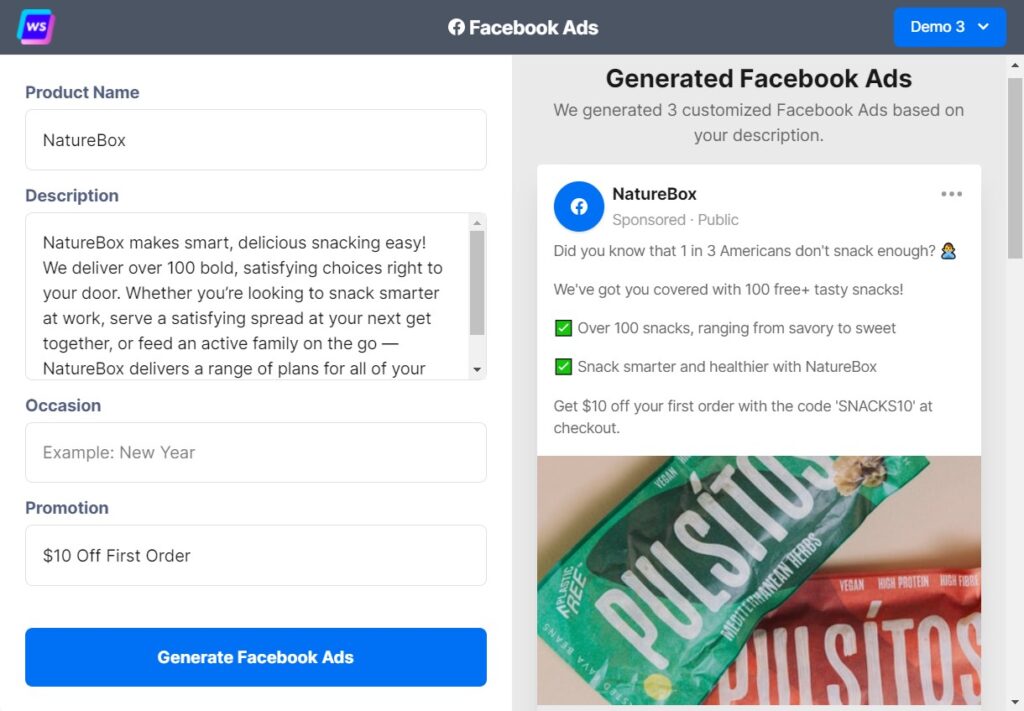 It Can create original content with few clicks.
Boost your ranking by creating SEO-optimized content.
50+ Content Types.
It can write content in multiple languages.
It contains Guides and Tutorials on how to use it more efficiently.
Now some disadvantages:
Writesonic is a general-purpose AI writing assistant software. But its library of templates isn't as extensive and the price tag reflects this difference in quality; however, subscriptions are priced lower than those from other services so you can still get your desired result more often if using them on smaller projects.
Pricing:
Writesonic has 5 plans:


Free Trial $0 with 10 credits
The basic plan for $15/mo
The Economy plan for $25/mo
The professional plan for $45/mo
The Startup plan for $95/mo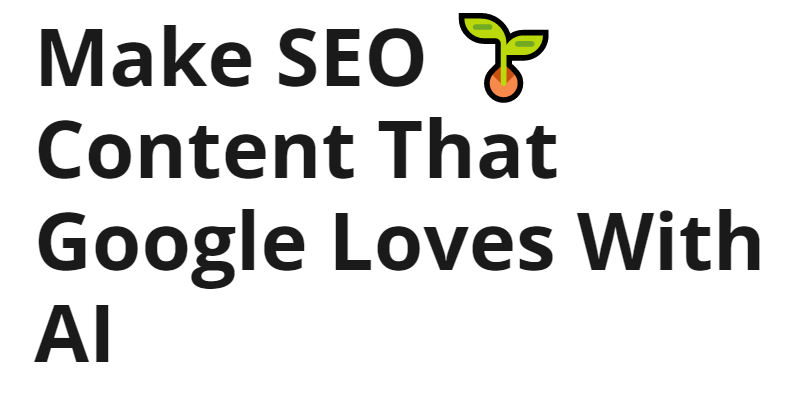 GrowthBar is an AI writing tool and SEO tool for bloggers and content marketers who want to create blog posts that rank.
GrowthBar will generate an outline for your post with the proper keywords, word count, headlines, and readability.
it also offers keyword research and tracking so you can see how your rankings improve over time.
And with the competitor analysis feature, you can see any website's organic traffic, paid traffic, and backlinks with the click of a button.
GrowthBar is a perfect AI writer for any blogger or content marketer looking to save time creating content and grow their audience.
Write full blog posts quickly and easily and optimize them for better search engine ranking.
Keyword Research is easy with this tool. Just enter your keywords and it will show you how many people search for them, what their competition looks like, as well as give an estimate on the number of clicks per month that would come from ranking in Google's SERPs (search engine result pages).
Keyword Tracking: You can view the rankings of your most popular keywords and monitor their contribution to overall website traffic. You'll be able to see which ones are performing well so that future content will focus on these topics instead!
Analyze Competitors: How do you know if your competition is getting a good amount of organic traffic and backlinks? You can easily see that information with this tool.
Done for you: If you are unfamiliar with ai software and need assistance with your SEO content, the GrowthBar team can generate optimized articles for you in just a few days.
Blog Marketplace: GrowthBar has created its own marketplace called Blog Marketplace where users will find professional AI writers at reasonable prices.
Growthbar features example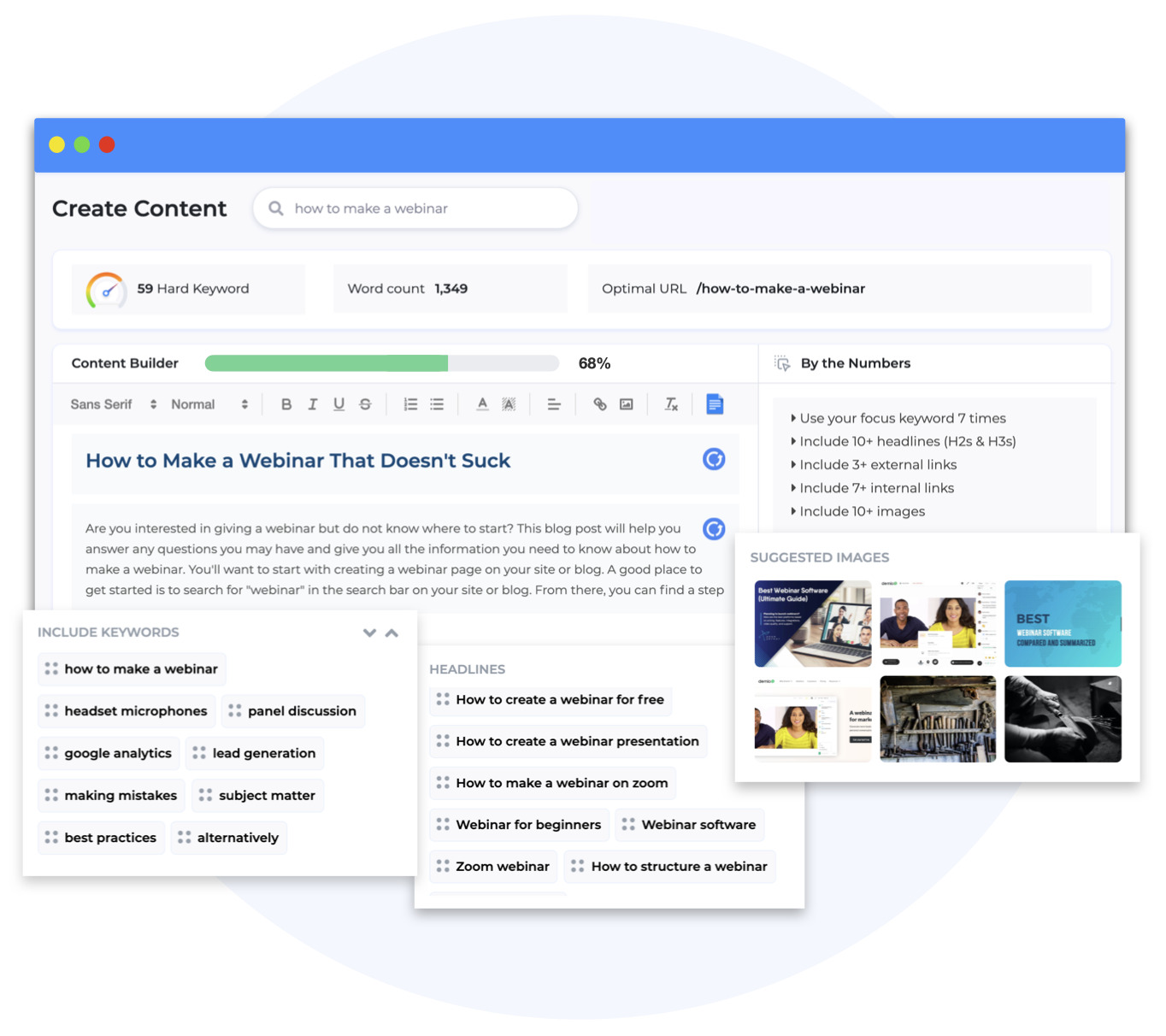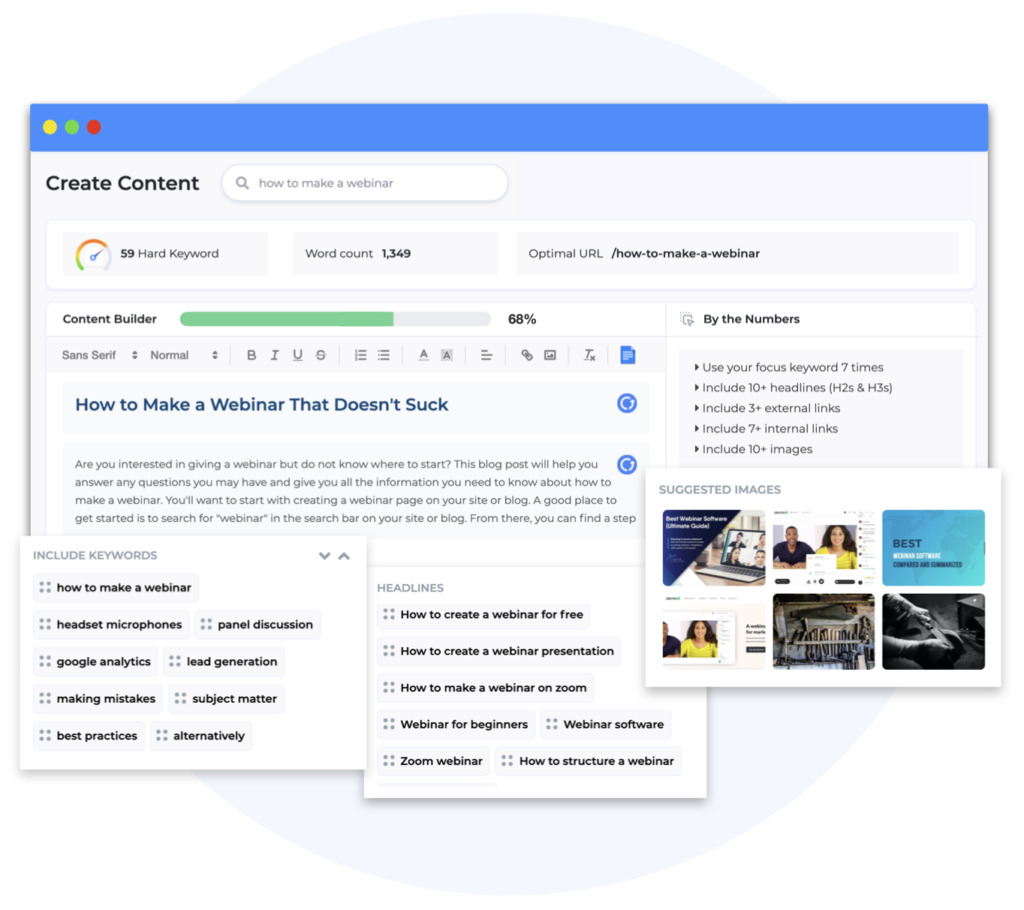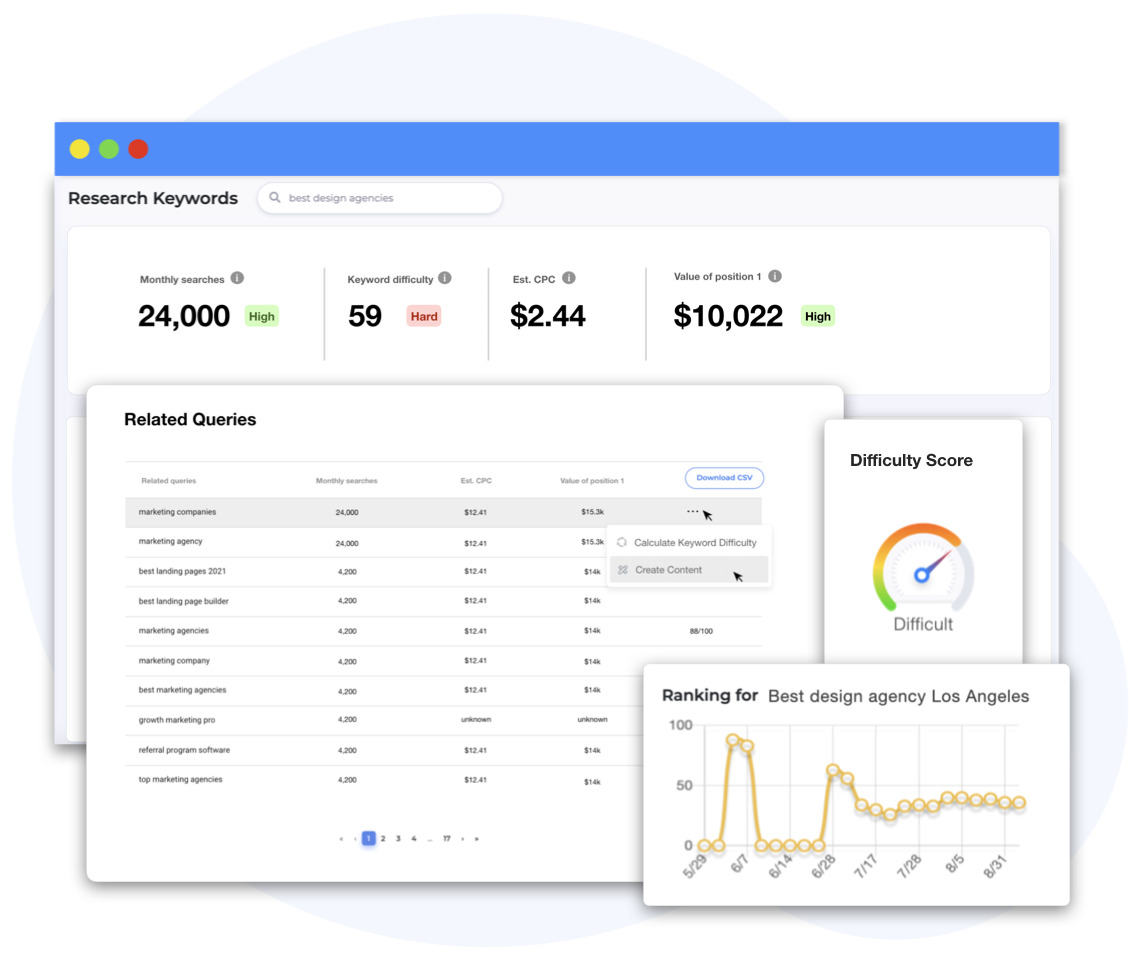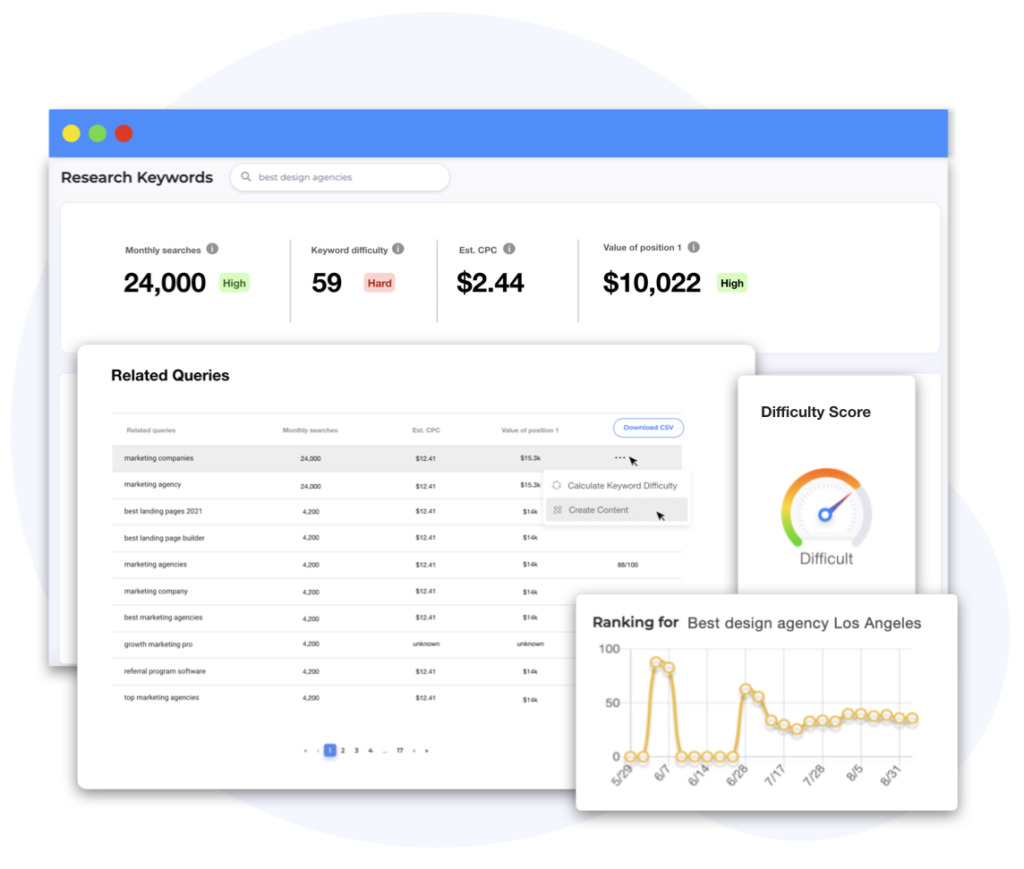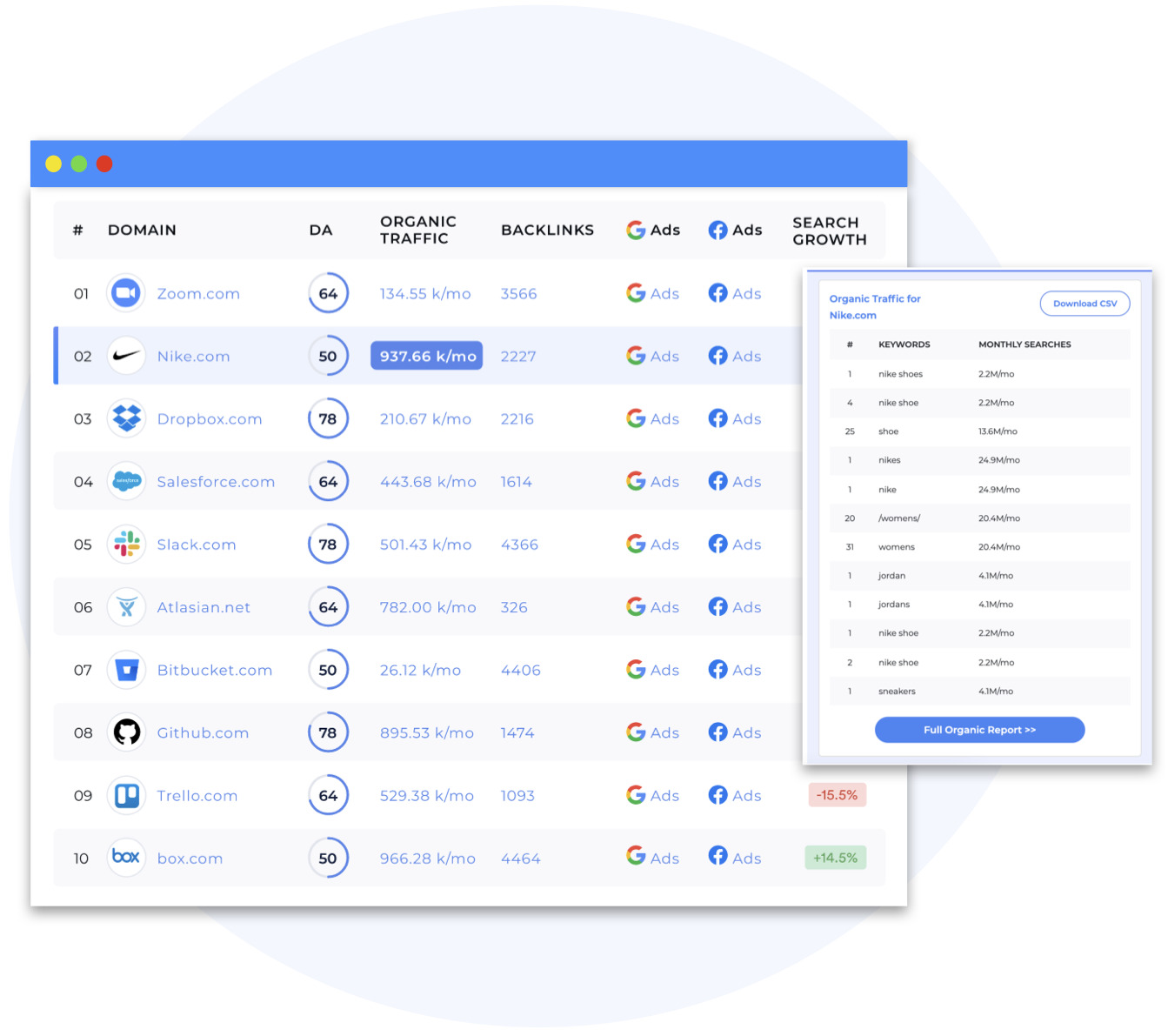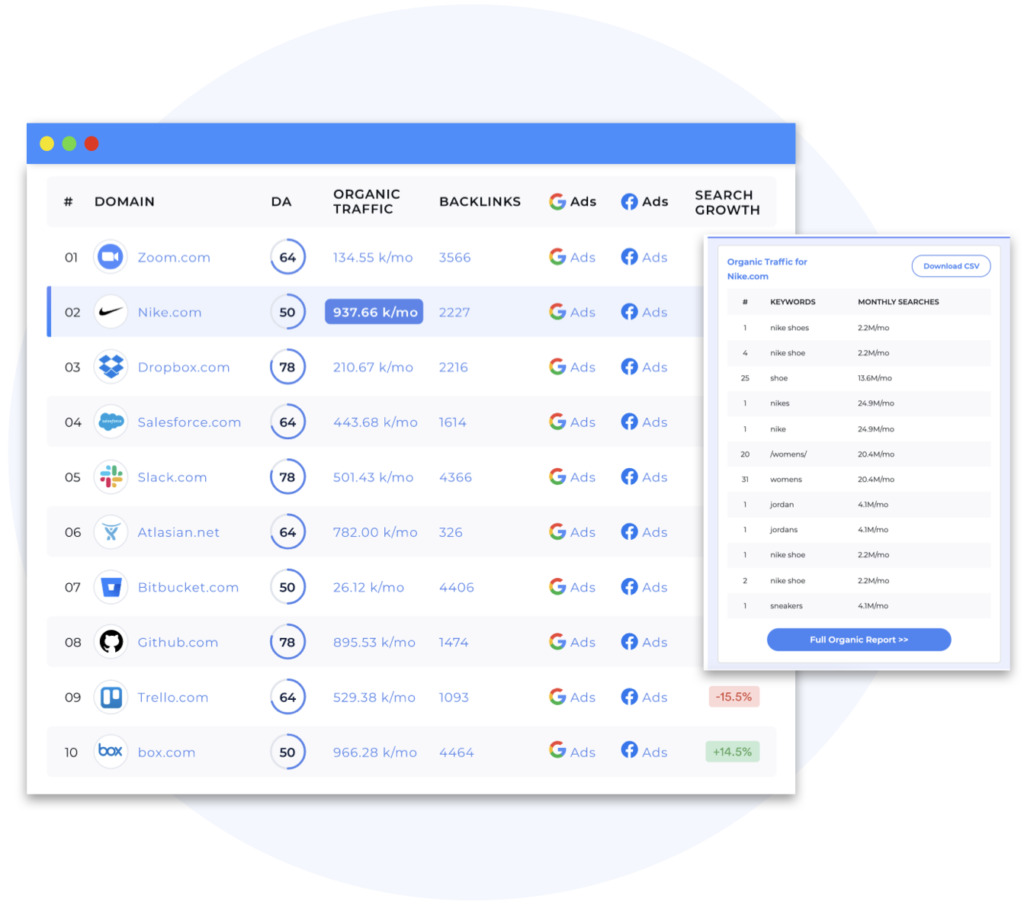 Now some disadvantages:
It lacks templates and features found in other ai writing software tools like Jasper or CopyAI that are more specialized.
Features like backlink research, keyword research, and Analyze Competitors aren't as robust when compared with full-blown SEO tools, so this may not be your first choice if you need extensive analysis capabilities like Ahrefs.
The pricing for the "Pro" and agency plans seem excessive when compared to other competitors' offerings, which have more features or less expensive price points.
Pricing:
Growthbar AI writer comes up with three plans: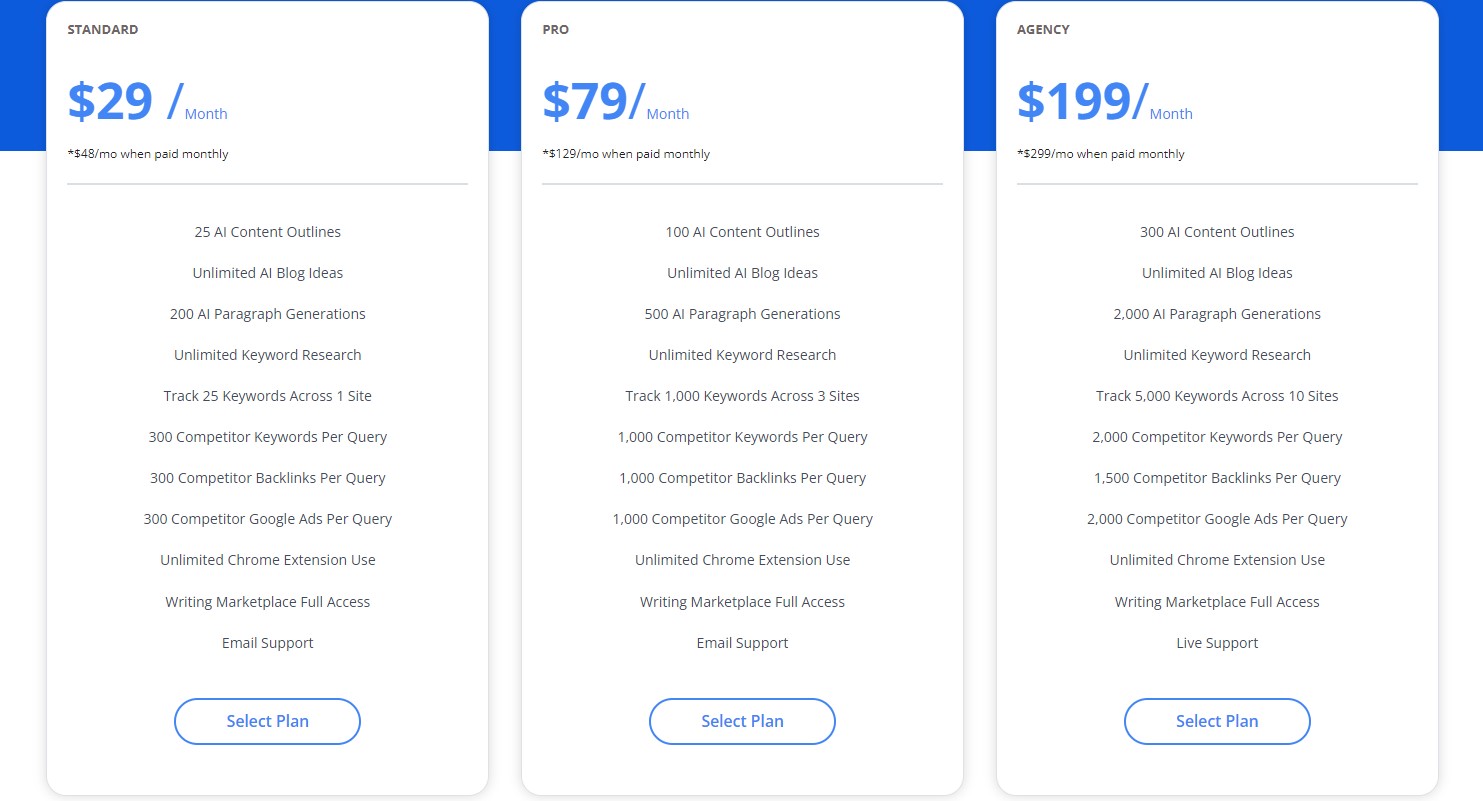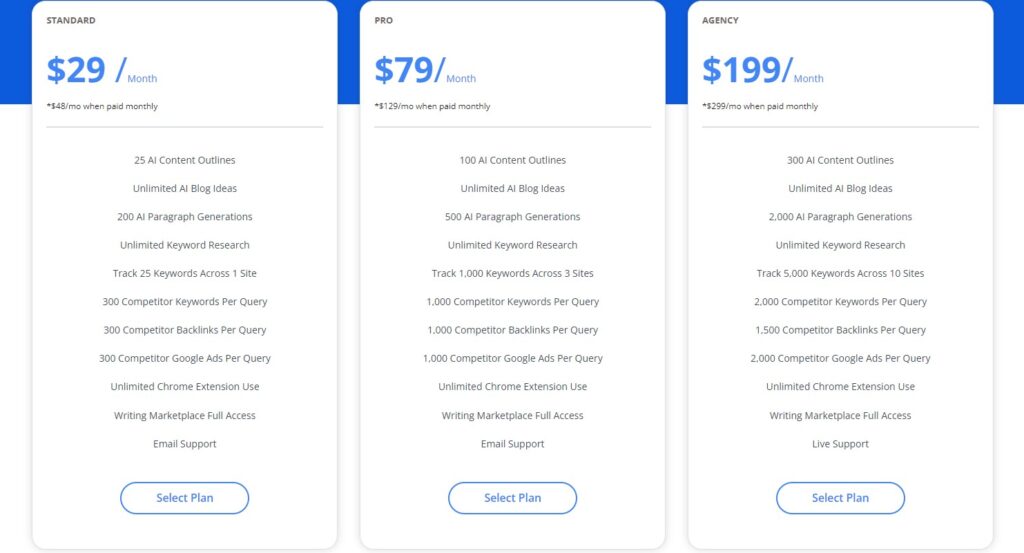 The Standard Plan allows you to create up to 25 AI content outlines and 200 AI-generated paragraphs for $29 per month when paid yearly or $48 per month if you pay every month.
On this plan, you can get SEO data at an affordable price point that's much lower than competing tools like Ahrefs or Semrush (But not the same quality). These services cost $99 per month and often considerably more.
The Pro Plan allows you to create up to 100 AI content outlines and 500 AI-generated paragraphs for $79 per month when paid yearly or $129 per month if you pay every month. It is more suitable for bloggers that need to generate more content.
The Agency Plan is suitable for larger teams, in this plan you can create up to 300 AI Content Outlines and 2,000 AI-generated paragraphs for $199 per month when paid annually or $299/month if paid monthly.
For me, I prefer the 'Standard' plan without a doubt. The Pro and Agency plan doesn't offer enough SEO data to justify the price difference When compared to Ahrefs or Moz products in this price range.
INK is an ai writing software tool that helps you write content better, and faster. It offers real-time suggestions on your writing, edits, and improvements for better search engine ranking.
With INK Editor, you can easily create high-quality, keyword-rich content that will help you generate more organic traffic.
INK Editor templates:


Create articles, blog posts, and marketing copy written in as little time with AI efficiency by using INK's
Help you find the right Keywords.
Rephrase your Paragraph with a single click
Thesaurus powered by Big Huge Thesaurus
Use INK's Chrome extensions to jump-start your writing anywhere like Microsoft word or google docs.
Get real-time spelling and grammar suggestions as you write.
Easy to use
Now some disadvantages:
Some people might find it hard to figure out how everything works.
The Output for this AI writer sometimes confusing and hard going in certain spots on your article map.
Pricing: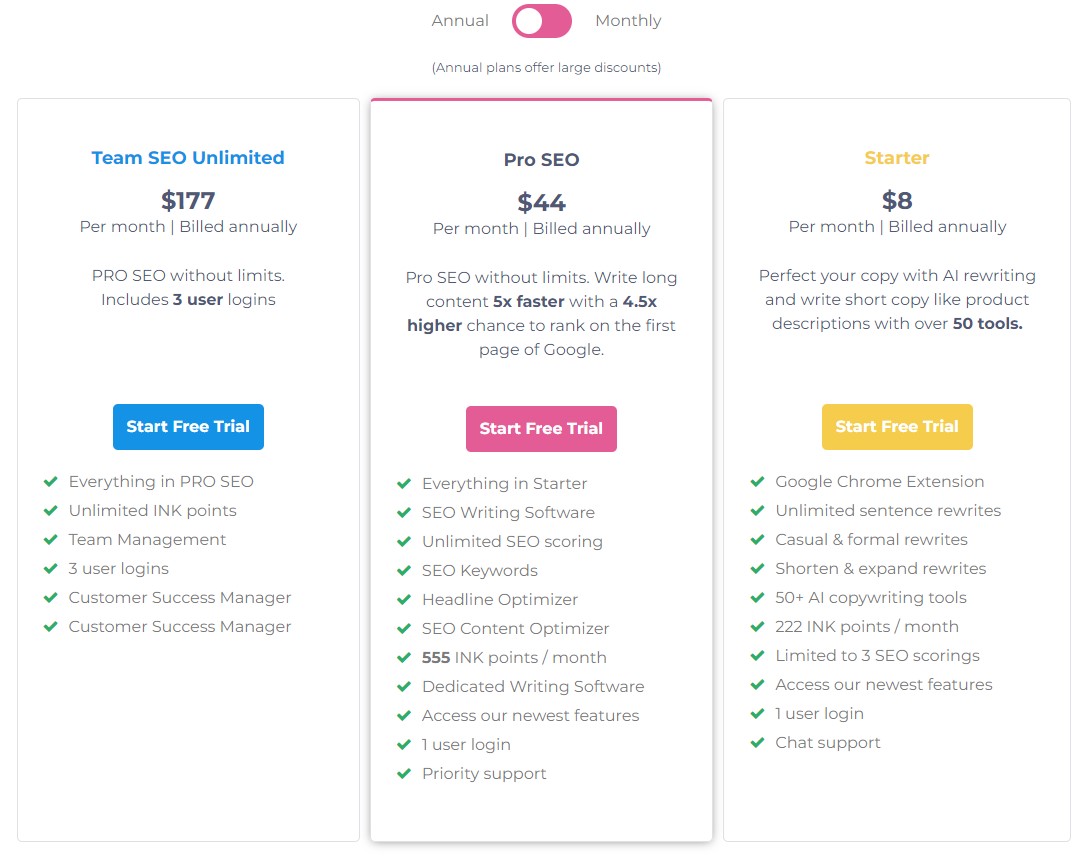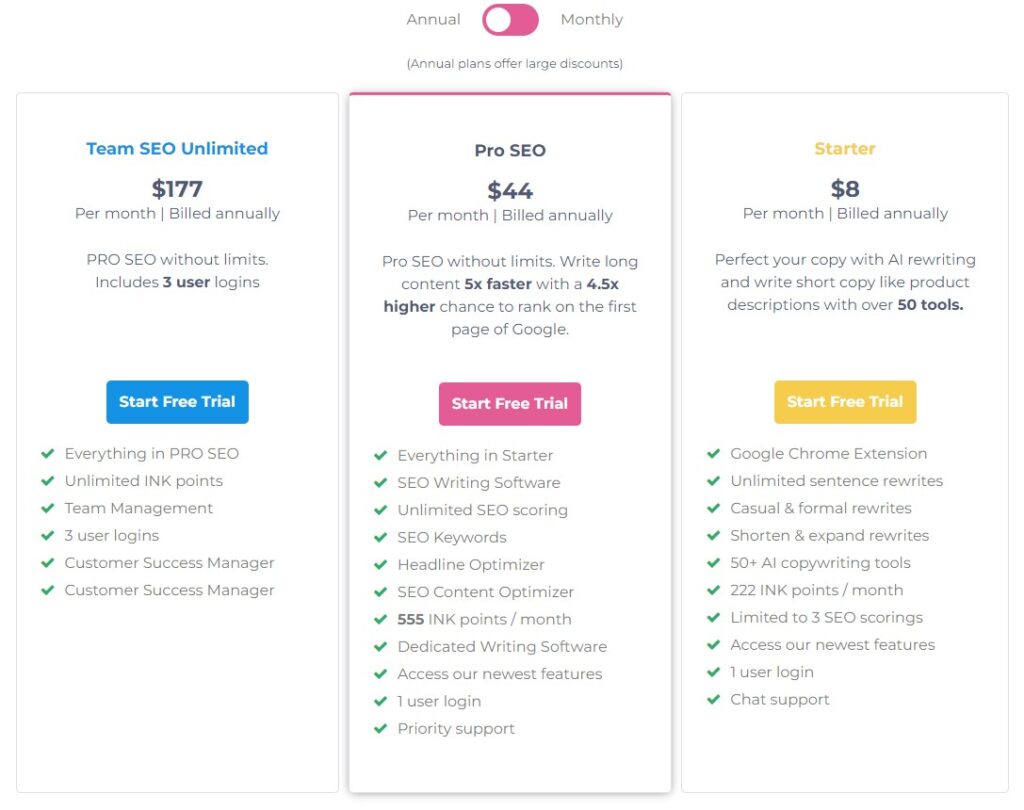 The Basic Plan is free and includes 3 SEO keywords/month, and 22 sentence rewrites/day.
INK Editor offers a free trial on paid plans. After that, it has 3 different pricing plans:
The Starter Plan costs $8 Per Month (billed annually).
The Pro SEO Plan costs $44 per month (billed annually).
The Team SEO Unlimited Plan costs $177 Per month | Billed annually
and gives you access to all the features with Unlimited Credits for 3 users.
Scalenut is a content creation tool that can help you boost your page rankings, their AI writing tool combines On-Page SEO and natural language processing techniques to help you create Optimized content that Google loves quickly and easily.
It's very similar to Jasper with SEO Surfer integration but without having two different tools.
You can type your keyword into the editor which will give out an easy-to-use interface that has everything needed for creating content including a panel where they show what others have done before as well as giving unique writing suggestions based on competition data provided by Google themselves!
Scalenut Templates: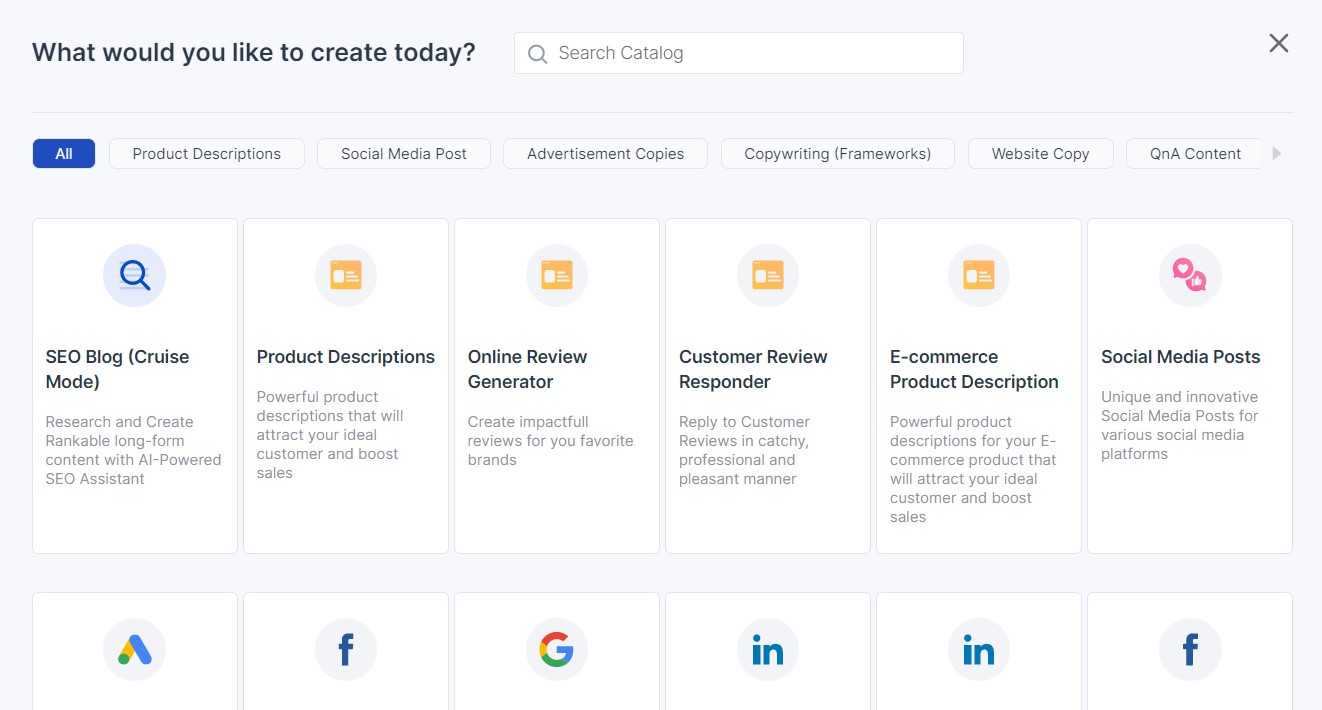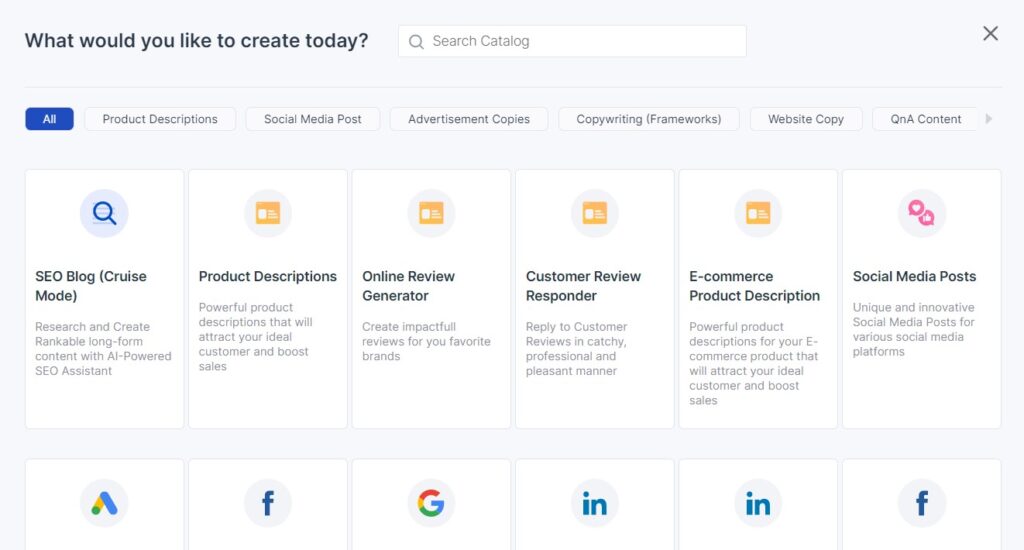 SEO Blog Posts
Product Descriptions
Social media post
Ads Copy
Website Copy
Question & Answer content
Video Content
Email Copywriting
Get real-time suggestions to improve the SEO score of your blog post.
Choose from +40 templates to create optimized AI content for your website.
Cruise mode allows you to create Long-form Articles from title to conclusion with a few clicks.
SEO Content Editor: This AI writer allows you to generate content and optimize it for search engines directly inside the editor to achieve your writing goals.
Scalenut Talent Network: where you can hire experts for writing, design, or video material for the lowest cost.
Scalenut Cruise mode Example: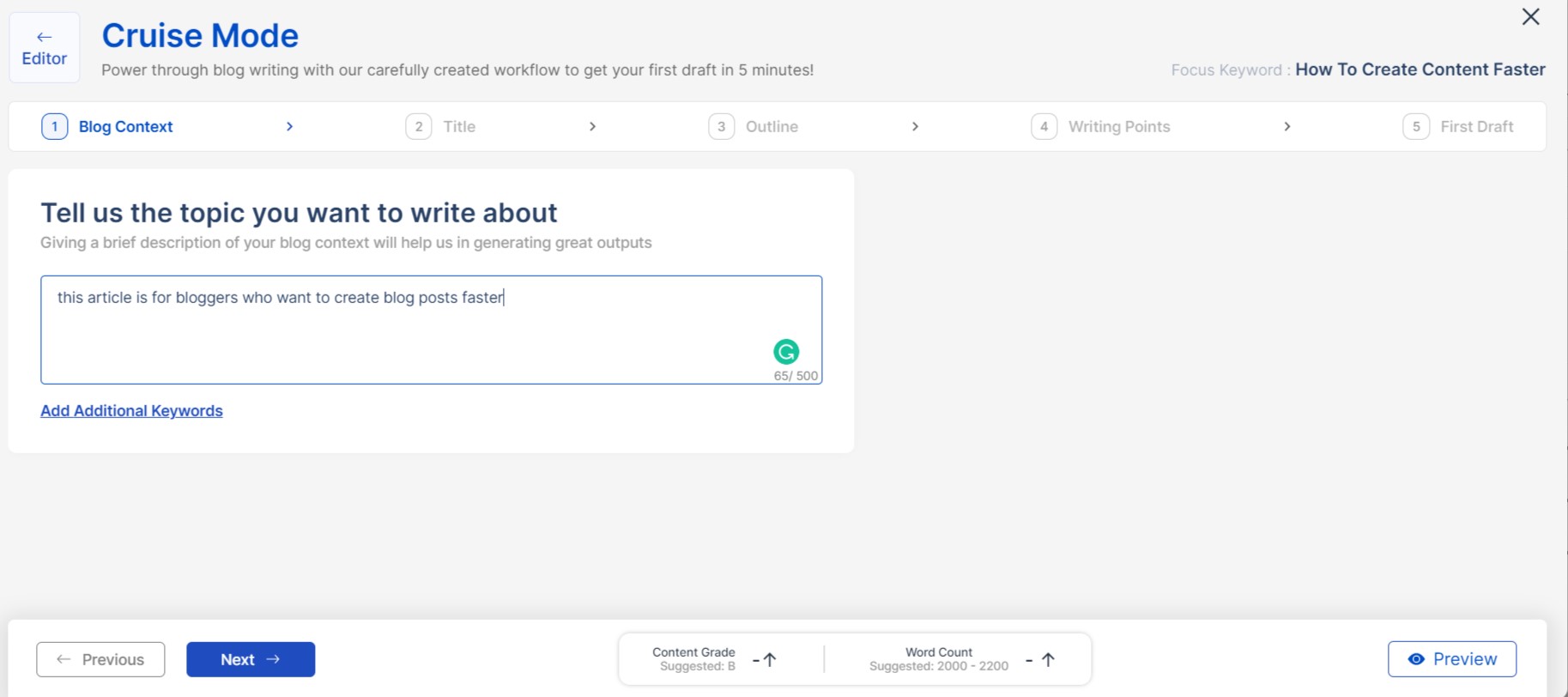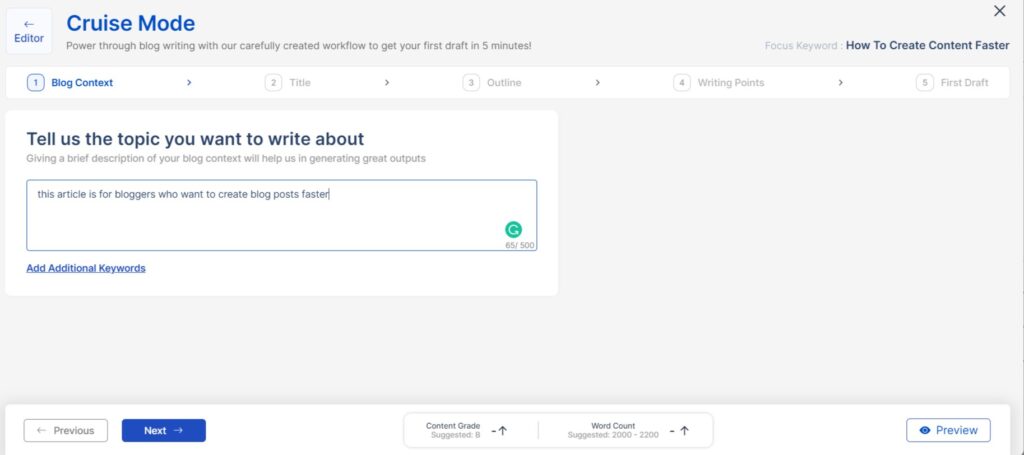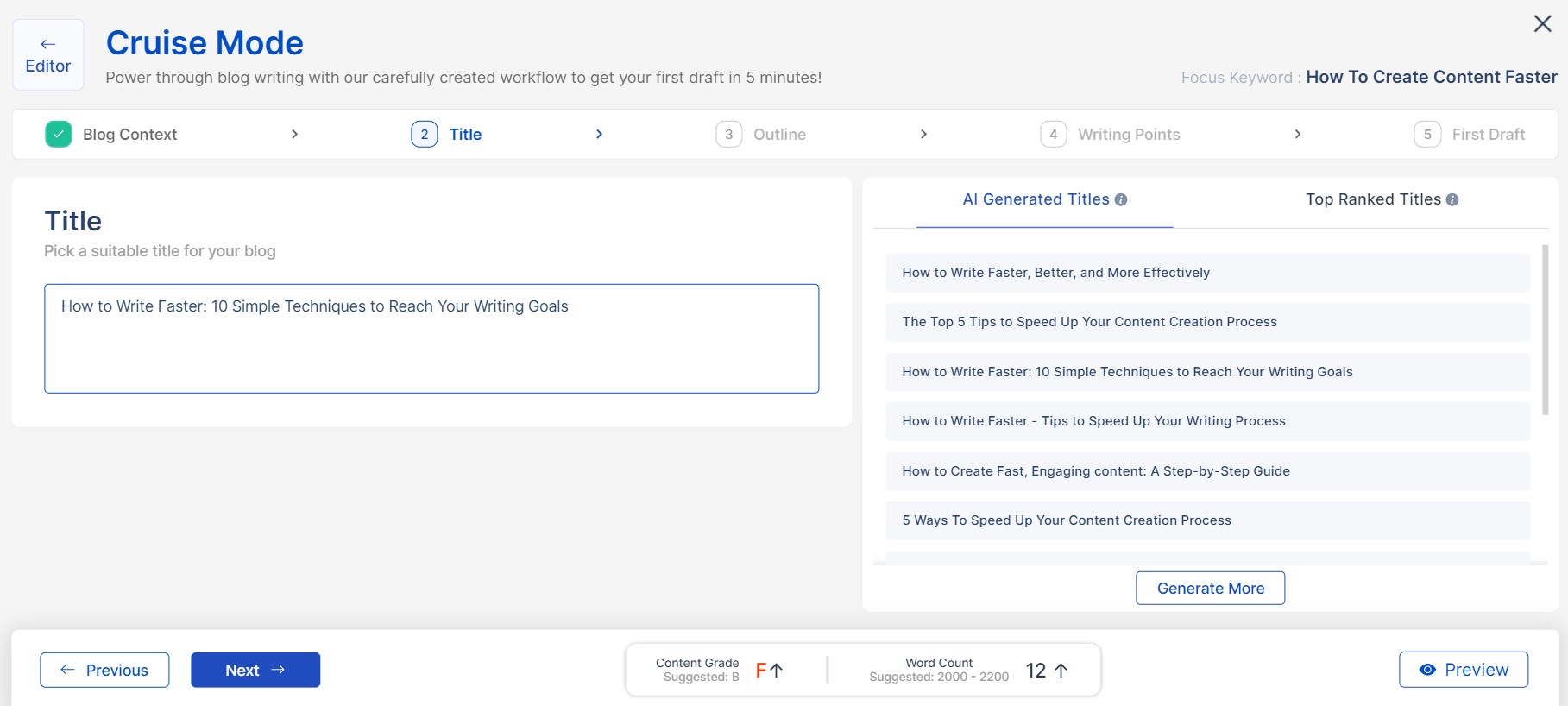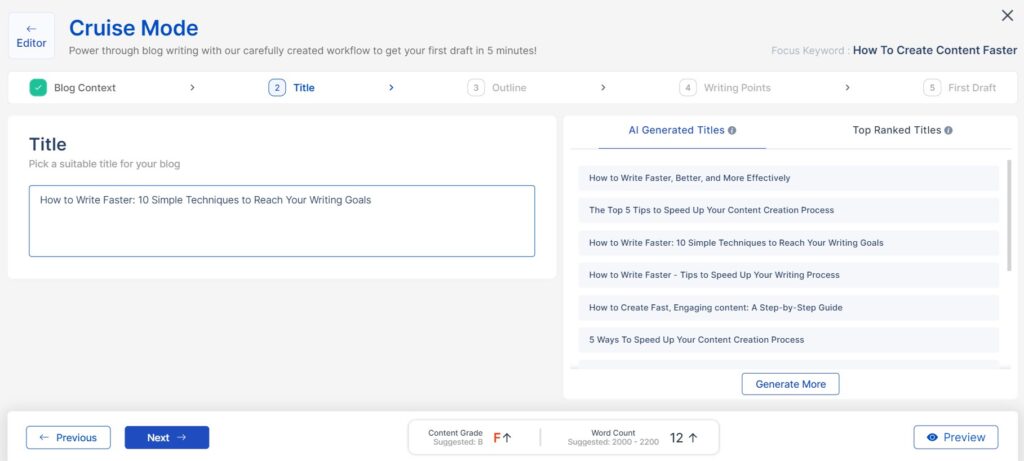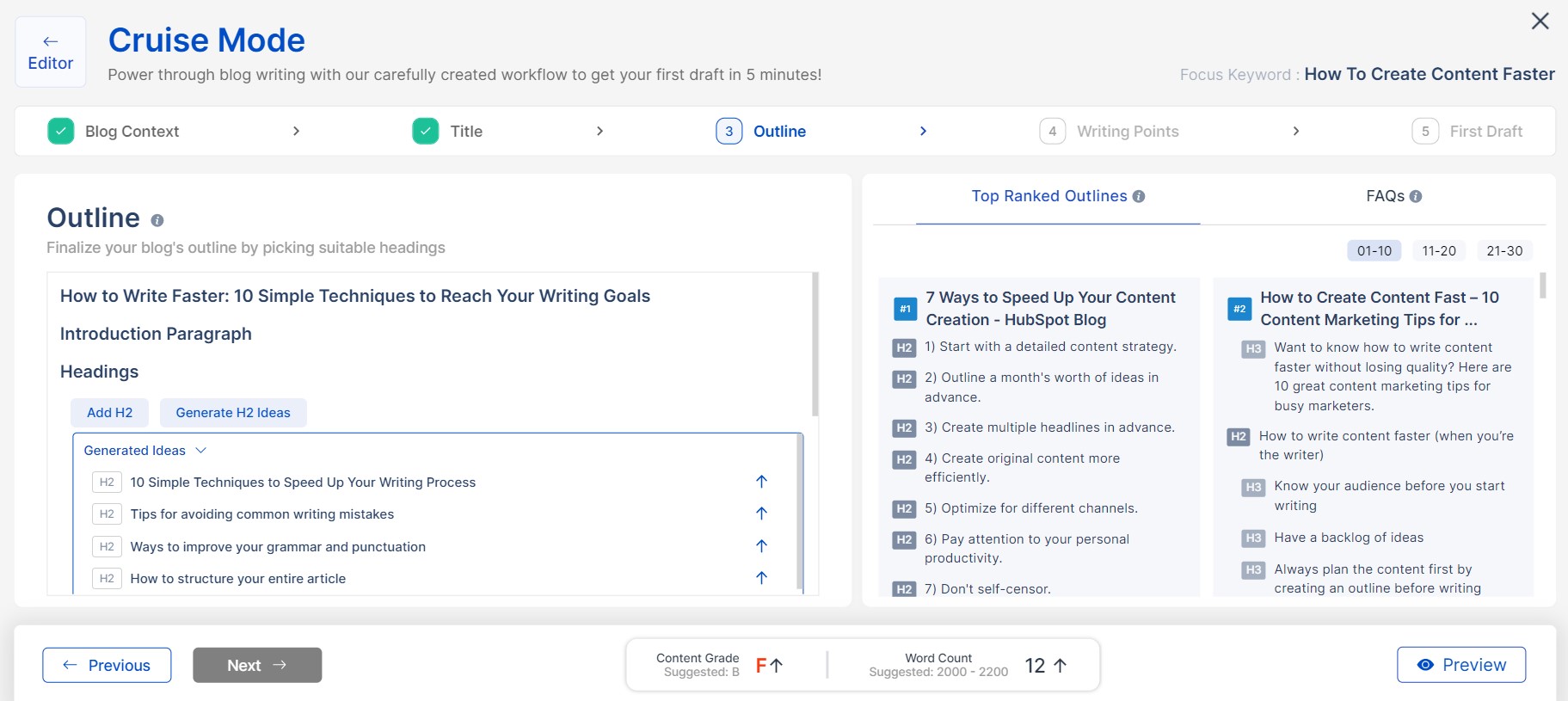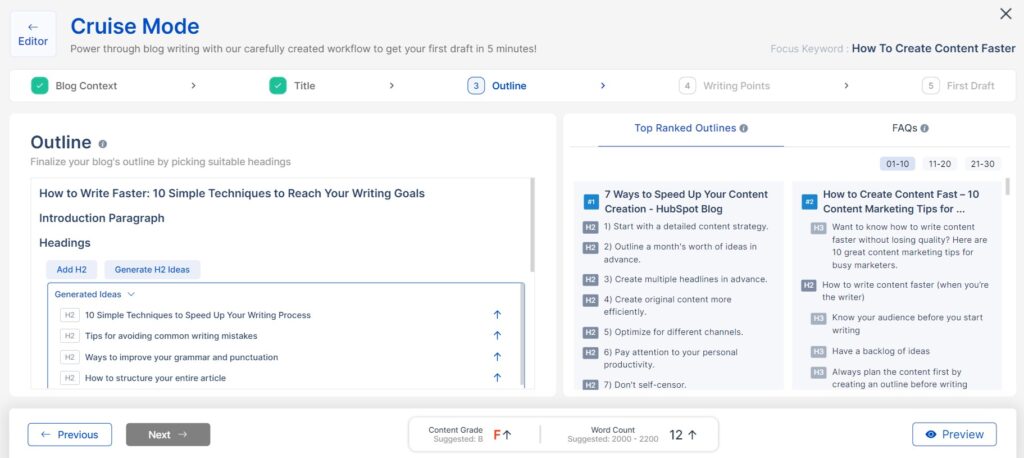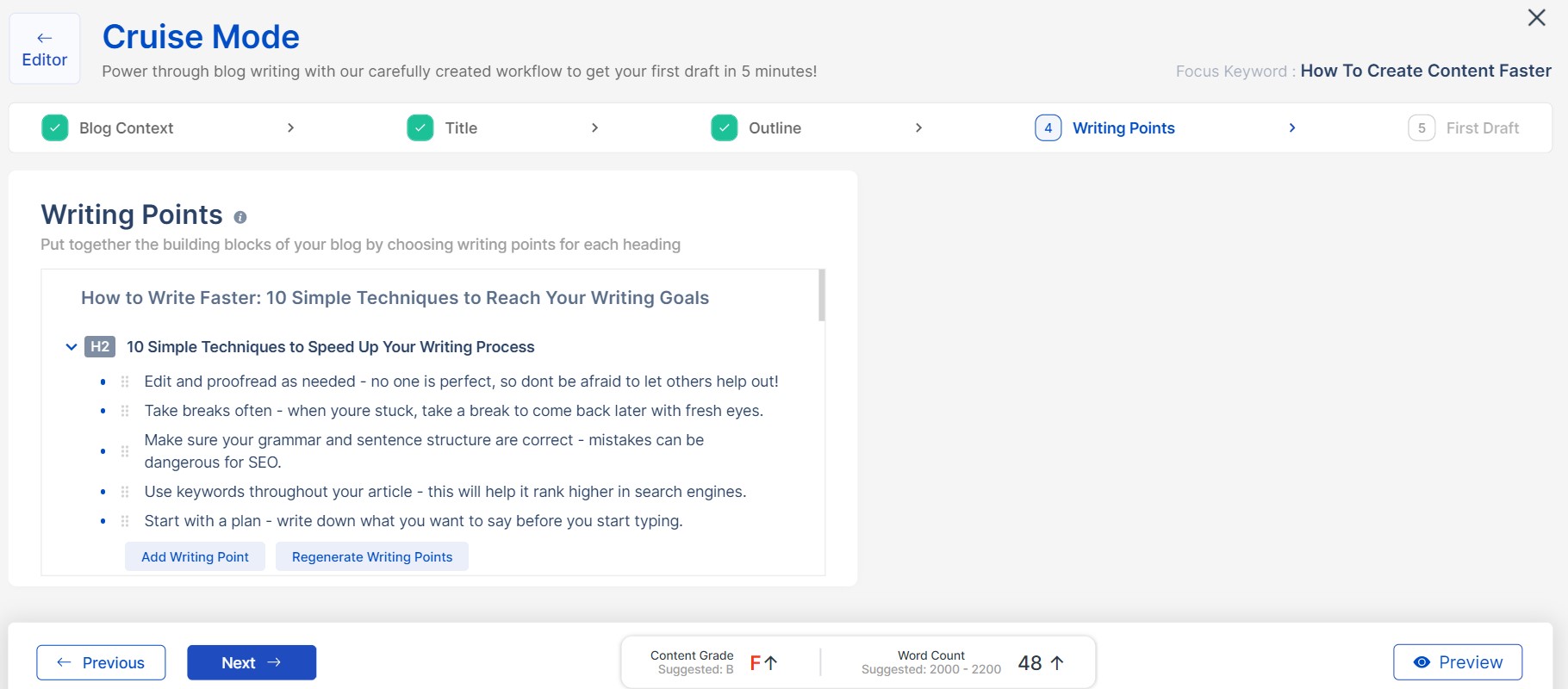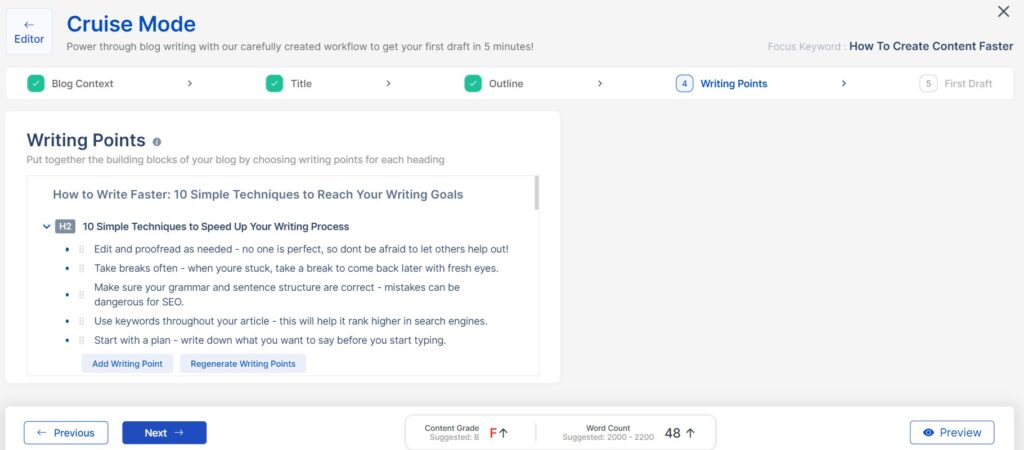 Now some disadvantages:
The quality of the output in this ai content generator is less than that of Jasper, and sometimes it comes out repetitive and wanders off-topic at times.
The ability to set the content output size is still unavailable.
Pricing: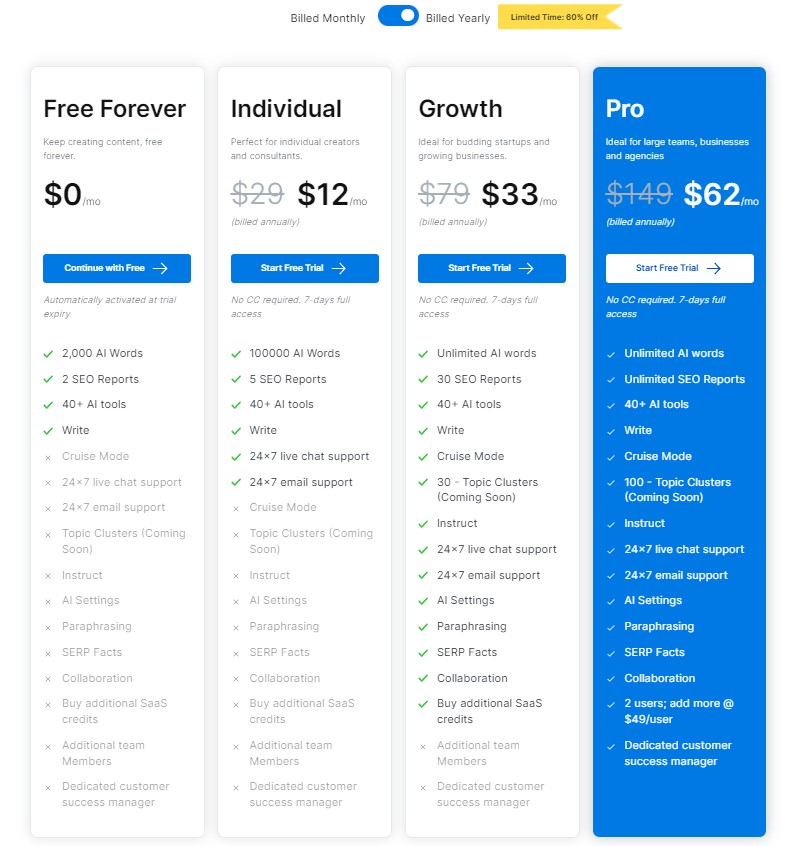 Starts at $0 per month with a Free version Plan.
It has a 7-day free trial with all features included. After that, it has 3 different pricing plans:
The Individual Plan costs $12 per month (billed annually) and gives you 100,000 AI words with 5 SEO reports.
The Growth Plan costs $33 per month (billed annually) and gives you access to the cruise mode with Unlimited AI word and 30 SEO reports.
The Pro Plan costs $62 per month (billed annually) and gives you all the features in the growth plan plus the ability to add more users and a dedicated customer success manager.


Grammarly is a proofreading and editing tool that can help you improve your writing. It can be used for both personal and professional purposes.
The tool is available as a web app, as well as a Chrome extension, Microsoft Office add-in, and more.
One of the main advantages of using Grammarly is that it can help you identify and correct errors in your writing. The tool can also be used to improve your grammar, spelling, and punctuation.
In addition, Grammarly can help you with writing styles, such as avoiding passive voice or using transitions.
Another advantage of Grammarly is that it can be used for a variety of purposes. For example, you can use the tool to proofread an email before sending it or to edit a document. You can also use Grammarly to check your writing for plagiarism.
Eliminate grammar mistakes
Spell check your words in the right context
Improve the overall tone and style of your writing
Achieve error-free proofreading for all of your long-form content editing needs.
Work faster and more efficiently with less hassle by seamlessly integrating with your favorite tools like Microsoft word, google docs, and WordPress.
Plagiarism checker
Now some disadvantages:
One of the disadvantages of Grammarly is that it is not 100% accurate. The tool will sometimes make suggestions that are not appropriate for the context of your writing.
Pricing: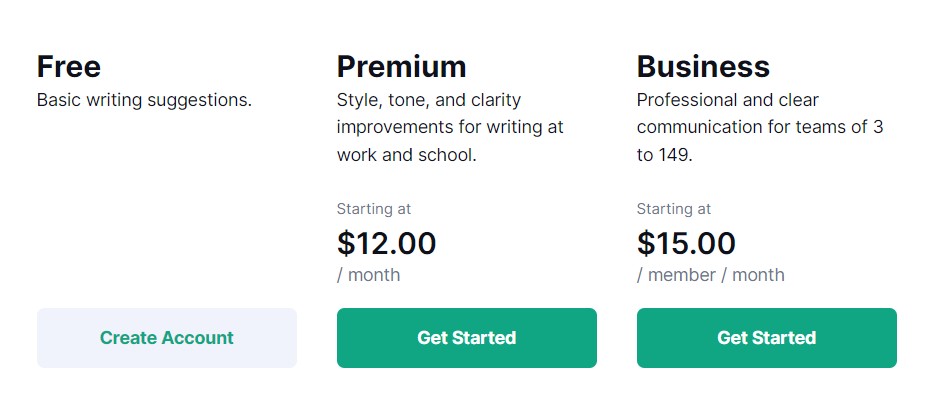 The Free version of Grammarly is available for personal use only.
The Premium version starts at $12 per month.
The Business version starts at $15 per month.
Rytr is the ai writing assistant tool for content creators who want to create unique article drafts error-free in their writing styles without spending hours proofreading and editing their work.
just enter your primary keyword and this writing tool will create your content in just a few seconds.
Rytr Use cases:
Create outlines and blog Ideas
content generation
Landing pages copy
Ad copy
Email copy
Product Description
SEO Meta (title and description)
Song Lyrics
Video title and description
and other templates
Rytr Features:
+20 tones of voice
+30 use cases
+30 multiple languages
Free grammatical errors
Writing Style checking
Browser add on
Rephrasing sentences
Free Plagiarism checker
Easy writing process
Pricing: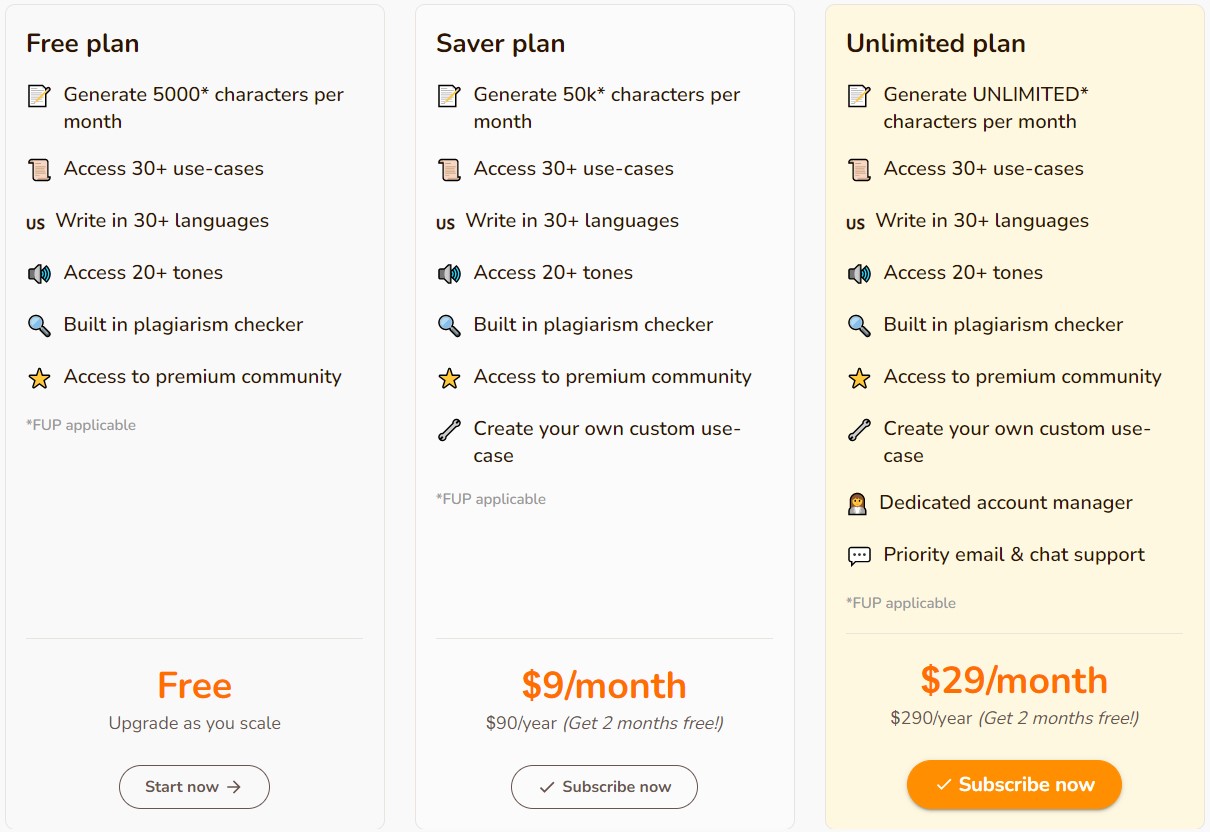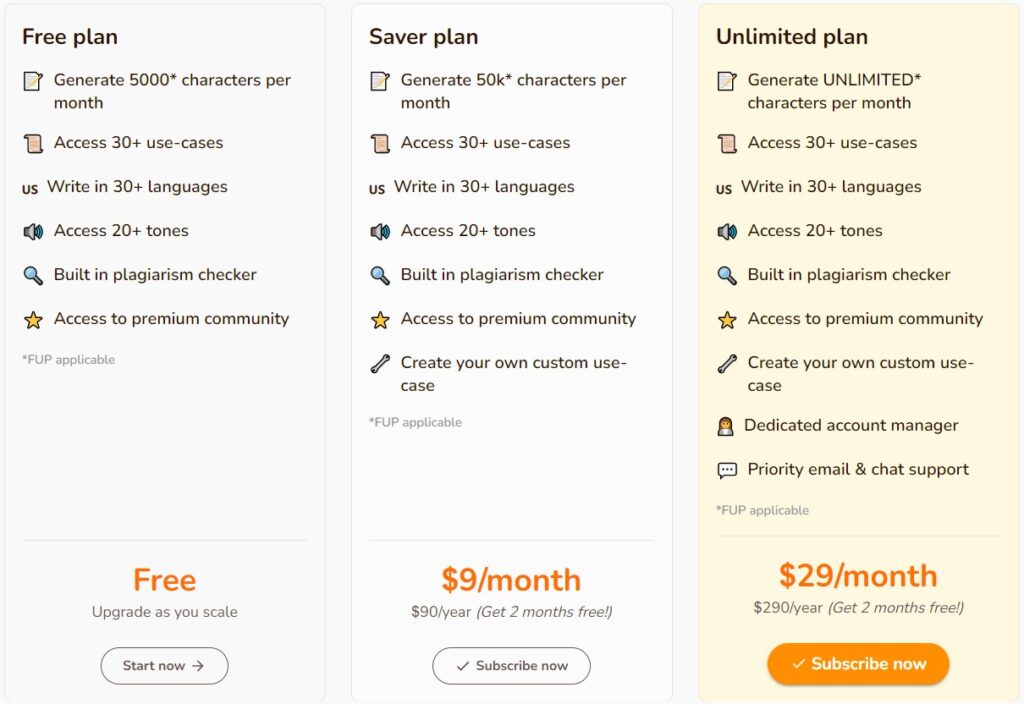 rytr has three plans:
The Basic plan is free and allows you to generate 5000 characters/mo
The Saver plan costs $9 per month with 50k characters/mo
The Unlimited plan costs $29 per month and comes with Unlimted characters/mo
ArticleForge uses artificial intelligence and a machine learning model to generate content. It is a tool for bloggers who want to save time on writing articles. This ai article writer is easy to use and produces SEO-optimized content.
Generate articles in bulk
Plagiarism free articles
Every post is accompanied by relevant, videos, and images.
automatically publishing the article on the blog
Now some disadvantages:
Content output quality needs improvement
The output is often duplicated within the document.
The articles are NOT human-readable.
I highly recommend using this writing assistant software to create a guest post for backlinks, but not on the main website.
Pricing: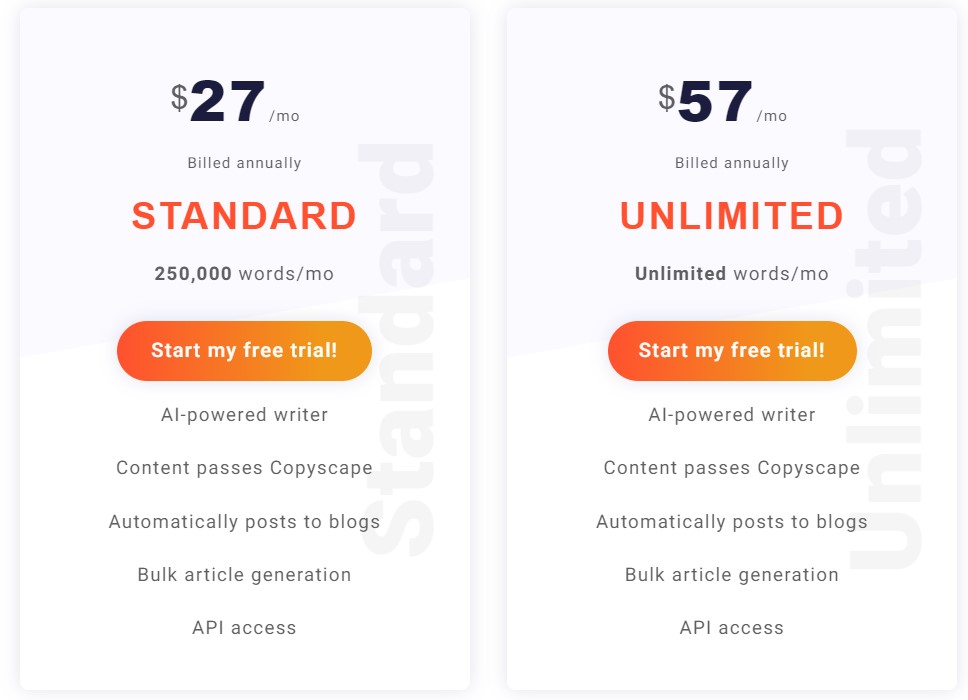 ArticleForge ai writer has 2 different pricing plans:
The Standard Plan costs $27 per month and gives you 250,000 words/mo.
The Unlimited Plan costs $57 per month with unlimited words/mo.
These are some of the other ai writing assistants that we didn't mention in the article:
Article forge
Wordai
Copysmith
Kafkai
Articoolo
Peppertype
Frase
AI Writer
Hyperwrite
QuillBot
We will continue to update this article with anything new in the world of artificial intelligence and automated article writing software.
What Are AI Writing Tools?
AI writing tools are a neural network and a computer. that helps you write better by generating the content, identifying errors, and offering suggestions.
Many of these programs also offer style and grammar checking, as well as plagiarism detection. Some of the more advanced programs even allow you to input your ideas into a "brain" so that the program can help you develop your ideas before you start writing.
Is AI writing Software Well for Content Creators?
Yes, AI-based writing tools can help with the creation of content for Blogs and websites. The majority of AI writing software tools use deep learning to create content as an author does in a typical job.
Can AI Really Write Original Content?
Yes, AI can provide 100% unique and undistinguishable human content creations.
This is done using highly efficient and repetitive learning typically done by employing neural networks and a computer.
In fact, AI is already being used by many businesses to produce high-quality content that is indistinguishable from that written by humans.
The AI can be trained to generate content in any style or genre, so it's perfect for businesses that need to produce a lot of content on a tight deadline.
Additionally, because the AI can write content quickly and efficiently, it's a cost-effective way to get original content without having to hire a team of writers.
Who should use ai writing tools?
Anyone who writes regularly can benefit from ai writing tools. This includes students, bloggers, content marketers, and even casual users who only write content occasionally.
these writing software tools can help you with a variety of tasks, from improving your grammar and spelling to suggesting better words and phrases use. and best of all help you overcome writer's block.
Of course, ultimately it's up to you to decide whether or not to use the content made by the software. But if you're looking for a way to improve your writing skills without putting in extra hours of work, then ai writing assistants are definitely It is the best option.
if you want to read some ai generated content, then take a tour of our blog.
Is AI used in creative writing?
Yes, AI can be used in creative writing. However, it is important to note that AI needs good input from you to create creative content.
Is AI going to replace writers?
No, AI is not going to replace writers. However, it can help writers create better content faster.
Can AI write better than humans?
It depends. AI can certainly create content that is indistinguishable from human-written content. However, whether or not it can write better than humans is debatable.
At the end of the day, it is up to you to decide whether or not to use ai copywriting tools. However, if you want to write blog articles more quickly and effectively, then AI copywriting software is definitely worth considering.
How do AI content writers work?
AI content writers work by using machine learning and GPT-3 technology to understand the topic you want to write about. They then use this information to create content for you.
Are AI Writing Tools Expensive?
No, AI writing tools are not expensive. In fact, many of them are actually give a free trial, However, You can compare the prices that I have shown in the article, and decide which option is right for you.
Can AI write blog posts?
Yes, AI can write blog posts. In fact, Jasper AI is specifically designed to help you create high-quality blog posts quickly and easily.
Can AI write a book?
Yes, AI can write a book. However, I would recommend using a human editor to go over the final book to make sure it is up to your standards.
What can AI write?
The possibilities are endless, but here are a few ideas:-Sales pages -Blog posts -Product descriptions -Landing pages -Facebook ads -Tweets – Email – Newsletters – Press Release – Books – Novels – Stories – Songs – Code – Poetry – Essays – Research Paper, marketing copy, You can create all kinds of content with AI
Conclusion
So, is AI writing software really the future of content? It's hard to say for sure. However, if you want to take a chance and see how your business could benefit from using an AI writing assistant, Jasper is your best bet.
With its natural language processing capabilities and a vast library of resources, Jasper can help you create original content that will engage your audience and drive traffic to your landing pages or blogs.
Additionally, because the AI can write content quickly and efficiently, it's a cost-effective way to get high-quality content without having to hire a team of writers. Ready to try it out?