Are you tired of spending hours trying to come up with engaging, SEO-optimized content for your website or blog?
As a website owner, digital marketer, or freelance writer, you know firsthand the struggle of constantly producing high-quality articles that will drive organic traffic and attract readers.
But what if there was a way to streamline the process and create better content in less time?
Enter Outranking, an AI writing tool that aims to eliminate writer's block and help you produce top-notch content faster.
With its advanced AI technology and extensive library of templates and tools, Outranking makes it easy to create compelling, SEO-friendly articles in a fraction of the time it would take to write them manually.
In this review, we'll be taking a deep dive into Outranking and all of its features, including its pros and cons and pricing.
By the end, you'll better understand whether Outranking is the right tool for you and your content creation needs.
So, if you're ready to save time and improve the quality of your content, keep reading. We'll give you an inside look at Outranking and everything it has to offer.
What is Outranking?

Outranking is an AI-powered tool that helps you write and optimize your content for search engines. It provides a data-driven analysis of your pages, identifying areas where they may be lacking compared to top-ranking pages for a given topic.
This can be particularly useful for improving the visibility of your website on search engines like Google.
Instead of relying on guesswork, Outranking allows you to make informed decisions about your content, ensuring that it meets the requirements for ranking highly on the search engine results pages (SERPs).
Whether you're looking to write new content or optimize existing pages, Outranking can help you create high-quality, SEO-friendly content that will help your website stand out on the SERPs.
How can the Outranking SEO tool know what Google likes to rank?

Outranking uses artificial intelligence and data analysis to analyze and compare your own pages against the top-ranking pages for a specific query.
It looks at various on-page, and off-page SEO metrics, such as the use of main and sub keywords, LSI/NLP/TF-IDF keywords, content depth, meta tags, media elements, incoming backlinks, word count, outgoing external and internal links, and headline structure.
With this information, Outranking can build a model of what search engines like Google consider important for a particular query and help you optimize your own content accordingly.
However, Outranking doesn't just stop at content optimization – it also provides a range of tools to help you research keywords, analyze SERP data, write content, and optimize your website overall.
Let's explore the powerful features of this tool.
Outranking Features
Outranking has a variety of features that can help you create SEO content for your website.
One of the standout features is the content editor, which has the potential to significantly improve your on-page optimization.
By simply editing the content of a page, you can potentially bring it up from the lower end of a search engine results page (SERP) to the top three, all without building any backlinks.
In this section, we'll take a closer look at the content editor and see why it's so effective.
But that's not all Outranking has to offer – we'll also explore its other features and tools to help you create and optimize your website's content.
SEO Content Editor: Outranking's Top Feature
Now it's time to examine Outranking AI writing tools and how they can help you create user-focused content and related keywords.
AI Wizard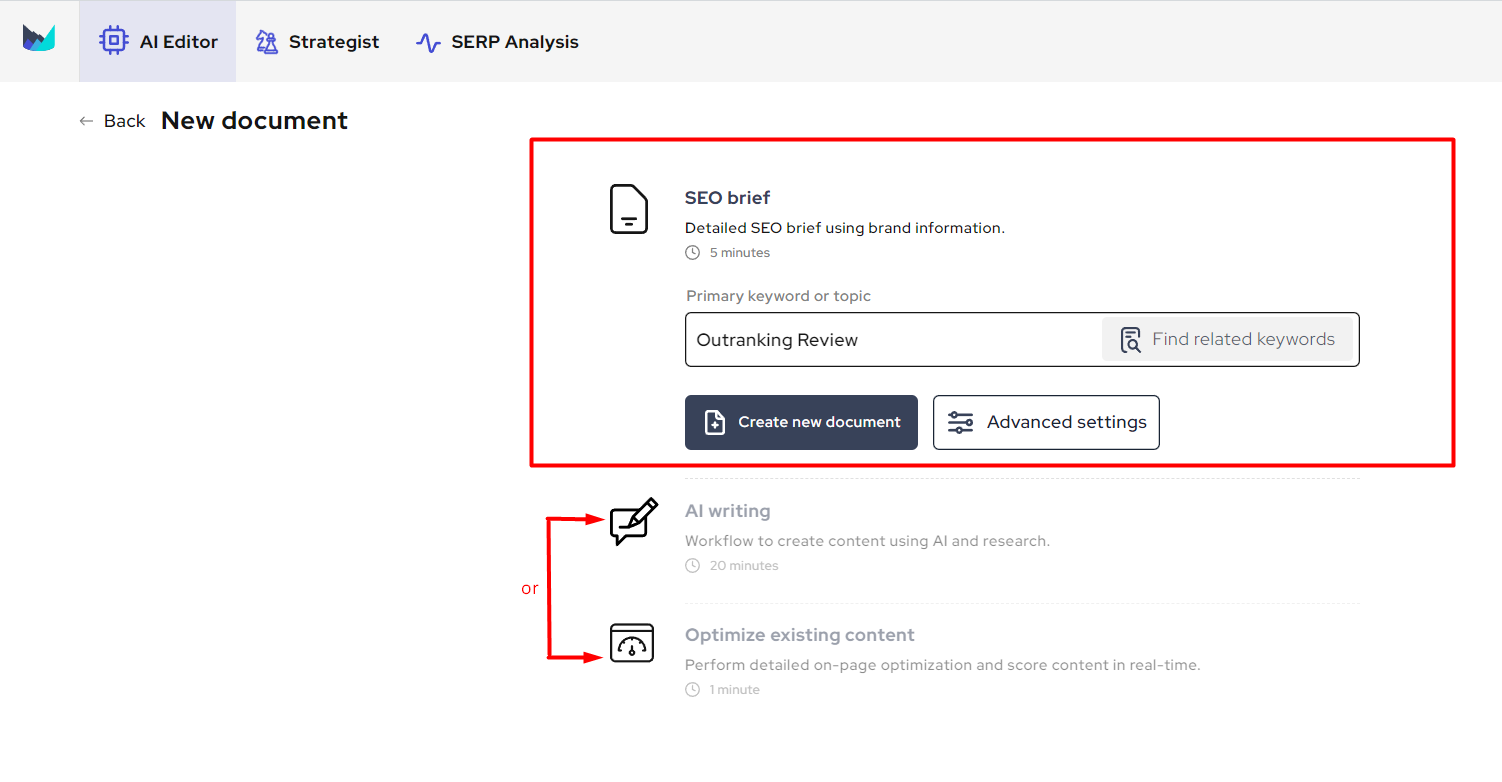 Outranking's AI wizard is easy to use. You simply select a keyword or keywords that you want to target, and the tool will analyze the top search results and provide you with a template to work with.
If you're not entirely sure which target keyword to use, you can also click the "Find related keywords" box and then the magnifying glass icon.
Now you can choose to create a brand new document or update existing articles, making it easy to improve the ranking of your existing content.
which is useful if you already have a blog and don't want to start from scratch. You can easily update your existing articles to see an improvement in rankings.
As you move through the tool process, the next screen will give you the option to create an SEO brief document.
Create SEO Brief
An SEO brief is a document that outlines the goals, strategies, and tactics that will be used to optimize a website or specific webpage for search engines.
It helps to guide the content creation and optimization process and ensure that all efforts are focused on achieving the desired outcomes.
With Outranking, you can create an SEO brief to clarify the target audience, search intent, Content gap, goals, and objectives for a specific piece of content, and align the content strategy with the overall goals of the website.
By creating an SEO brief, you can gain a clearer understanding of what needs to be included in your content and how to optimize it for search engines.
This can save time and effort in the long run, as it helps to ensure that your content is focused and aligned with your overall goals.
The first step in this process is to select from a list of automatically generated title ideas or create your own.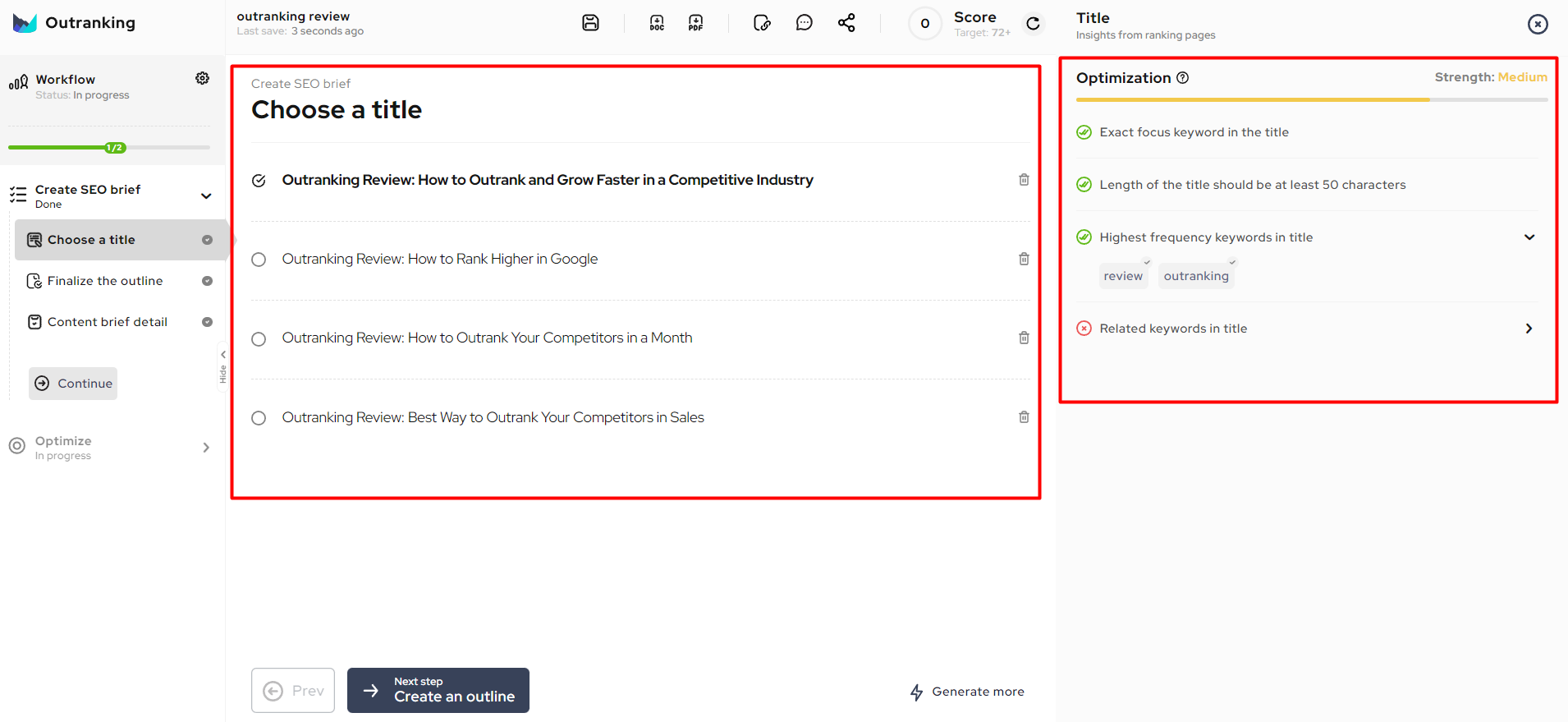 The titles are generated based on the target keywords that you have chosen, and they are designed to help you create a compelling headline that will grab the attention of your audience and improve your search engine rankings.
Once you have selected a title, the next step is to create an outline, and Outranking's AI wizard can help with this as well.
Outline Builder
Outranking's outline builder is a helpful tool that can assist you in creating a clear and structured outline for your content.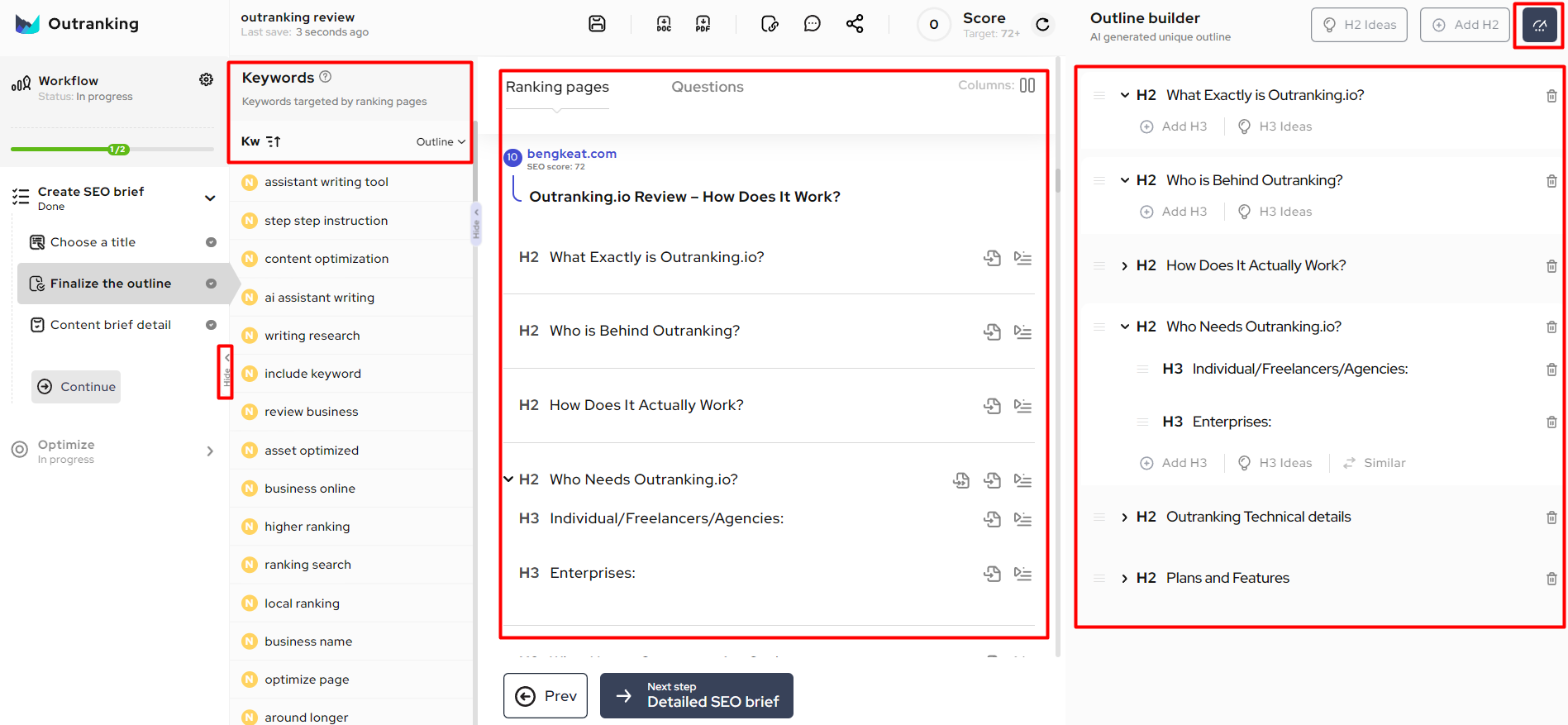 This is a crucial step to creating high-quality content that will rank well in search results, so be sure to give it your full attention.
To begin, hide the Workflow panel on the left and open the Keywords tap on the right from it.
This tab shows you which keywords should be included in your outline.
Those with a checkmark have already been included, and you can choose between keywords taken from the outline and All (entire post), or sort by NLP keywords.
You can click on a keyword to see where it appears in the outlines from the ranking pages so you can incorporate it into your own content.
In the center of the screen, you'll find a list of the most relevant pages ranking currently for your chosen keyword.
Scroll through this list to see if there is any information that you might want to include in your content.
This panel will show you an AI-generated outline based on the target keyword that you have chosen.
Take some time to review the H2 and H3 headings to ensure that they make sense and are relevant to your content.
You can also add or remove headings as needed, or use the H3 Ideas and Similar buttons to generate additional headings based on your existing ones.
Once you have completed your outline, click the "SEO score" icon to see if your outline is fully optimized for SEO.
This will help you ensure that your content is as search engine-friendly as possible and will have the best chance of ranking well in search results.
Now you have a detailed SEO brief showing you the following:
Your meta title and meta description.

Target audience and user intent.

Goals and objectives for the content.

Keywords to include in the outline.

Target word count.

Target sections.

What format you should use for your page and your tone of voice.

NLP Terms and concepts from ranking pages to consider including in your content.

A fully optimized outline that is ready to be turned into high-quality, user-focused content.

Competing content.
With all of this information at your disposal, you can now start creating your content with confidence, knowing that you have a solid foundation and a clear roadmap to follow.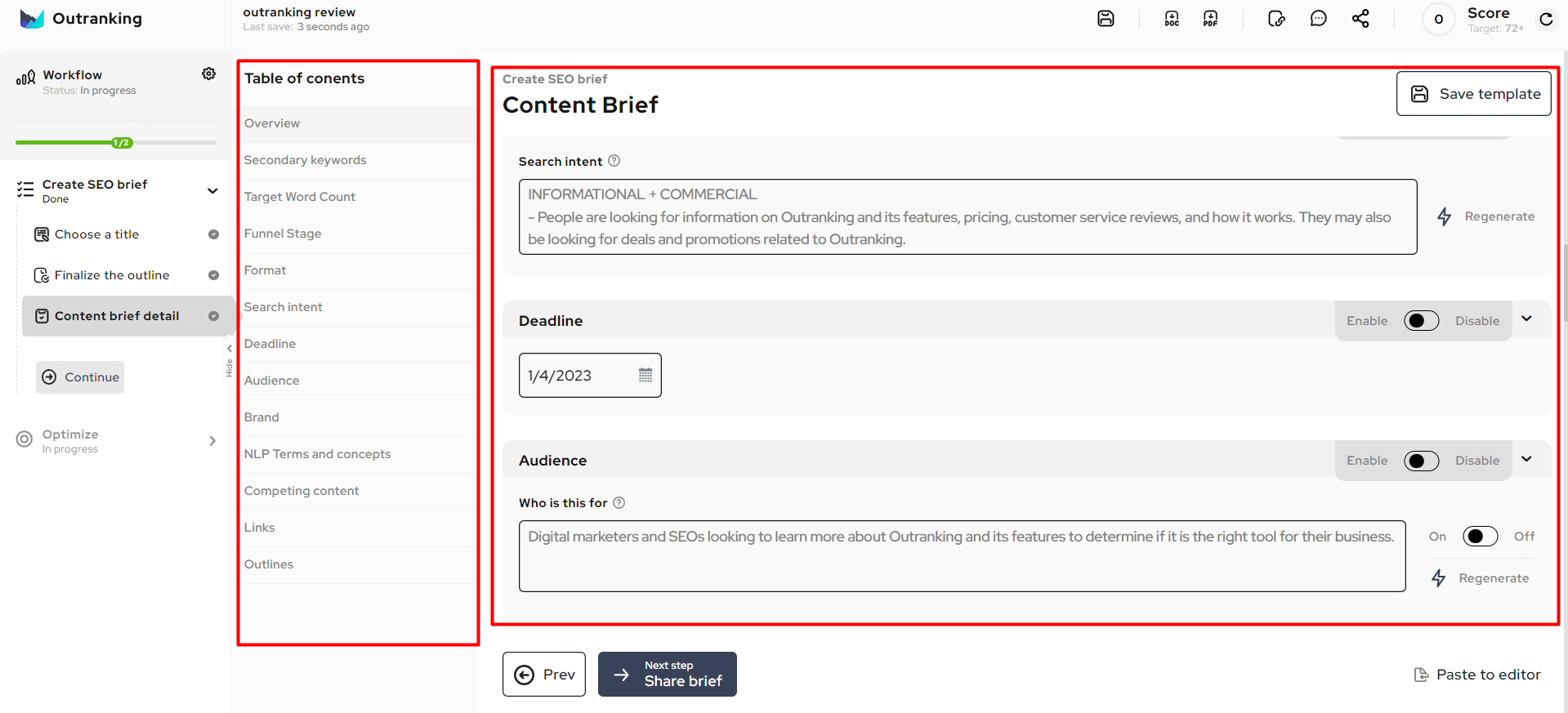 Content Editor AND SEO SCORE
The main content editor interface provides a limited rich text editor and detailed suggestions on the right side of the screen.
In this area, you will find a content score that evaluates the search engine optimization (SEO) of your content compared to other entries on the search engine results page (SERP).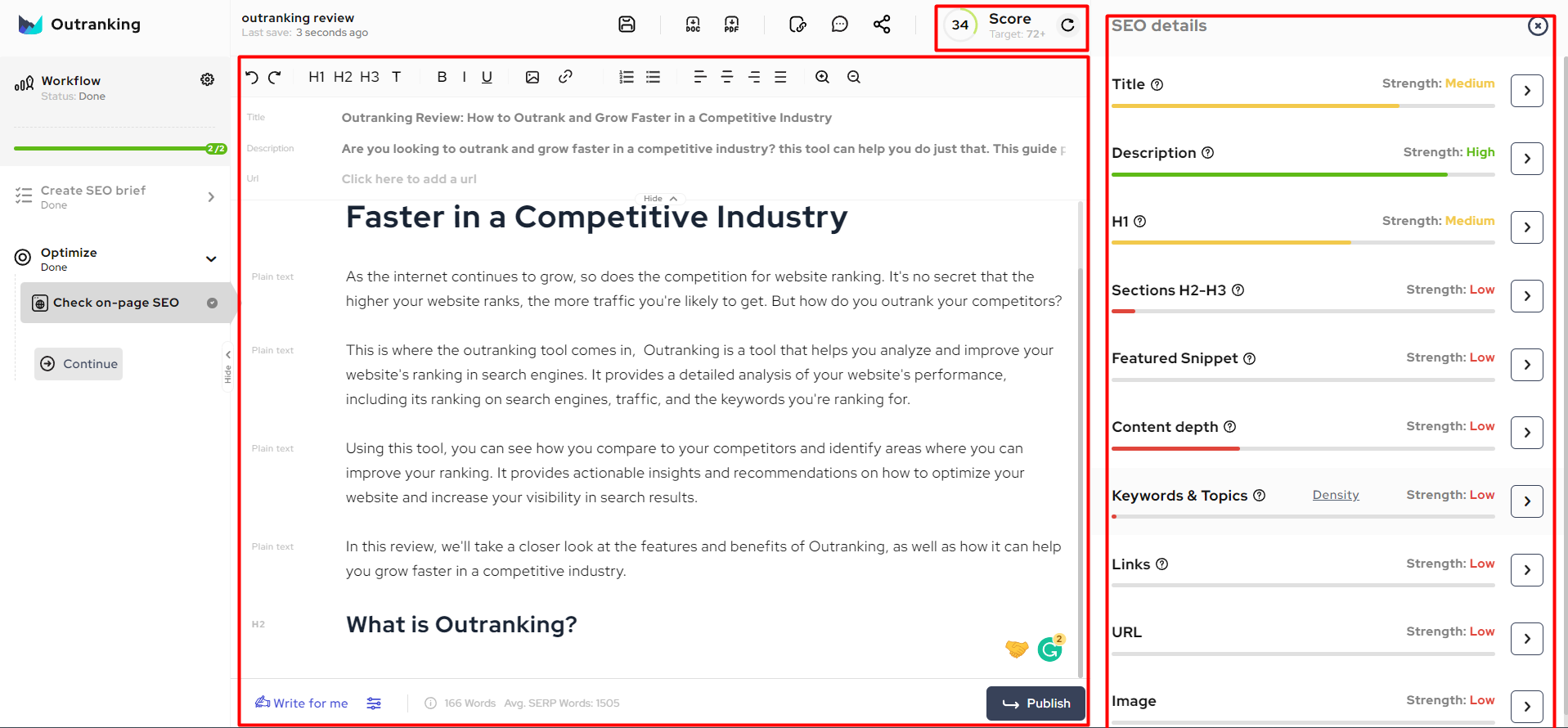 It also offers recommendations for formatting, such as the optimal word count and the number of images to include, etc.
While it is important to consider the SEO content score, it is equally crucial to prioritize creating high-quality, audience-focused content.
These guidelines should be treated as recommendations rather than strict rules to help you create effective content.
The content editor also provides several recommendations for optimizing content, including:
Optimal keyword density and usage

Proper use of headings and subheadings

Appropriate use of images and multimedia

Instructions to construct featured snippets and people also ask

Suggestions for internal and external linking

Recommendations for improving the readability of your content
By following these recommendations, you can improve the overall quality and effectiveness of your content.
Keep in mind that it is important to strike a balance between optimizing for search engines and creating content that resonates with your target audience.
The content editor can assist you in finding this balance and crafting content that meets both of these objectives.
Overall, the Outranking's Content Editor is a useful tool that can help you create SEO-friendly content that ranks well in search results and provides value to your audience.
By understanding your goals, target audience, and keywords, you can use the Content Editor to craft compelling and engaging content that aligns with your objectives.
Outranking AI Writer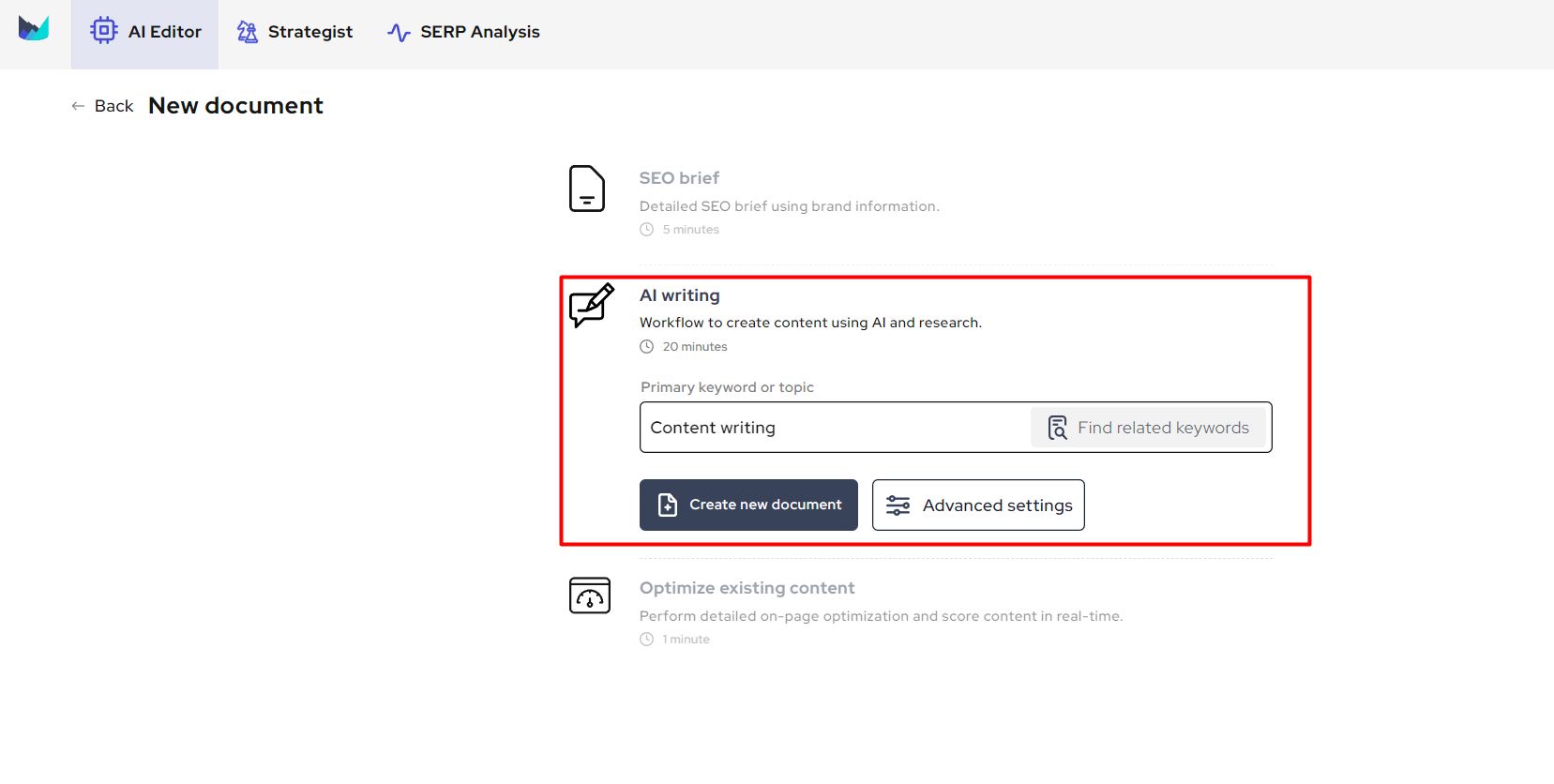 Outranking's AI content writing tool is a powerful tool that helps you generate accurate, engaging, and SEO-friendly content in a matter of minutes.
It works by crawling thousands of web pages related to your targeted keywords and topics using its SERP analysis tool and then using that information to generate a draft article that is tailored to your tone and audience.
For example, I was able to create a 4,770-word article on the topic of "Content writing" in just 5 minutes by providing only one keyword.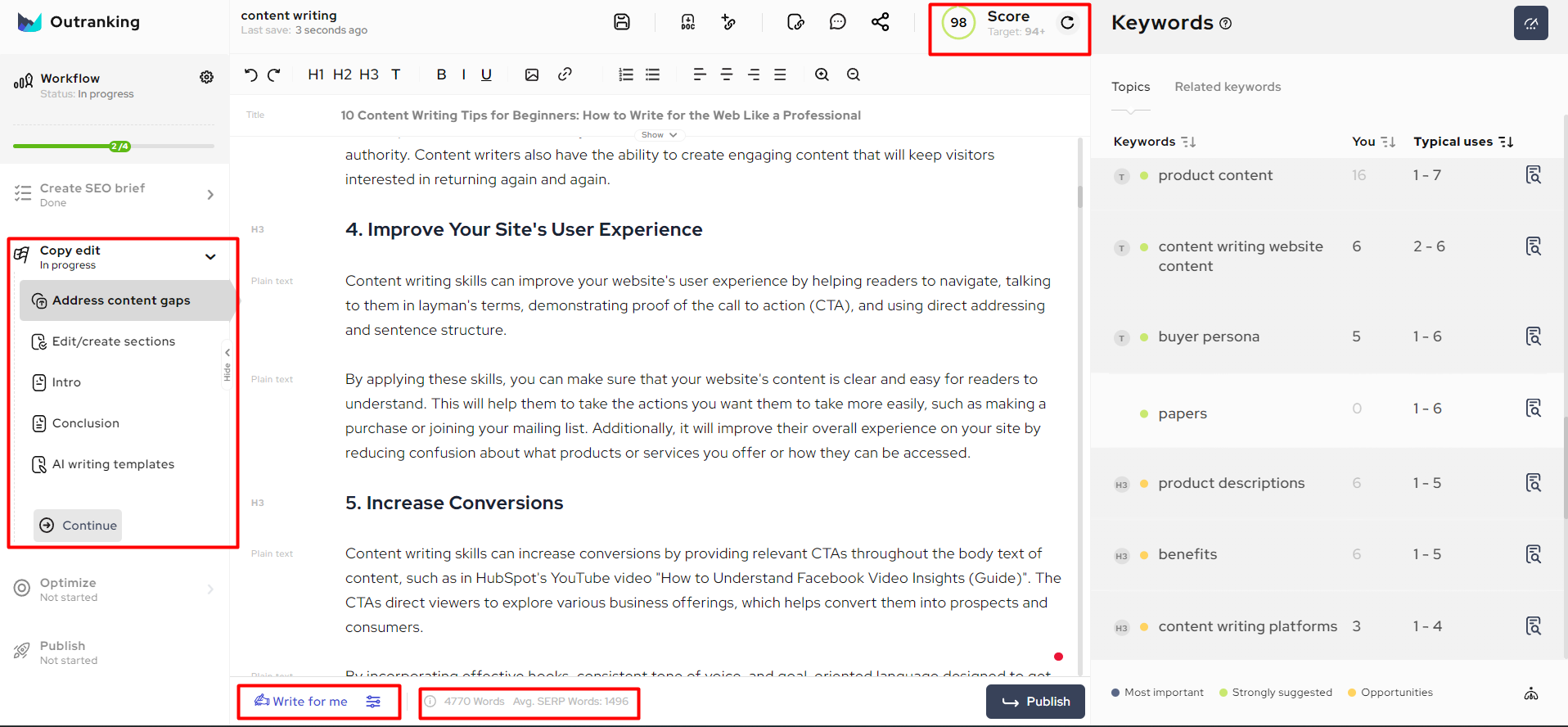 The AI writing tool also can optimize your content for SEO, by including relevant keywords and phrases in the article while still maintaining readability and coherence. All with just one click.
In addition, Outranking has many templates for various types of content, such as Press releases, social media posts, product descriptions, SEO tools like meta descriptions, and more.
You can choose from a variety of templates and customize them to fit your needs, making it easy to create content quickly and efficiently.
It's important to note that while AI writing tools can be useful for generating website content quickly and efficiently, they should not be relied upon completely.
It's still important to review and edit the generated content to ensure that it is accurate, well-written, and aligns with your brand's voice and messaging.
Overall, Outranking's AI writing tool can be a useful tool for businesses and individuals looking to generate content faster.
However, it's important to use it as a tool rather than a replacement for human writers and to carefully review and edit the generated content to ensure that it meets your standards.
SERP Analysis
Outranking's SERP analysis tool provides a wonderful way to analyze competition from a content-first perspective.
To use the tool, you need to enter a focus keyword, select the country and language to target, and choose the number of results you want to see.

There are five main tabs for the results: SERP Overview, Meta Data and URL, H Tags, Keyword Data, Questions, and Other Tags.
The SERP Overview tab will give you a minimum and maximum range of how long and how many images you should have in your optimized content, along with information on meta titles and descriptions.

The Meta Data and URL tab display information about meta titles and descriptions that should follow SEO best practices of 60 and 160 characters, respectively.
In the H Tags tab, you can find information about the heading tags used on your competitor domain, including the number of H1, H2, and H3 tags.
These tags are important for SEO and usability, as they help search engines understand the structure and hierarchy of your content and make it easier for users to navigate and scan the page.

The Keyword Data tab displays the frequency and density of the targeted keyword on the top-ranking pages, as well as related keywords commonly used with the targeted keyword.
As a result of this information, you'll be able to determine your keyword gap with your competitors and how to utilize these keywords most effectively.

The Questions tab displays any questions related to the target keyword that are commonly asked in search results. This can be useful for identifying potential content ideas and optimizing your content for Featured Snippets and People also ask.
Finally, the Other Tags tab can provide insights into the use of external links and anchor text by your competitors, which can help you improve the visibility and relevancy of your own content in search results.
Outranking Review: Customer Support
Ensuring you have access to timely and effective customer support is crucial when using any software.
With Outranking, you have multiple options for accessing support.
The live chat function is available during business hours, allowing you to get immediate assistance with any issues you may be facing.
If you have a question or concern outside of business hours, you can use the message service to get in touch with the support team.
Outranking strives to respond to all inquiries as quickly as possible, so you won't be left waiting for a resolution.
In addition to the live chat and message service, Outranking also offers weekly webinars for users. These webinars provide an opportunity to learn about new and exciting features, as well as how to get the most out of them.
This can be especially helpful for users who want to make the most of their Outranking experience.
Finally, Outranking has a Facebook group where users can connect and interact with each other. This is a great resource for getting answers to questions, sharing tips and tricks, and staying up to date on the latest news and updates from Outranking.
Whether you need help with a technical issue or just want to connect with other Outranking users, this Facebook group is a valuable resource.
So, with Outranking's comprehensive customer support options, you can feel confident that you have the support you need to get the most out of the software.
Outranking Review: The Pros And Cons
Outranking is a powerful AI-powered tool that can help you overcome writer's block, optimize your content, and write articles faster.
However, it's important to consider both the pros and cons before deciding if it's the right fit for you.
Pros:
Comprehensive analysis: Outranking provides a detailed analysis of a website's on-page and off-page factors, including technical SEO, content quality, and backlinks. This can help users identify and fix issues that may be impacting their search engine rankings.
Easy to use: Outranking has a user-friendly interface that makes it easy for users to understand and use the tool.
LSI Keywords: Outranking is one of the few on-page tools that can help you nail LSI keywords.
Good integration: Often with tools that are vital for SEO.
Cons:
Reliance on external data: The tool relies on data from Google's search results, which may not always be complete or accurate. This can limit the tool's effectiveness in some cases.
Limited features: While Outranking.io provides a wide range of features for analyzing and optimizing websites, it does not offer some advanced features that are available in other SEO tools.
Cost: Outranking is a paid tool, which means that users have to pay to access its features. This may not be suitable for small businesses or individuals who are on a tight budget.
Outranking.io Review: Pricing
Outranking is a powerful writing tool that can save you time and effort, but it's not free. At the moment, there's no way to try it out before committing to a purchase.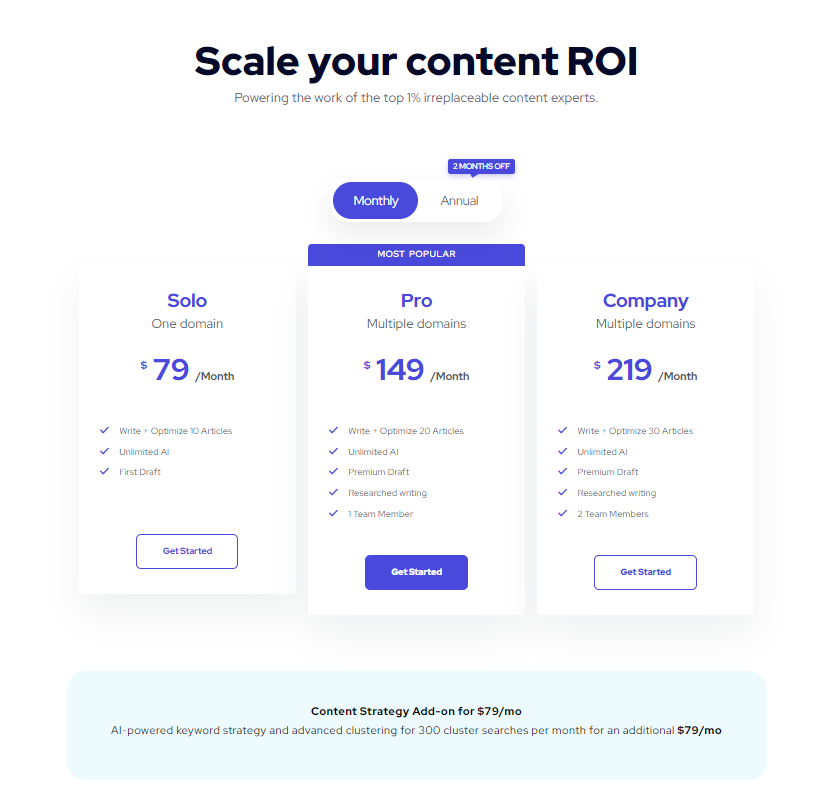 However, the company does offer a 30-day money-back guarantee, which allows you to test the software without risk.
If you do decide to buy Outranking, you'll have a few pricing options to choose from.
The most affordable option is $79 per month, which allows you to optimize 10 articles and generate unlimited AI content for $79 per month.
This might be enough if you're writing for your own website, but it may not be sufficient if you're a freelance writer working on multiple projects.
The next tier is $149 per month, which allows you to write and optimize 20 articles and unlimited AI content.
And the highest plan, at $219 per month, lets you create and optimize 30 articles and unlimited AI content.
If you need more than this, you'll need to contact customer service to discuss your options.
Bottom Line
In conclusion, Outranking is a powerful tool for digital marketers looking to optimize their content for search engines.
Its all-in-one platform eliminates the need for additional software, saving both time and money. Although it is a newer product, it has already demonstrated its potential to be a market leader in AI content writing.
It's worth noting that the AI writer is meant to assist with writing, rather than fully taking over the task.
Overall, Outranking is a promising solution for those looking to improve their online content and stay competitive in the digital world.