Looking for the best alternatives to Jasper AI in 2022? You've come to the right place.
We've compiled a list of the top 10 Jasper AI alternatives, ranging from free to paid options.
So whether you're looking for a cheaper alternative or something with different features, we've got you covered.
Jasper is a fantastic AI writing tool. In fact, we ranked it first in our guide of the best AI writing software.
However, Jasper's Boss Mode (probably the only way to utilize Jasper) is rather pricey.
So, Here's a complete list of the best Jasper AI alternatives.
Continue reading to discover how they compare to Jasper AI.
10 Best Jasper AI Alternatives
Copy AI tool is well-known for achieving outstanding results for ad copies, sales copies, and blog content. it generates human-like and effective copies using GPT-3 technology.
Copy AI is the greatest choice if you're suffering from writer's block and want a copywriting tool that can start the writing process for you.
It has over 90 templates such as the AIDA framework, PAS model, product descriptions, blog post introduction, and many more. (more than any other AI copywriting tool).
With Copy AI, you can create high-quality, plagiarism-free content that will help you rank higher in search engines and drive more traffic to your website or blog.
Copy AI is a great tool for content marketers and copywriters alike.
So, If you are looking for the best Jasper AI alternative that can help you create high-quality, plagiarism-free content, Copy AI is the best option.
Features of Copy AI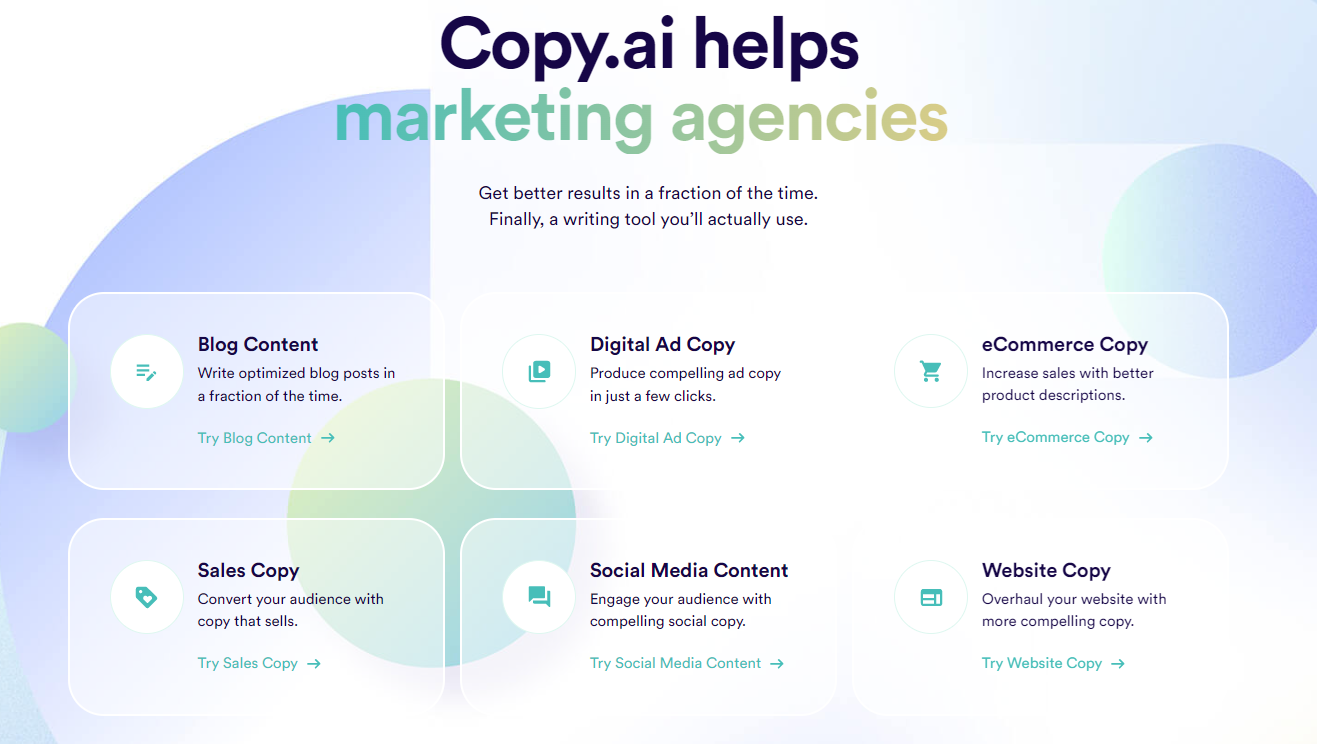 Here is a quick review of Copy AI features:
Wide range of templates: Copy AI offers over 90 templates, which means you'll find a template for anything you want to write about.
Plagiarism-free content: Copy AI generates plagiarism-free content, This means you don't need to constantly check your content for plagiarism.
Multilingual Support: Copy AI is also capable of producing content in over 25 other languages. So, whether you write content in Spanish, Portuguese, German, or another language, Copy AI can help.
Pricing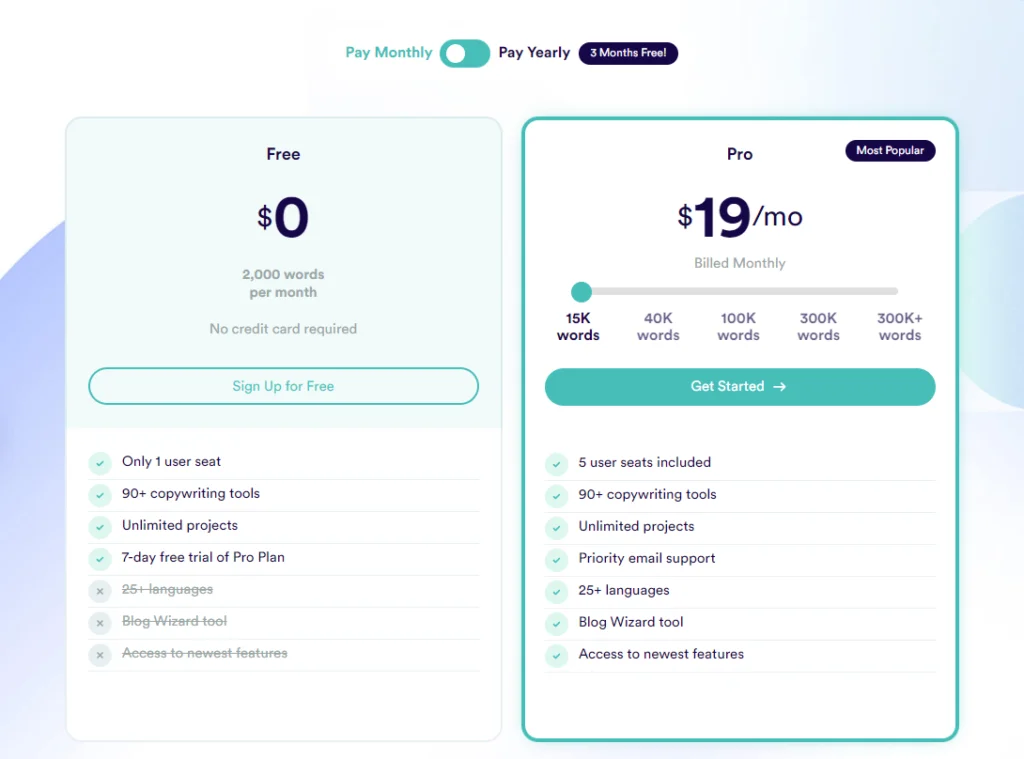 Copy AI has two price tiers.
The free plan is completely free and includes 2,000 words per month, support for over 25 languages, and 90+ copywriting tools.
The pro plan starts at $19/month or $14/month billed annually and includes 15,000 words per month, as well as access to premium support and community.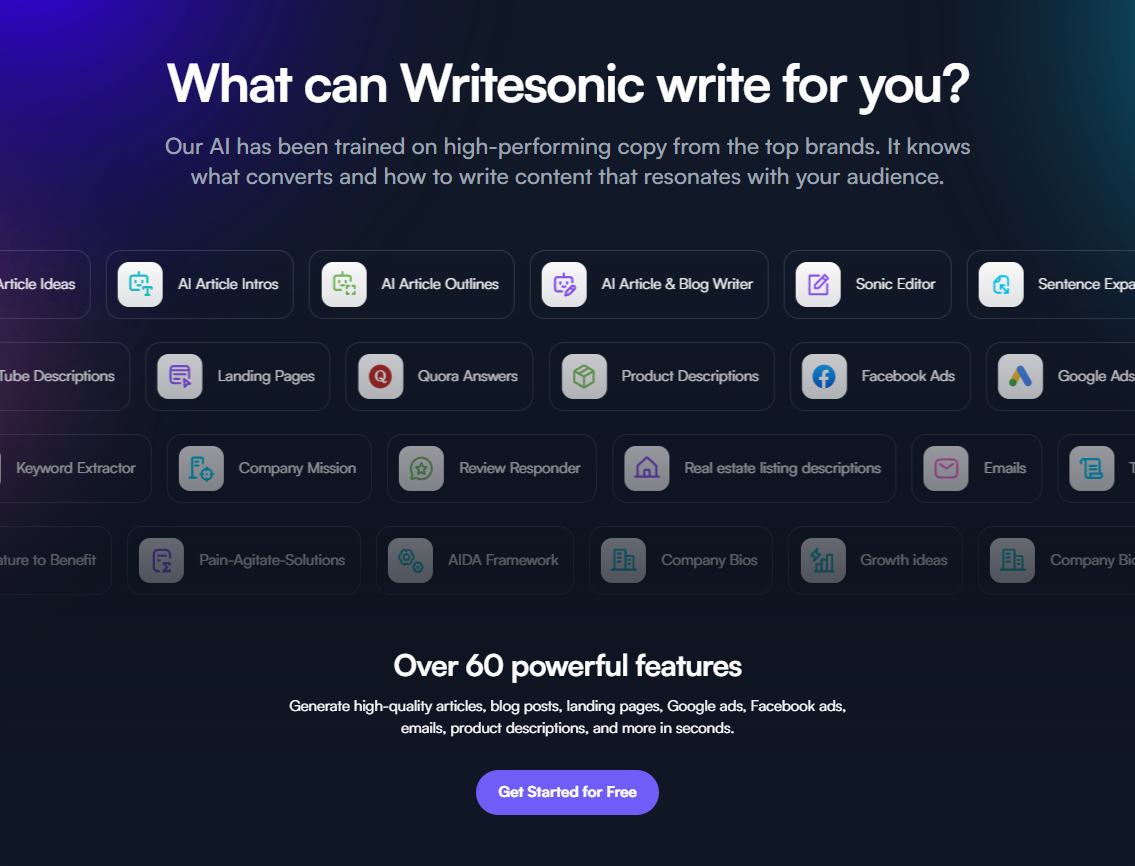 Writesonic is another fantastic choice as a Jasper AI alternative. It allows you to create good content in a fraction of the time.
Writesonic writes text as though it were written by a human. and you don't have to worry about writing content in your language because this application supports over 18 languages.
Writesonic specializes in marketing copy. The workflow and the templates are all geared toward producing high-quality short-form content.
however, it has a long-form template. It's also not too pricey.
Features of Writesonic
Affordable: Writesonic is less expensive than some other content generator tools, and the software is quite economical no matter how you use it.
Variety of content types: Writesonic is good enough to generate content for blogs, social media, websites, eCommerce stores, and much more.
Mostly free of plagiarism: Based on my testing, the text appears to be free of plagiarism. However, the more you use it, the more plagiarism results are returned.
Pricing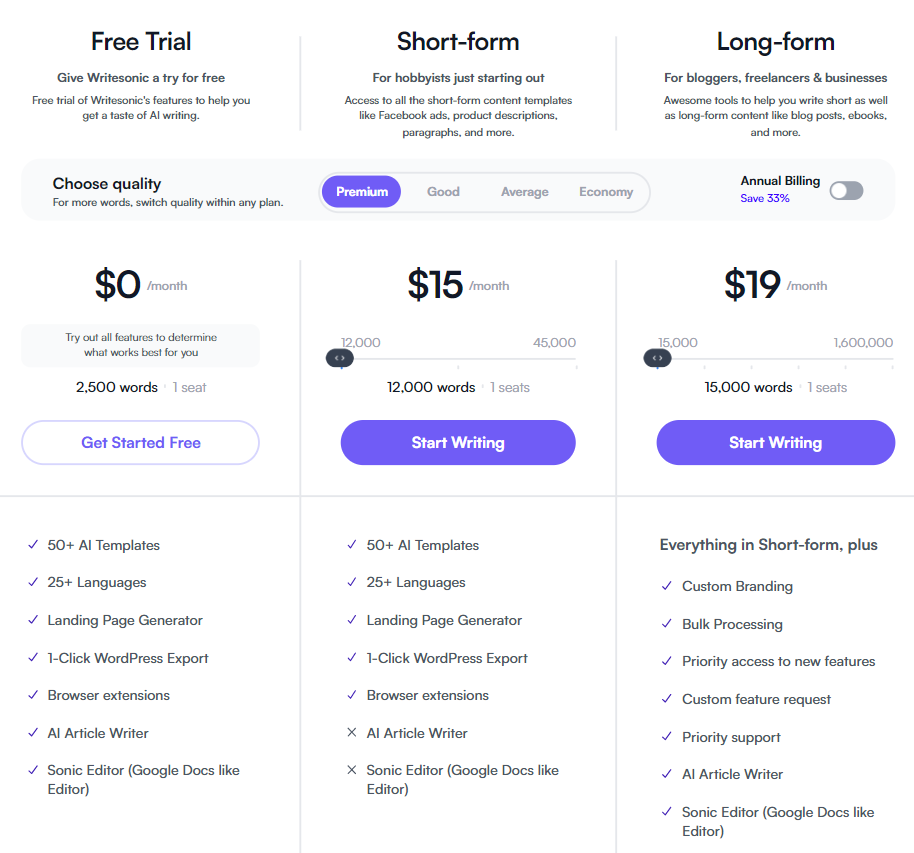 As mentioned before, the Writesonic tool is less expensive than other Jasper AI alternatives.
Update: Writesonic has introduced a new pricing model based on output quality.
"If a plan provides 12,000 Premium words, that means you can use either 12,000 Premium words or 30,000 Good quality words or 60,000 Average quality words or 90,000 Economy quality words. In order to maximize word utilization, you can also mix and match different quality levels at any time."
The Free Trial plan costs $0/month and allows you to write up to 2,500 premium words.
For the Short-form plan, you will pay $15 per month, and it comes with 12,000 premium words with some advanced features.
The Long-form plan costs about $19 monthly and gives you 15,000 premium words.
Copysmith is one of the best Jasper AI alternatives for eCommerce and large marketing teams. Their tool was developed to help marketers and content writers overcome writer's block, and burnout, and collaborate more effectively.
Features of CopySmith
Copysmith has several features, and we will highlight some of the most important ones below.
CSV Files: You can export your generated copy as a CSV file.
Sharing: Integrated sharing capabilities allow you to get feedback from others before posting.
Google Chrome Extension: Another important feature of this application is the simple to access to Copysmith. You can create content from anywhere and at any time.
Over 20 templates: the Copysmith tool includes a lot of good templates, with over 20 templates available in marketing, product descriptions, Facebook ad copy, and many more. All you have to do is enter your keywords and a brief description of your product.
Pricing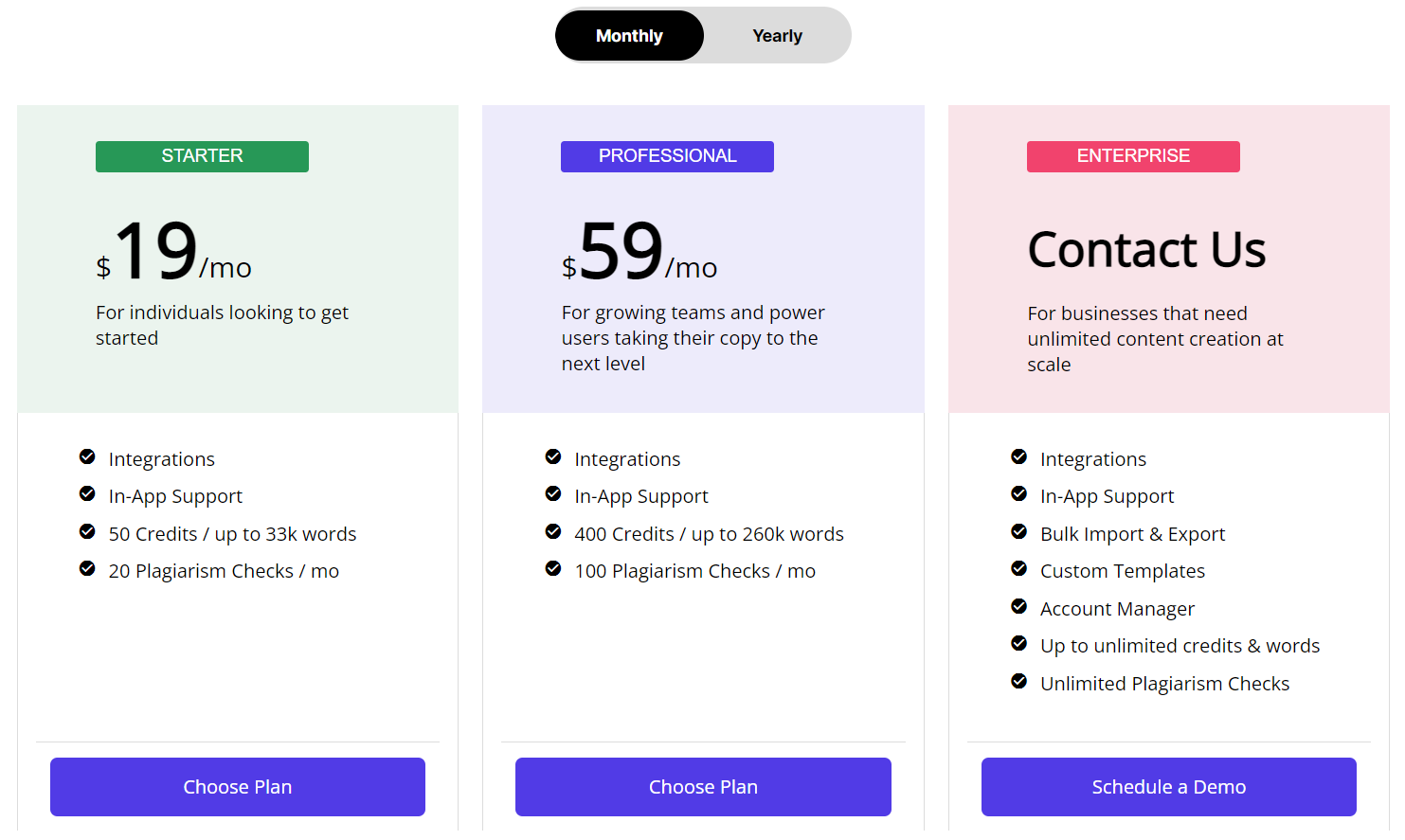 CopySmith has three price tiers.
The Starter plan is $19 per month or $192 per year and includes up to 33K words and 20 plagiarism checks/mo.
The professional plan is $59 per month or $600 per year and includes up to 260K words and 100 plagiarism checks/mo.
You must contact them to obtain a quote for the Enterprise plan.
They also provide a 7-day free trial with no credit card required.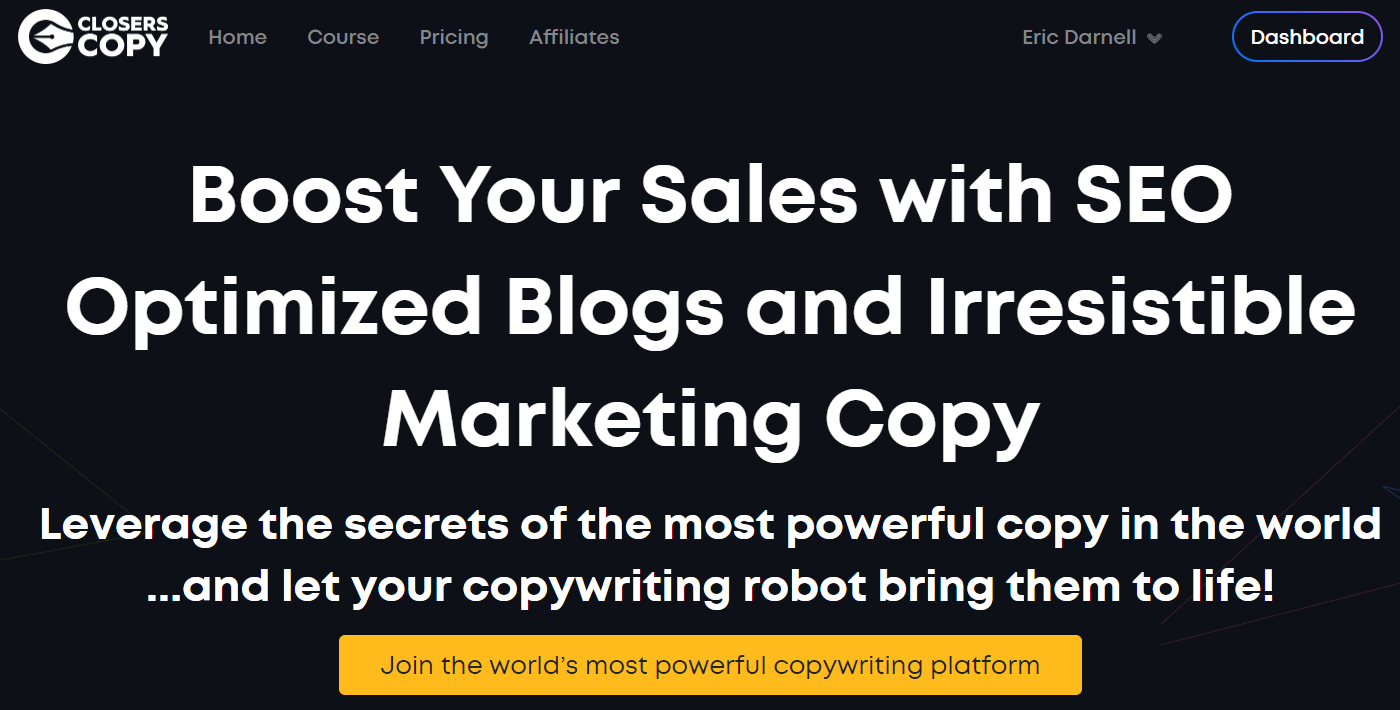 ClosersCopy can help you if you have no prior experience writing ad copy. It is also an excellent alternative to Jasper AI because it allows you to generate unique content in a matter of seconds.
This software uses Open AI's GPT-3 neural network as well. It also provides you access to an AI editor with drag-and-drop functionality.
Features of Closercopy
Here are some of Closerscopy's major features, which make it one of the best Jasper AI alternatives available.
Megatron: like the Jasper AI boss mode, the Megatron feature can help you in creating long-form content. with up to 200 words in a single click.
Over 50 templates: ClosersCopy provides a wide range of templates with different expressions, styles, and tones. These templates may help you create convincing copy for your products and services in a fraction of the time.
Multi-language support: ClosersCopy can write content in several languages with the same quality. it's an excellent choice if you need to create content in Bulgarian, Finnish, Hindi, Arabic, and 124 other languages.
Built-in SEO tool: ClosersCopy comes with its own SEO tool, which works similarly to an SEO surfer to help you optimize your content for SEO.
Pricing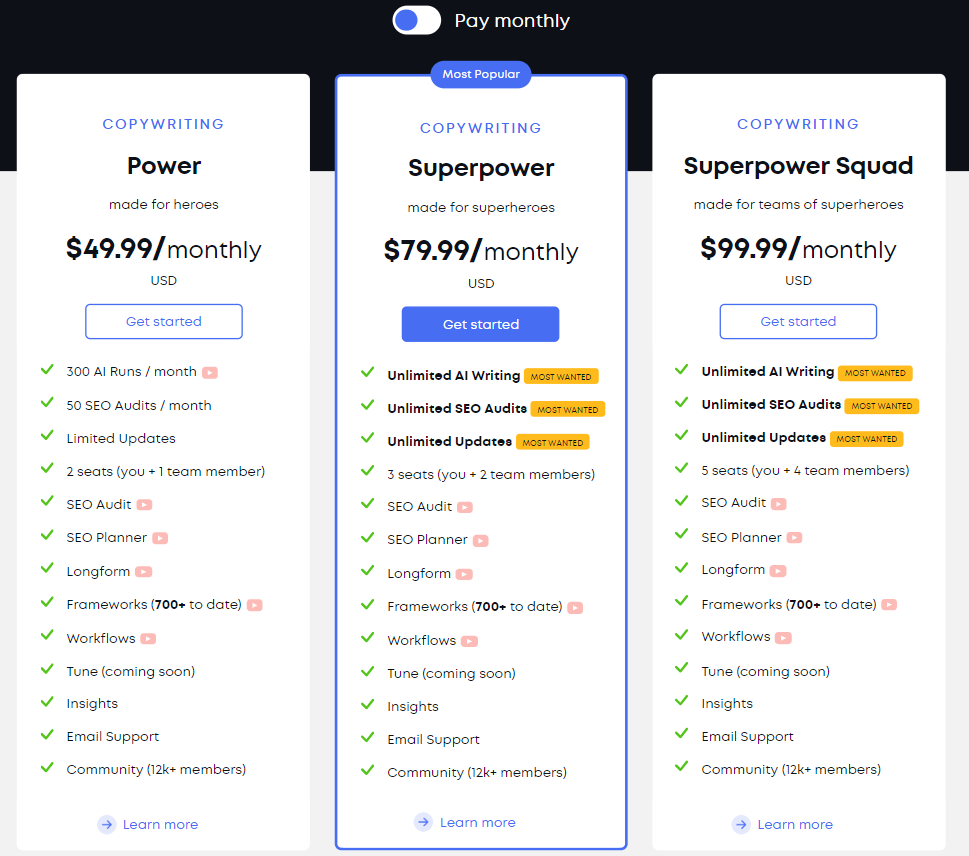 Closers Copy offers three pricing options.
The Power plan costs $49.99/mo or $34.99/mo yearly and gives you 300 AI Runs/month.
The Superpower plan costs $79.99/mo or $55.99/mo yearly and gives you unlimited word credits.
The Superpower Squad plan costs $99.99/mo or $69.99/mo yearly and gives you unlimited word credits plus 5 seats (you + 4 team members).
Rytr is another excellent alternative to Jasper AI
It immediately removes writer's block and allows you to write content faster than before.
You can save time, money, and effort by using Rytr for tasks that require hiring freelance writers.
Features of Rytr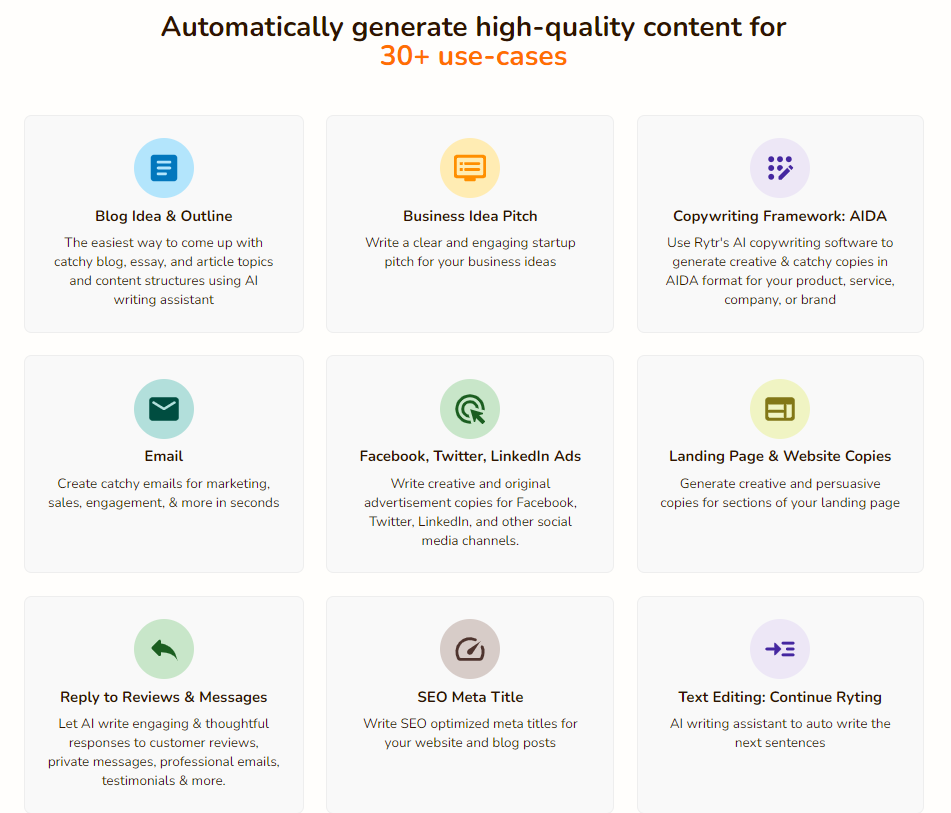 Ease of use: with a single click, you can generate content, rewrite it, correct grammar, and check it for plagiarism.
Many templates: Jasper has more, but Rytr provides templates that work just as well.
Over 20 tones: the tone of voice is important in content creation because they allow you to communicate successfully with a variety of audiences. This is a one-of-a-kind trait in which Rytr excels. You may produce content that reaches the reader's emotions and engages them in reading more using over 20 tones.
Multiple languages: Rytr can also create content in over 30 different languages.
Integration with SEMRush: While not the most effective, you may use SEMRush to find keywords you want to write about.
Pricing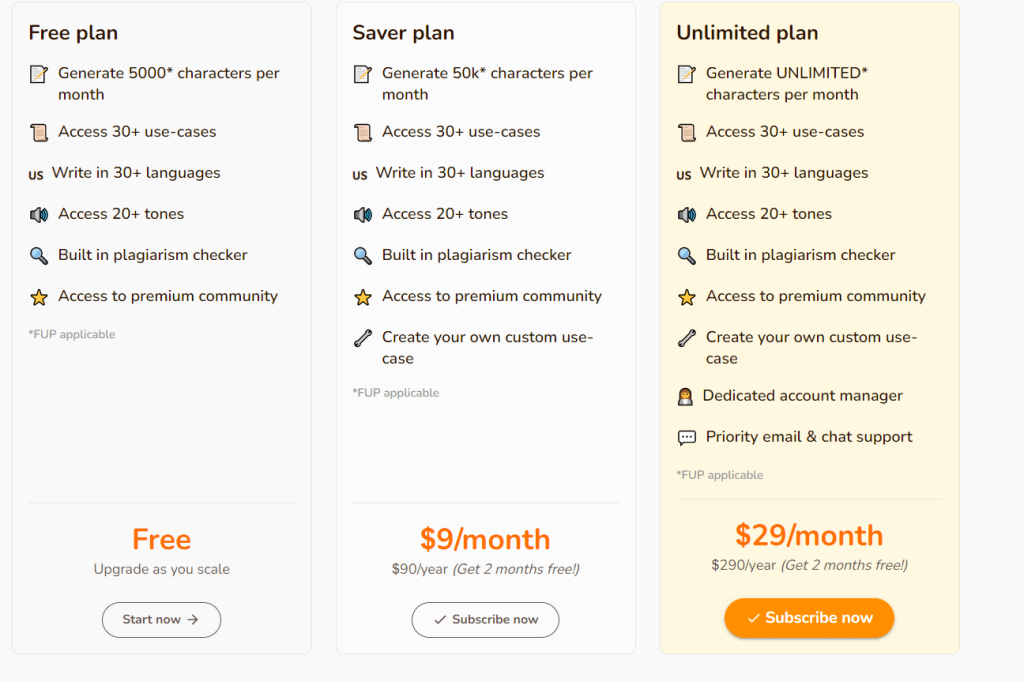 Rytr offers a free plan, so you may give it a go before committing to a premium subscription. Just keep in mind that you'll fast surpass the free word limit, so be prepared to pay if you need more.
The Saver plan is $9 per month or $90 per year and includes 50K word credits per month.
The unlimited plan is $29 per month or $290 per year and includes limitless word credits.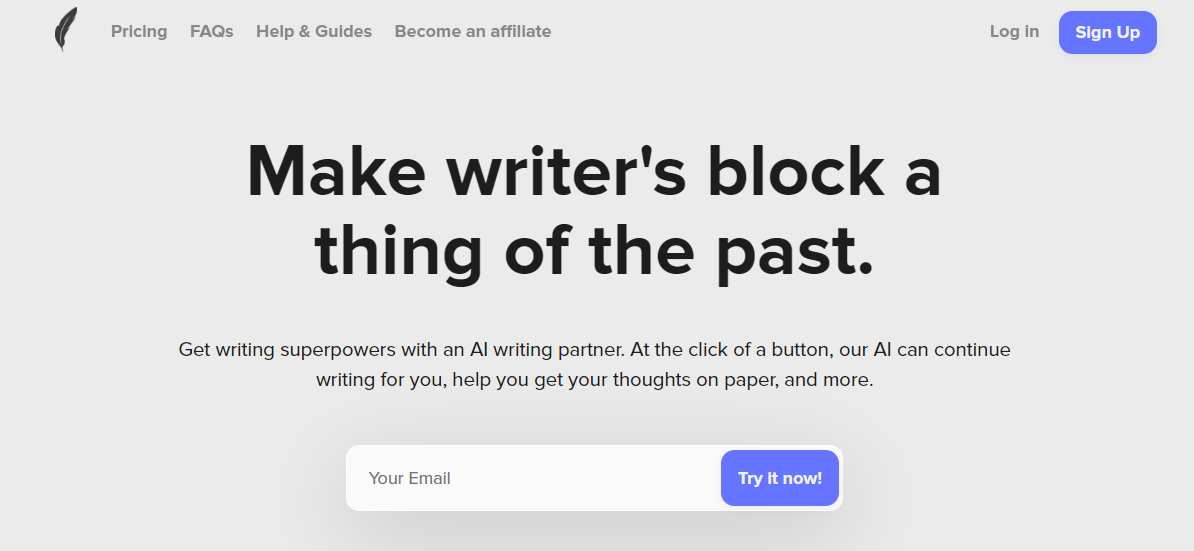 Shortly AI is a great alternative to Jasper AI for writing long-form articles quickly. It also uses the machine learning of the GPT-3 to easily generate Long-form or short-form content.
Shortly AI has been acquired by Jasper AI in order to integrate its features into Jasper to give users the ability to easily create long-form content.
Shortly AI interface is easy to use. to create long-form blog posts, simply open a text editor, type a few instructions, and let Shortly AI do the rest.
Features of Shortly AI
Access to Commands for Faster and Easier Writing: If you want to utilize ShortlyAI to generate better content quicker, you must understand how to use these instructions. These commands are a fantastic way to get started using Shortly AI.
Here are some of the ShortlyAI commands:
/Instruct [Text]
/Rewrite [Text]
/Shorten [Text]
/Expand [Text]
Unlimited AI words: ShortlyAI doesn't have credit systems, which is one of its benefits. This implies that you are free to write as much as you can.
Palagrasim free: ShortlyAI can generate unique content after analyzing what you've already written or the instructions you've given it, and so this content is free of plagiarism.
And if there is even a possibility of plagiarism, you may correct it on Grammarly, which is connected with Shortly AI.
Output Length: Using Shortly AI handy slider, you can control the length of content you want to generate.
Write Creative story: Shortly AI is one of the best AI story generators on the market, where you can quickly create stories through commands.
Pricing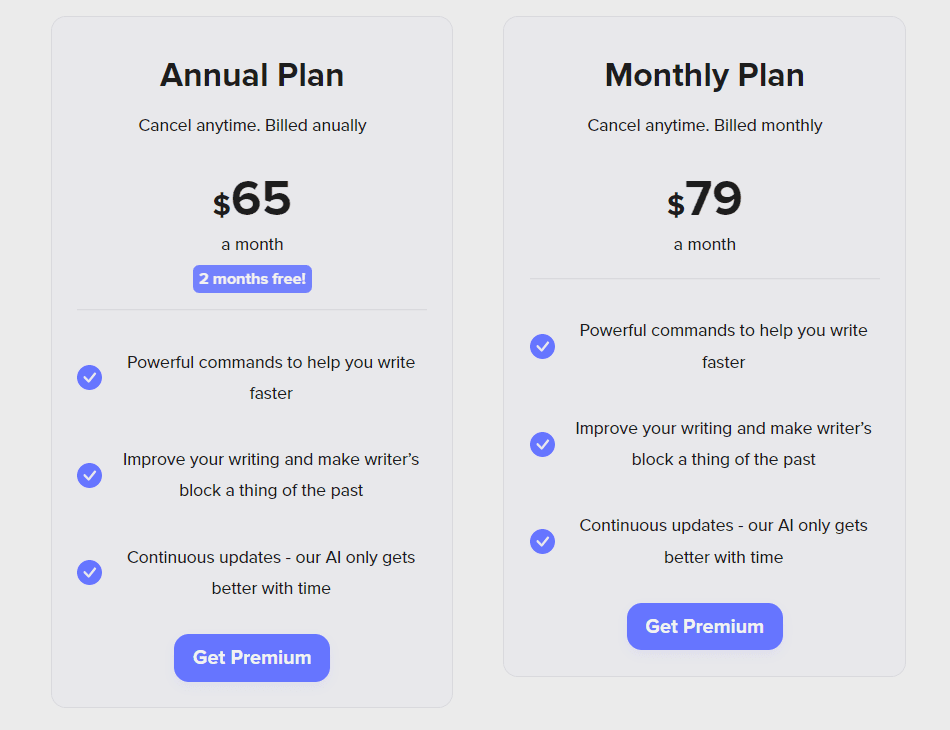 Shortly AI offers two paid options that are billed monthly and annually and are cancellable at any time.
The monthly plan starts at $79/mo and allows you to write unlimited words.
The yearly plan starts at $65/mo billed yearly. They also provide a limited free trial of the product.

GrowthBar is an AI writing tool and SEO solution for bloggers and content marketers who want their articles to rank.
GrowthBar can help you with keyword research and tracking, allowing you to observe the position of your keywords over time.
Features of Growthbar
Here are the key features of Growthbar:
Keyword search: This tool makes keyword research easy, you can enter your keywords and it will show you how many people are searching for it.
Keyword tracking: Growthbar allows you to see the ranks of your most popular keywords as well as track their impact on total website traffic.
Competitor analysis: Growthbar makes it easy to analyze information about your competitors on the SERP.
AI content Marketplace: GrowthBar has built its own marketplace called Blog Marketplace where users may access skilled AI writers at affordable pricing.
Done for you feature: If you are inexperienced with artificial intelligence tools and want help with your SEO content, the GrowthBar team can write optimized articles for you in a few days.
Pricing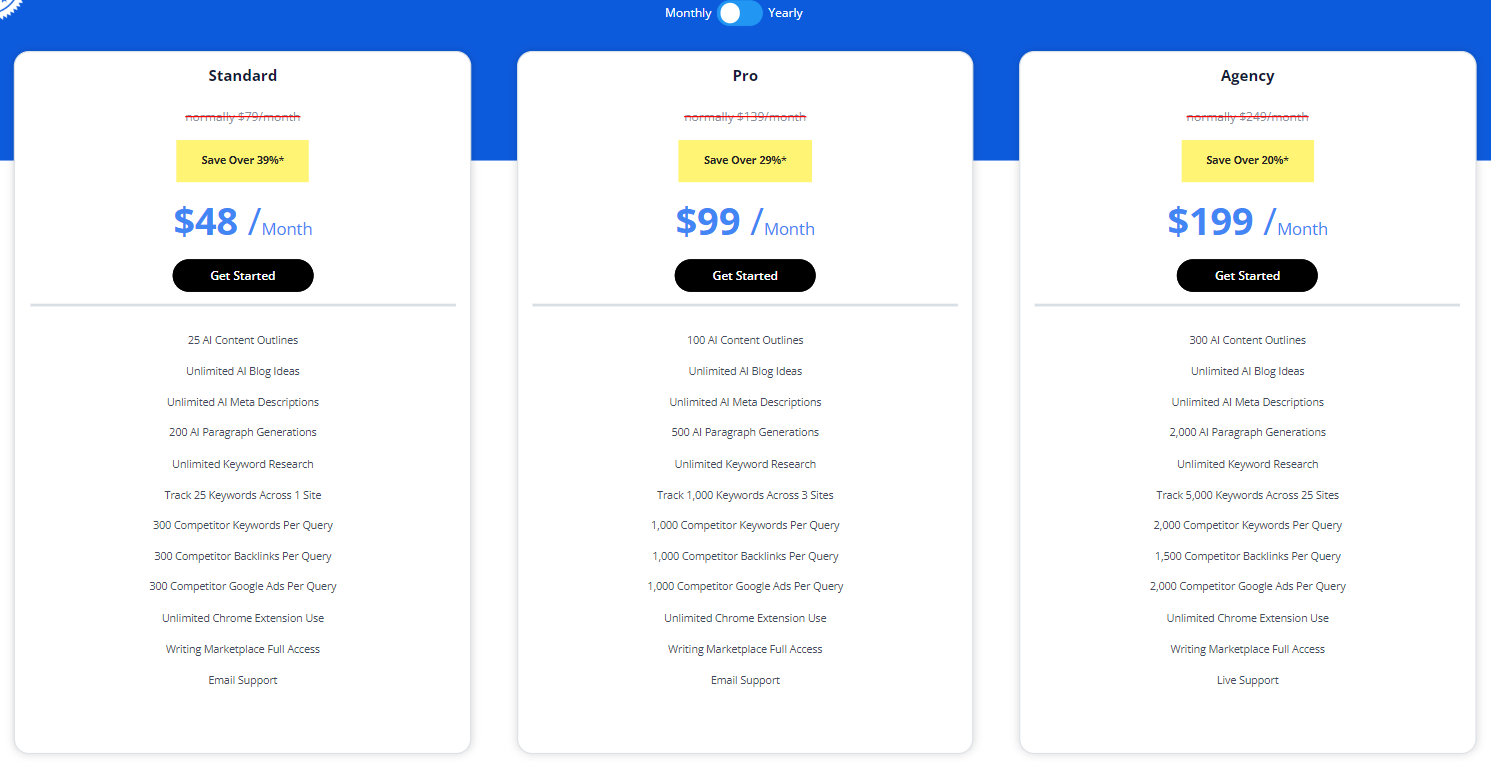 Growthbarseo has three price tiers.
The Standard plan costs $48/mo or $29/mo annually and offers you a lot of features.
The Pro plan costs $99/mo or $79/mo annually.
The Agency plan costs $199/mo or $129/mo annually.
Scalenut is an AI content generator tool that can help you write SEO-optimized content.
Scalenut combines on-page SEO with deep learning from GPT-3 technology to help you write Google-optimized content quickly.
It is quite similar to Jasper with SEO Surfer integration, but without the need for two separate tools.
Features of Scalenut

SEO Editor: With scalenut, you can write content and optimize it for search engines straight within the editor to meet your writing objectives.
Cruise Mode: using this mode, you can generate Long-form blog posts from title to conclusion with just a few clicks.
Over 40 templates: choose from more than 40 templates to generate any type of content you want.
Scalenut Talent Network: A place where you can hire specialists for writing, design, or video content at the most affordable rates.
Pricing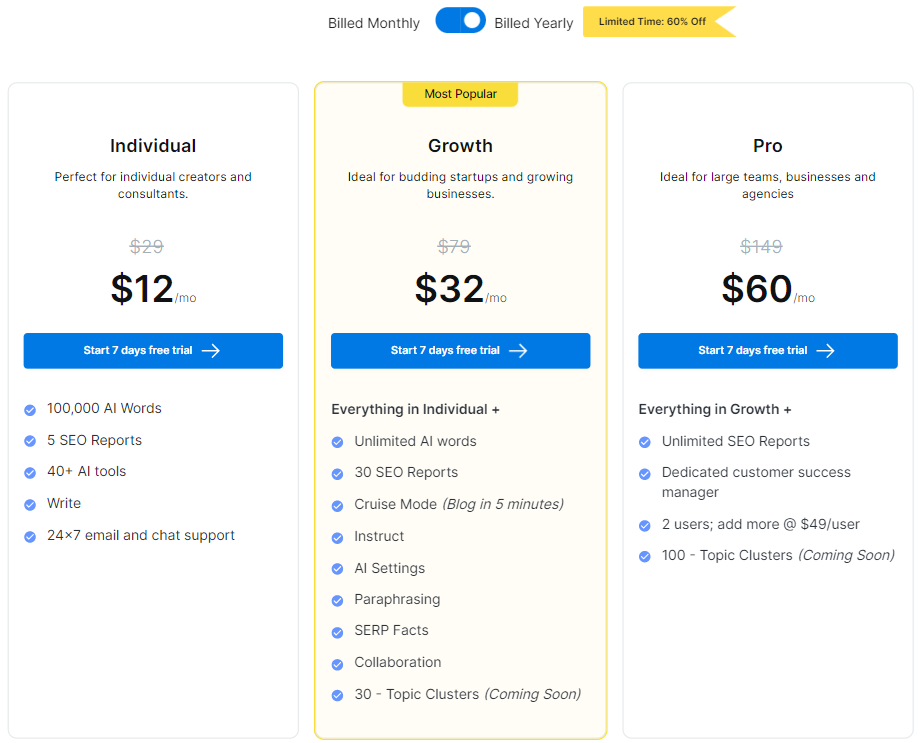 The Individual Plan costs $29 per month or $12/mo (billed annually) and gives you 100,000 AI words with +40 AI templates.
The Growth Plan costs $79 per month or $32/mo (billed annually) and gives you access to the cruise mode with Unlimited AI word and other tools.
The Pro Plan costs $149 per month or $60(billed annually) and gives you all the features in the growth plan plus unlimited SEO reports and the ability to add more users and a dedicated customer success manager.
Frase IO is a software that helps you in creating SEO-optimized content by researching the right keywords and questions for your post.
And it's one of the earliest AI-powered SEO tools. It interprets, understands, and learns online content using Machine Learning Techniques and Natural Language Processing.
This makes it one of the best alternatives to Jasper.
Features of Frase IO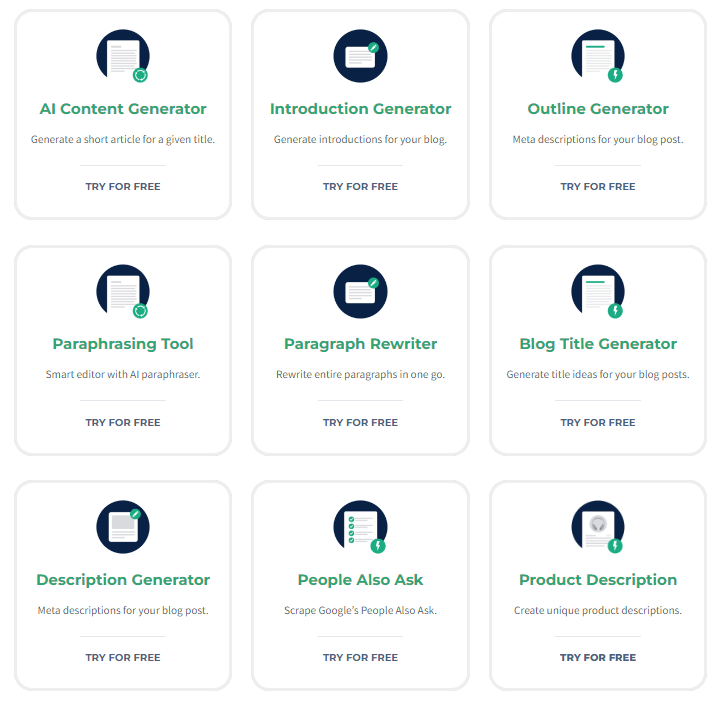 Questions and Topics Research: If you are a content writer or SEO specialist, you are well aware of the difficulty of doing keyword and topic research! It is a cumbersome procedure that can take hours!
This is where Frase IO comes in. With Frase, you can entirely automate the research process.
Content Optimization: Every piece of content Frase IO generates includes detailed LSI keyword recommendations to help you rank your posts.
Content Briefs: If you are a professional writer, it is critical to follow a brief when writing your articles. Frase makes it easy to create content briefs in a fraction of the time.
10 Templates: Although Frase IO functions perfectly without them, they are a good addition.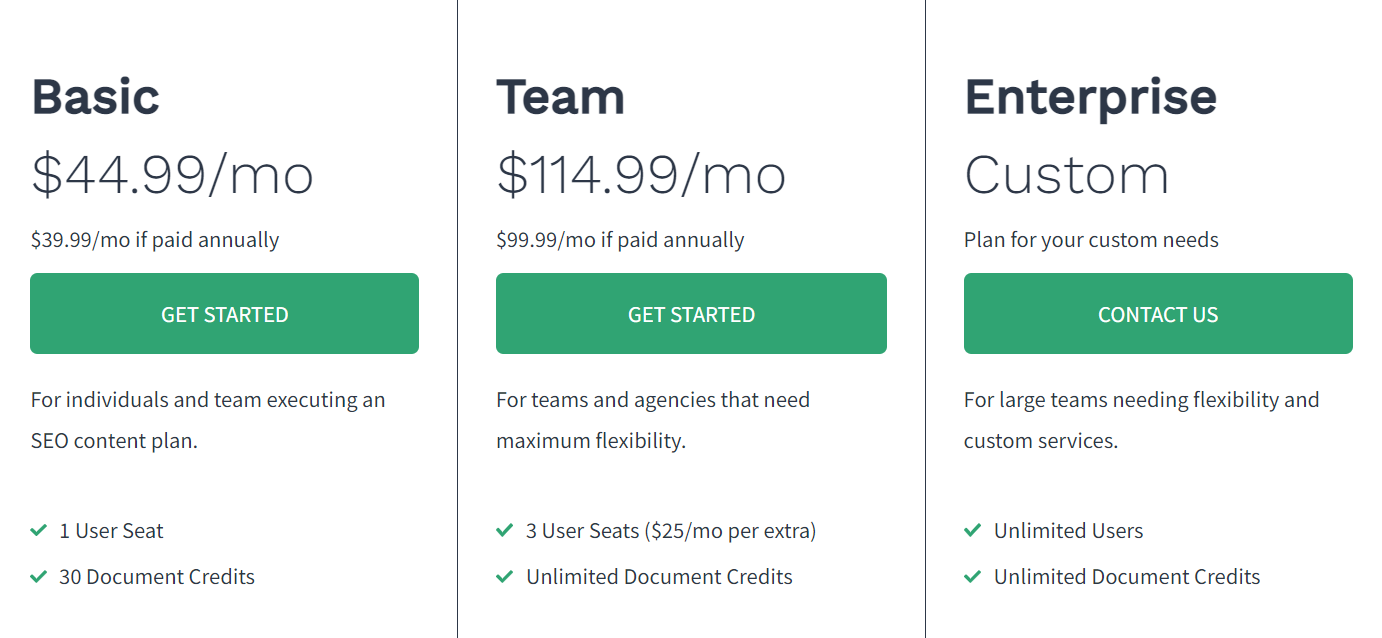 Frase IO's price, like Jasper's, is rather deceptive. Yes, you may use it for $44,99 each month. But that is the cost of the research tools only. If you want the whole features we discussed in this review, you'll need to pay an additional $35 every month. So, in all, $75-$80 each month.
That is far more than you will pay for any other Jasper alternative.
But bear in mind that you're getting more than just an AI writer. This is the cost of all of Frase IO's products, which include keyword optimization, research tool, and others feature.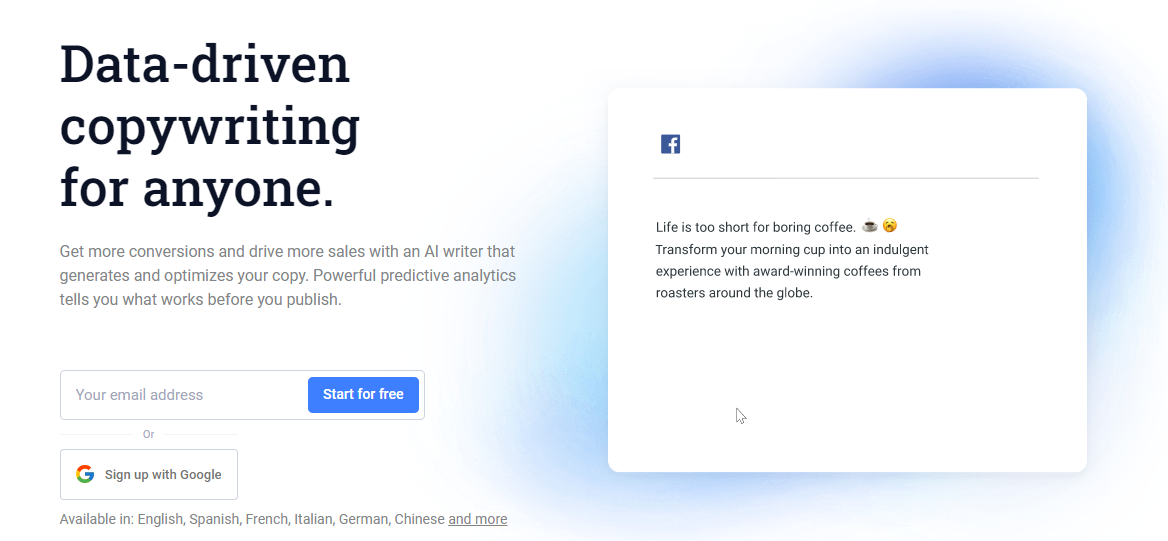 Anyword is an AI-powered copywriting software that focuses on advertising copy and conversion rate optimization. It generates marketing-related content in addition to blog articles, landing pages, and other types of content.
So, if you want to increase your sales and ROI while also improving your relationship with your audience, Anyword is the perfect alternative to Jasper AI.
Features of Anyword
Predictive performance score: Anyword assesses the likelihood of your content engaging an audience.
Predefined keyword library: In Anyword, predefined keywords are words that you may insert into your content before publishing it, such as new arrivals, discounts, free shipping, and so on.
Content Templates: many templates offered on this tool are ideal for a variety of use cases.
Pricing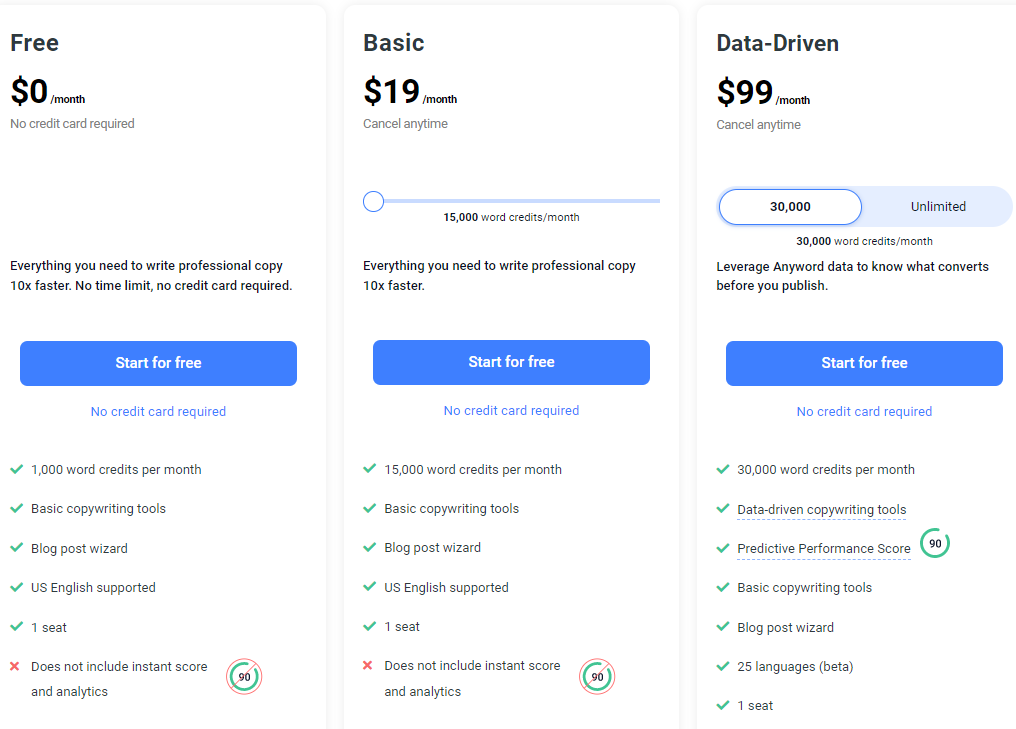 This Free Jasper AI alternative plan includes 1,000-word credits per month and access to Basic copywriting tools and a Blog post wizard but it does not include an instant score and analytics.
$19 is the cost of the basic plan. You can create up to 15,000 words per month of content, and access all basic features except the instant score feature.
The Data-driven plan includes 30,000-word credits per month and access to all features.
Why Would you Want to Look for Alternatives to Jasper AI?
There are many reasons you might want to look for a Jasper AI alternative. Jasper's Boss Mode is excellent, but it is expensive.
If you want to use an AI writing tool on a budget, Jasper is not the right choice.
There are other excellent AI writing tools on the market that are more affordable and offer different features like Rytr, Writesonic, and ClosresCopy.
If you need help deciding which AI writing tool is right for you, check out our guide to the best AI writing software.
Conclusion- What are the Best Jasper AI Alternatives In 2022
Jasper AI is a great tool for writing high-quality content quickly. However, it is not the only AI writing tool on the market.
If you are looking for an alternative to Jasper AI, we recommend Copy AI, Writesonic, or Copysmith.
These alternative AI writing tools are more affordable and offer different features that may be more suitable for your needs.
but, I would recommend that you read my full Jasper AI review before making a decision to use an alternative.
Related: Best Copy AI Alternatives