Are you looking for the best AI story generators? We've got you covered.
Artificial intelligence has made significant advances in the content creation industry, especially the ability to write stories quickly.
With the help of AI story writing tools, it is easy for anyone to write stories regardless of their experience.
In this article, we'll rank and compare 10 of the best AI story generators on the market so you can determine which one is best for you and your needs.
What are the Best AI Story Generators in the Market?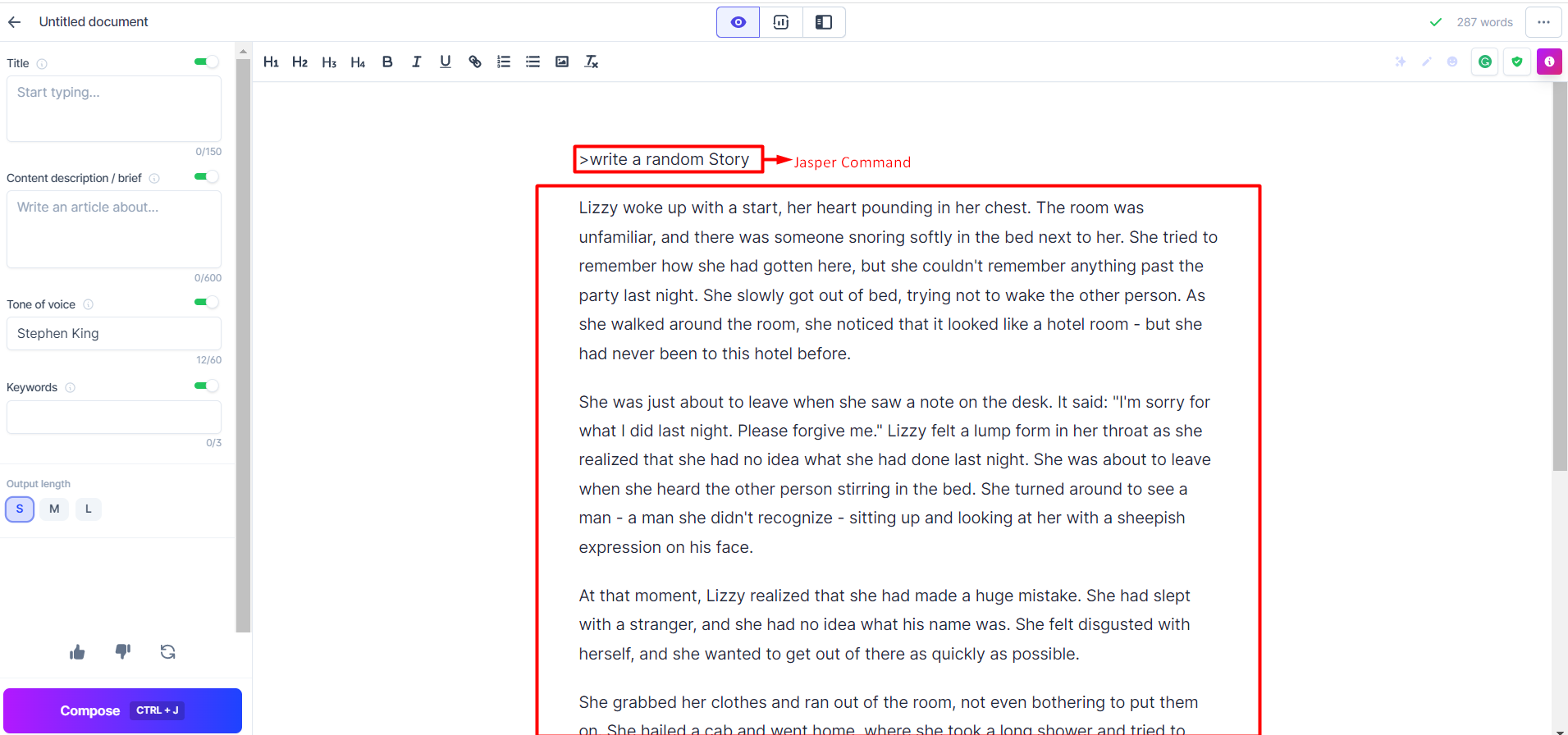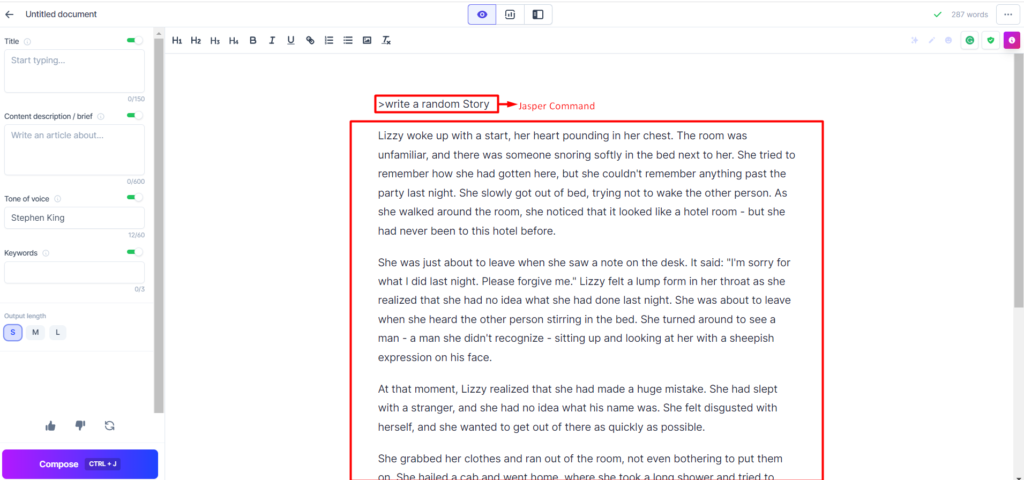 Jasper, one of the best AI story generators in 2022, is not only great for writing stories, but it can create any type of content, including blog posts, books, and even songs.
Jasper has been trained to write content, especially stories from the best copywriters in the world.
It can help you overcome writer's block and get back to writing the outline of your story, create plots and characters, and even write the entire story for you.
Top Jasper Features
High-quality, human-like content: Unlike other AI story tools, Jasper produces high-quality content and consistent stories from start to finish.
Ability to create long-form stories: Jasper can write long-form content through the document editor (Boss Mode Plan), where you can use commands to instruct Jasper to write whatever you want.
Jasper offers a wide range of writing styles (Tone of voice) of different authors you enjoy, so you don't have to reinvent the wheel!
Jasper has +50 templates: You can use many of the templates Jasper provides to create your creative stories, such as a Creative Story template, Sentence Expander, or any other template you see fit.
Jasper Academy:  In The Jasper Academy, you will find training with guest experts, video tutorials, mini-courses, and articles to help you learn how to write with artificial intelligence.
Jasper Pricing
Jasper AI has two plans:
STARTER
$29/MO*
Write short-form content like single paragraphs, Ad copies with +50 template
20,000 Word
Starter includes:
BOSS MODE
$59/MO*
Write Long-form content like blog posts, Books, with added control & flexibility and 5x faster.
50,000 Word
Boss Mode includes:
1. The Starter Plan starts at $29 per month:
Check out Jasper's starter plan if you want to create stories quickly and cheaply. With up to 20K words per month and 50+ distinct templates – it's ideal!
The only downside? This plan cannot create long-form stories.
2. The Boss Mode Plan starts at $59 per month:
The Jasper boss mode plan includes all of the features of the starter plan plus the ability to create long-form content from scratch, a plagiarism checker, Grammarly, and integration with Surfer SEO.
Read My full Jasper AI Review to learn more about this valuable tool.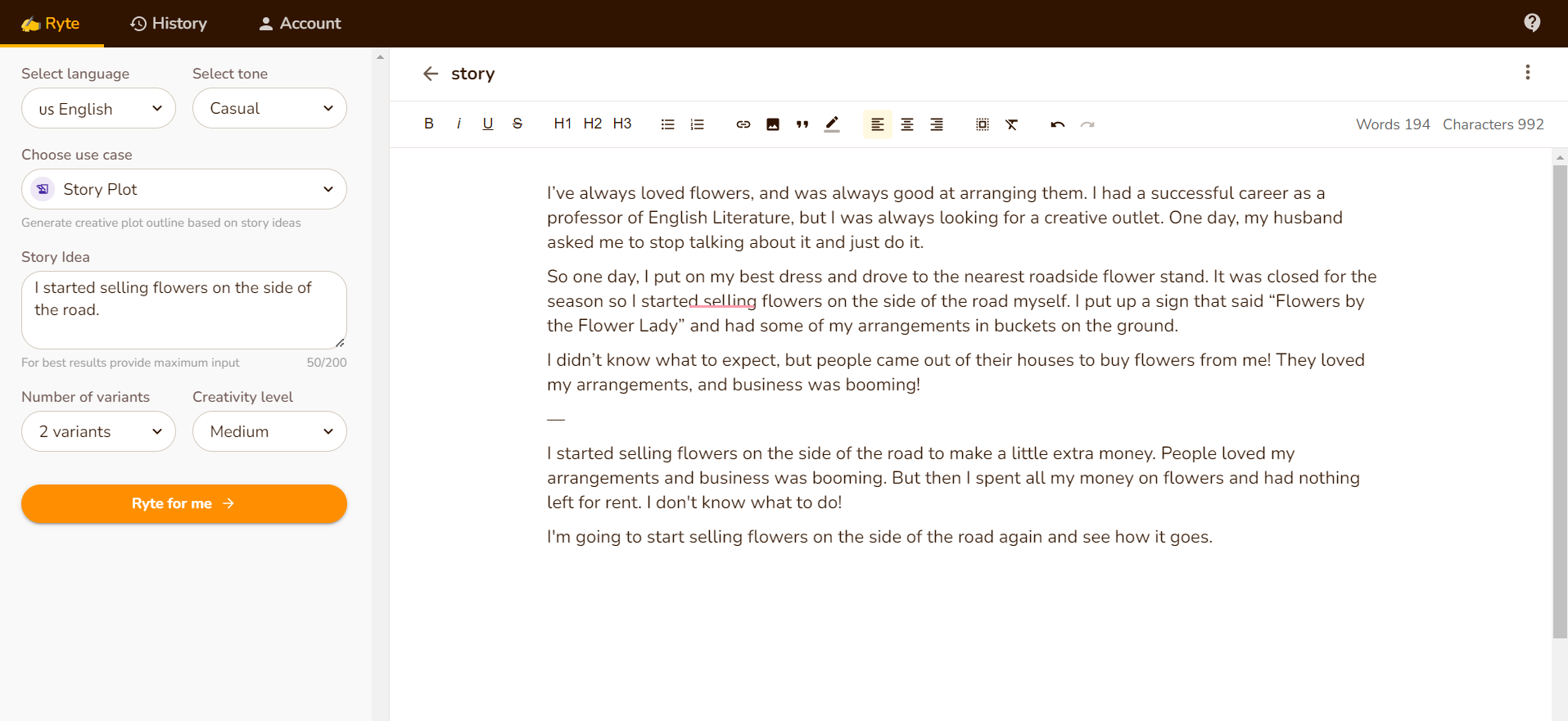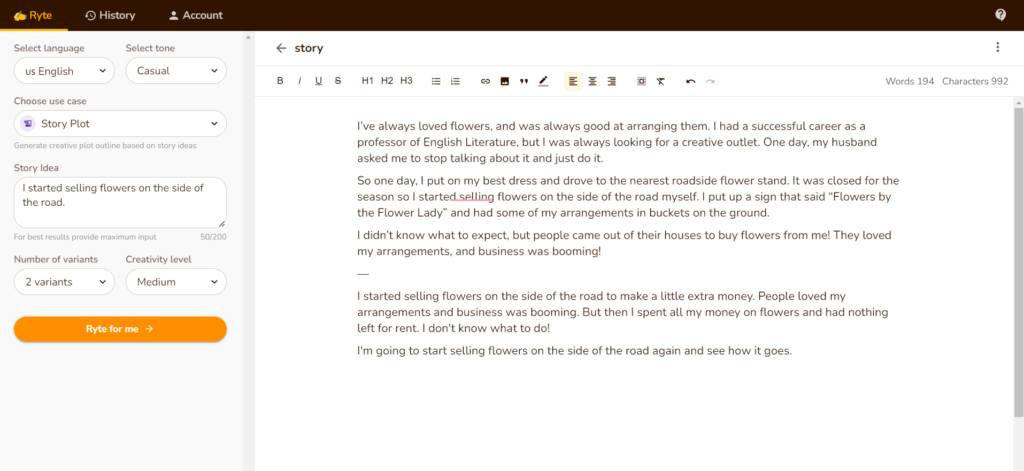 Rytr is a perfect AI story generator that uses GPT 3 to analyze your input and generates content based on it. it has been trained to write long-form stories based on the analysis of thousands of stories posted on the web.
Rytr is always evolving and learning new stories. The more you use it, the smarter it gets.- A simple, distraction-free writing tool that takes care of all the techy stuff so you can focus on your story.
Top Rytr Features
Rytr lets you easily produce different versions of your story and pick the best one. This can make for improved storytelling!
Rytr has a built-in plagiarism checker (which checks for copied and pasted content, among other things).
Rytr has a Chrome extension that enables you to quickly use it while you're on the go.
Use their "Story Plot" use-case assistant to help you as the story writer. It can generate an interesting and engaging story.
.
You can choose the level of creativity you want! they are made of six levels to suit your needs.
Rytr Pricing
Rytr has three plans: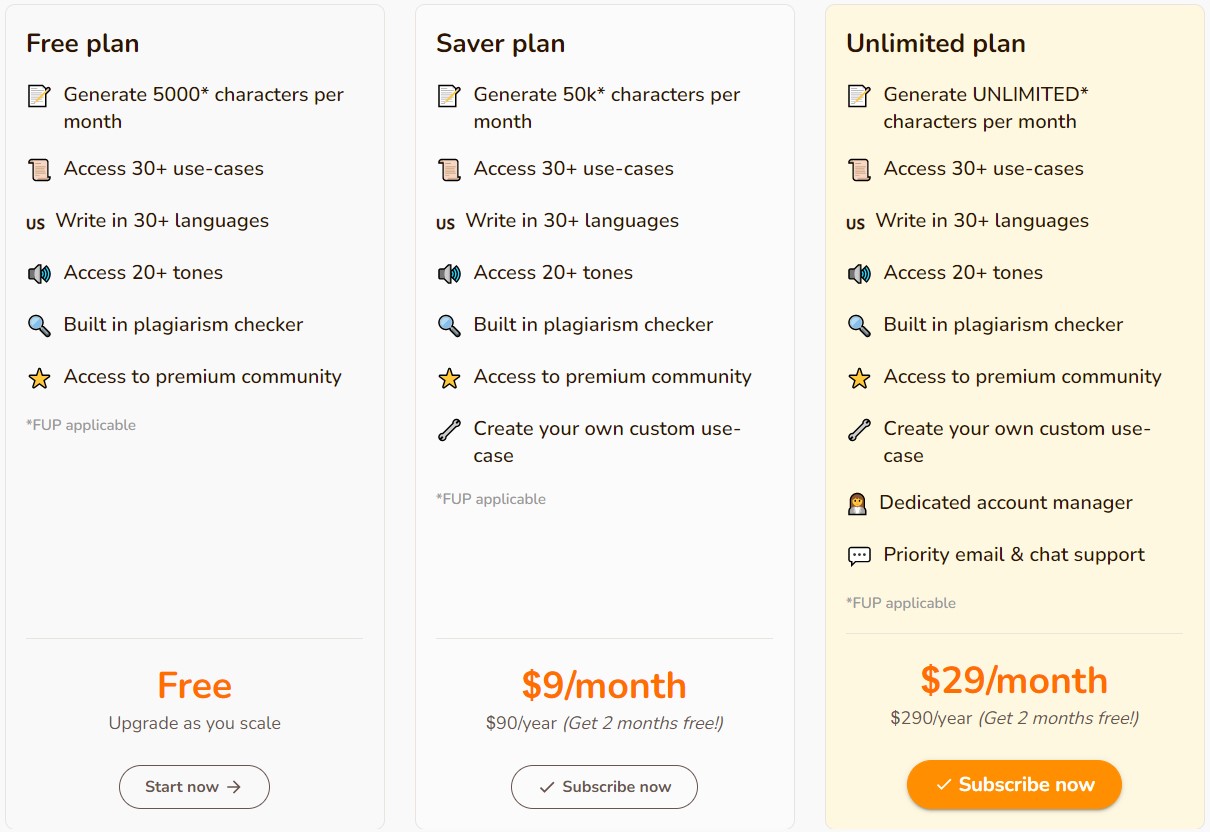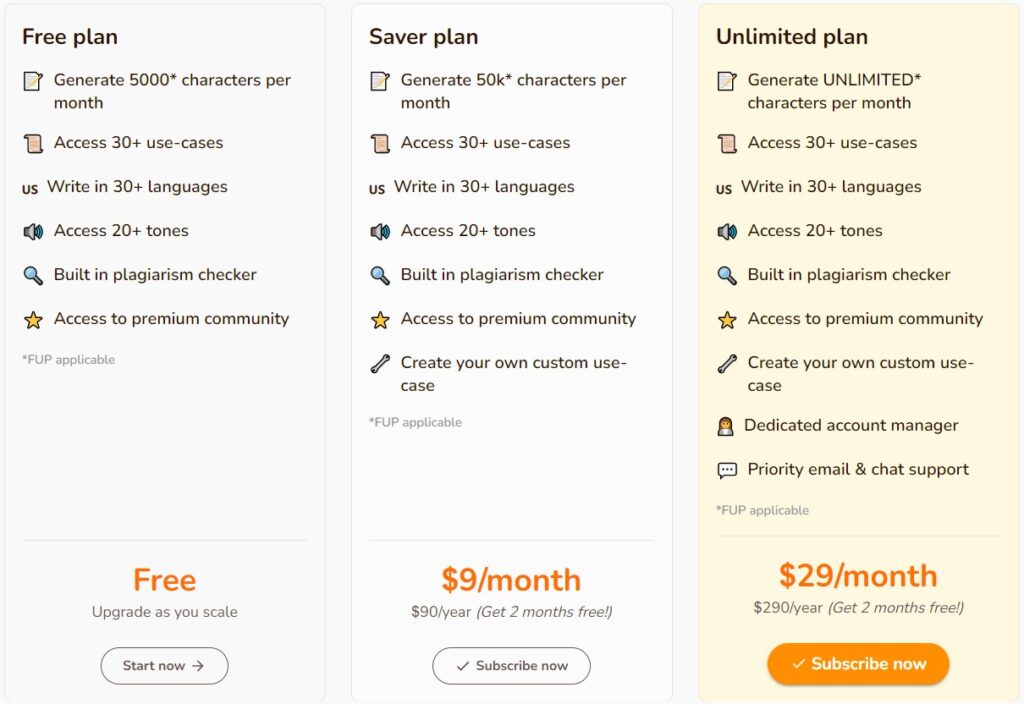 The Free Plan provides 5000 characters per month and lets you write in 30+ languages and 20 different tones.
The Saver plan starts at $9 per month. You will get 50k characters every month, which might be enough if you only need to write a short story.
The Unlimited Plan starts at $29 per month and allows you to create unlimited content. You can generate stories as you want without worrying about the limit.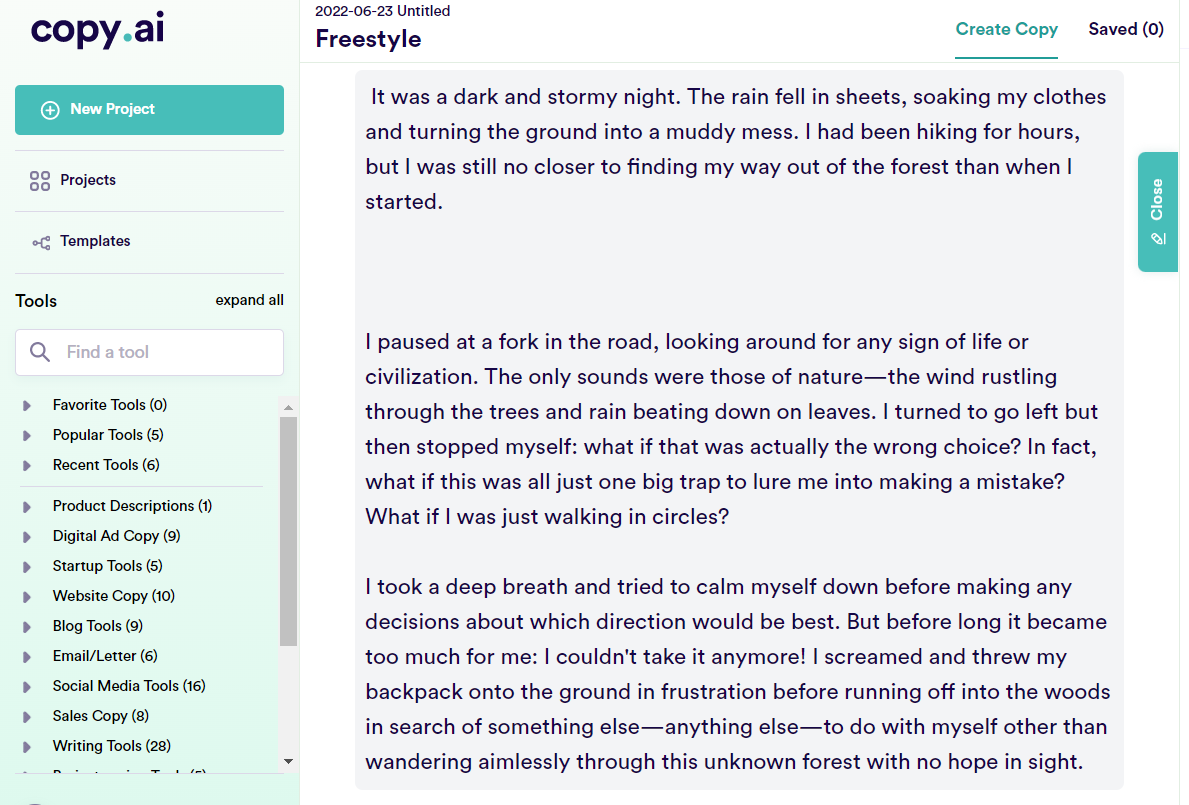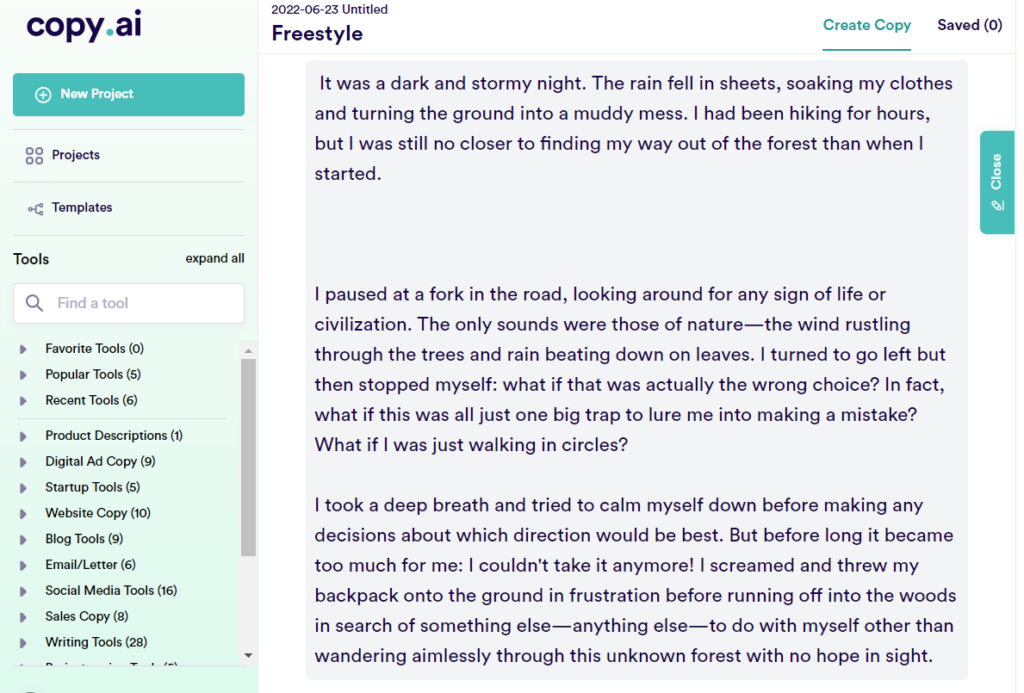 CopyAI is another great AI story generator that can help you with your storylines. Write stories made easy with GPT-3, the latest algorithm for natural language processing that CopyAI uses.
It analyzes your input, such as the genre of the story, story topic, and a plot of the story you want to write, and then creates a list of stories based on these inputs.
Top CopyAI Features
CopyAI Freestyle template is perfect for generating stories. The more specific details you give it, the better story will be.
CopyAI produces natural writing, which means it can take less time and effort on your part to edit these stories. you'll have more time to focus on other aspects of your stories.
Chrome Extension – This AI story writer makes it simple to generate stories on the go in Google Docs and other apps.
CopyAI Pricing:
CopyAI comes up with three options: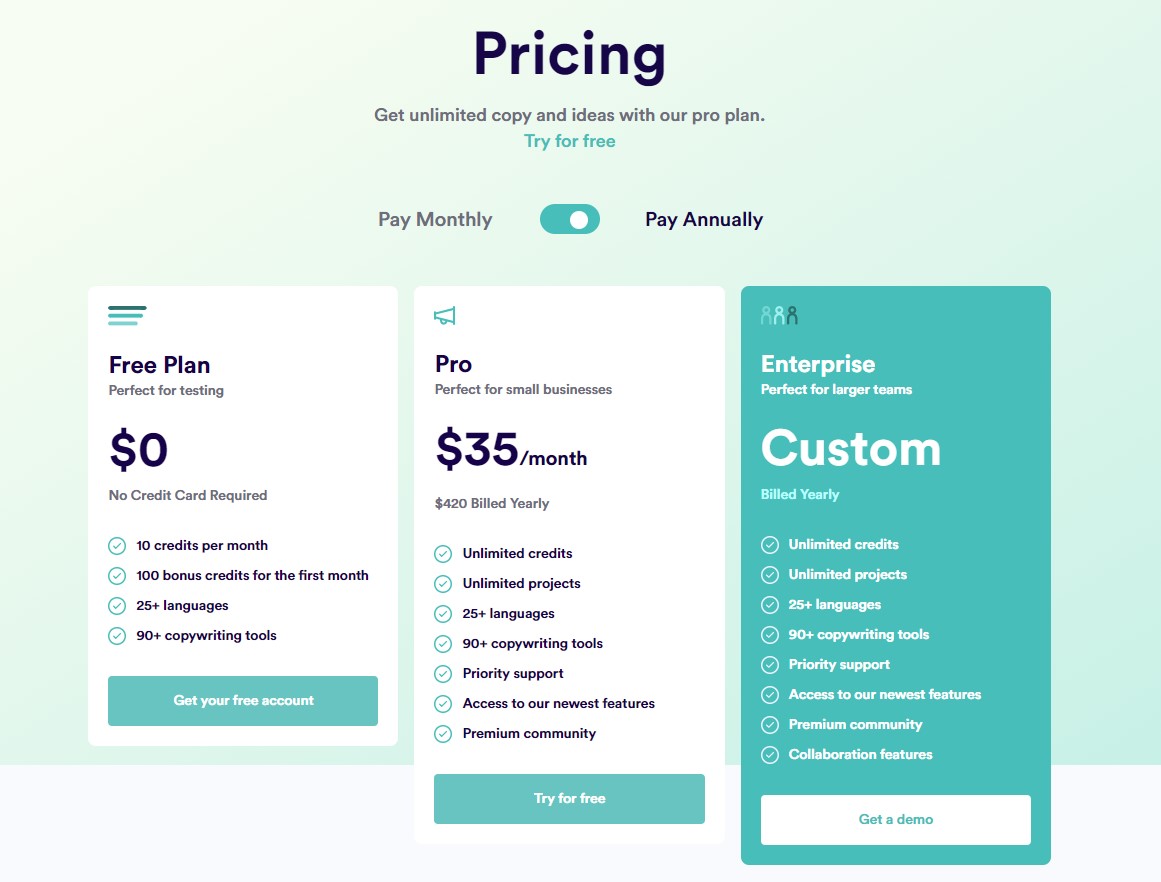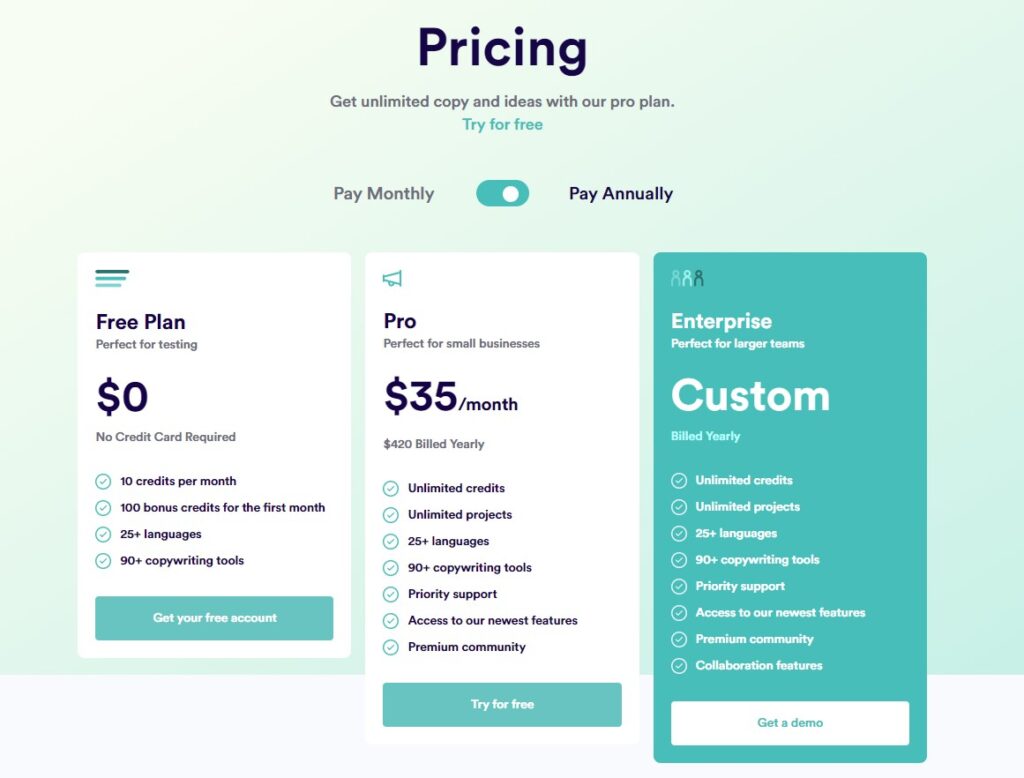 The Free Plan: Perfect for testing the tool with 100 bonus credits for the first month.
The Pro Plan: Starts at $35 per month. it is perfect for those who need to write content and stories at a scale.
The Enterprise Plan: If you need an enterprise solution for your business, contact the company for a custom quote.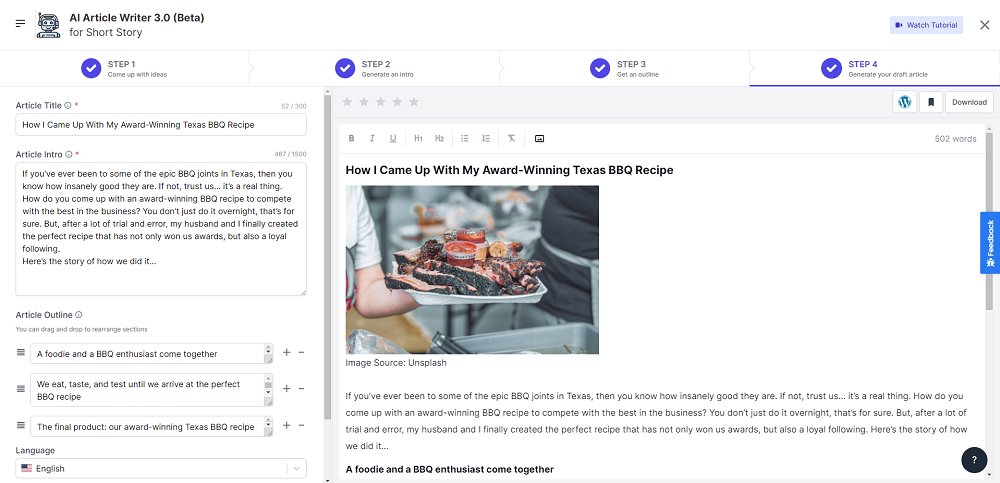 Writesonic is an AI writing software that helps you create story ideas and outlines and then helps you flesh out the characters and plot in your story.
The software uses artificial intelligence to analyze the input from the user.
This can be any sentence or paragraph, and through AI, the tool will automatically generate story plots and character profiles that fit certain parameters, such as genre and other preferences determined by the user.
Top Writesonic Features
Writesonic typically puts out believable and relatable scenarios based on your inputs, as well as writing in a natural way that keeps your reader hooked.
Writesonic has a four-step workflow for content writing, making the process of writing stories faster than ever.
Writesonic has a plugin for WordPress users, which makes it easy to post stories on WordPress.
Writesonic Pricing:
Writesonic has 5 options:


Free Trial Plan gives you all the basic features.
The basic plan starts at $15/mo and allows you to generate up to 50k words.
The Economy plan starts at $25/mo and gives you up to 375k words.
The professional plan starts at $45/mo with the ability to generate unlimited content.
The startup plan starts at $95 / month and includes all the features of the Professional plan, plus the ability to create high-quality content.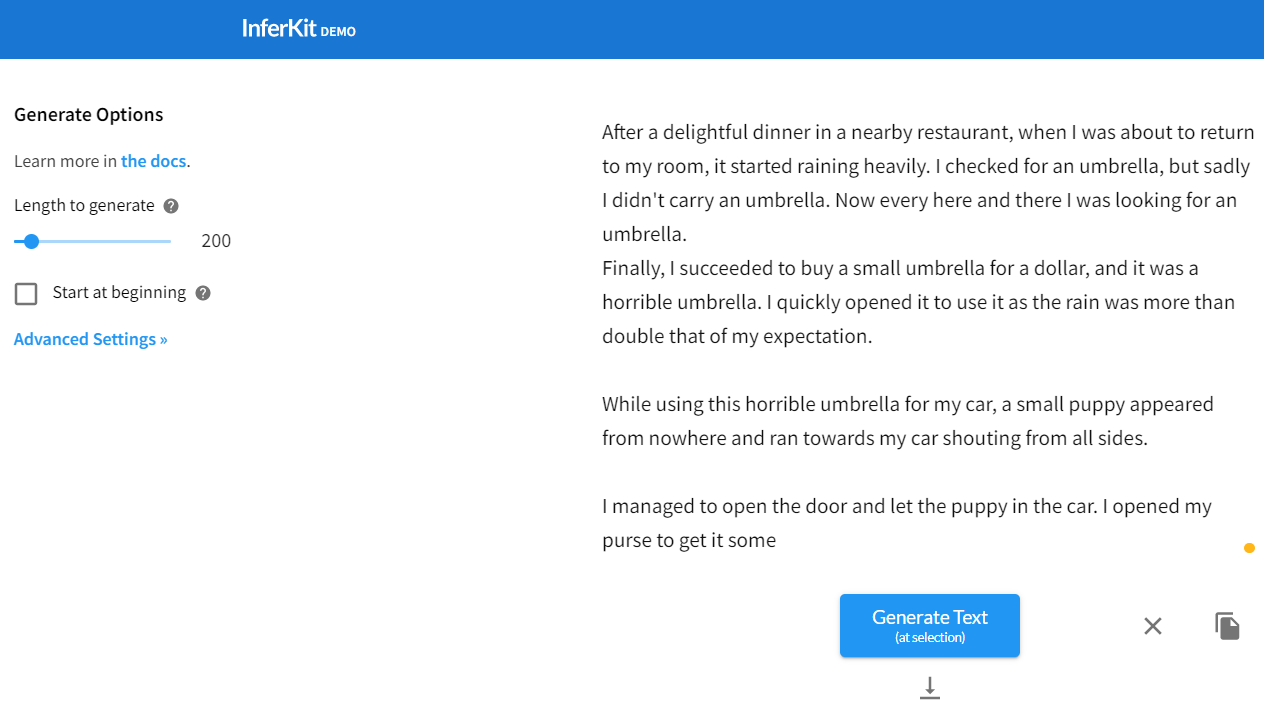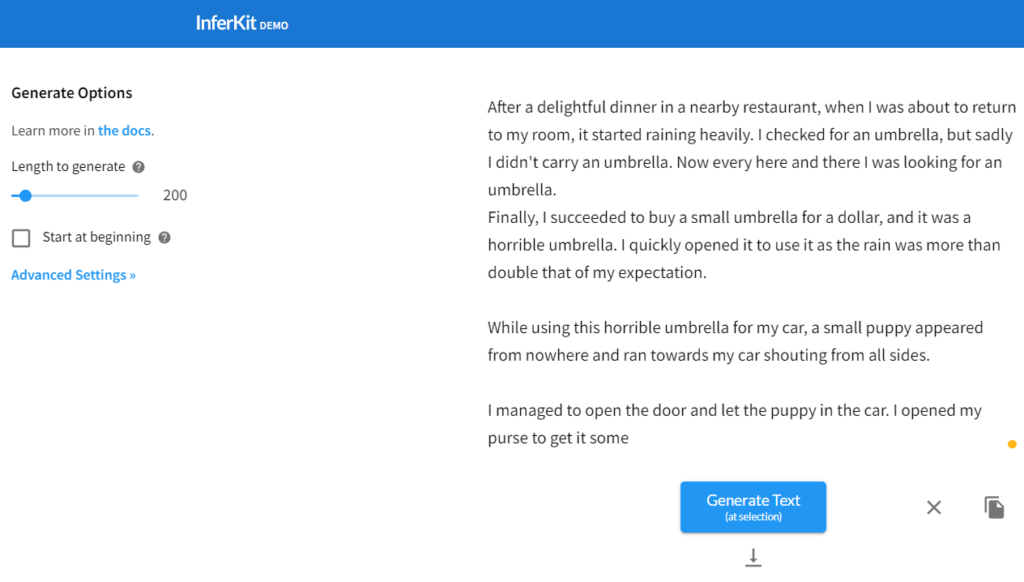 InferKit is a good AI story generator, it provides texts that match the style you are looking for and can be configured to suit any of your needs.
InferKit ai story tool can take the text you input, and predict what comes next. it uses a state-of-the-art neural network, so the user has a lot of control over the content produced as well as its lengths.
It also produces quality content for any topic imaginable.
Top Inferkit Features
The interface is simple and easy to use. Just type some text and put the cursor at the end of it, and then click the "Generate Text" button.
Developer-friendly API, The tool can be used through either the web interface or the developer API
You can write up to 8000 characters for free each week, you don't even need to create an account. This feature is great for people who only occasionally want to write.
Inferkit Pricing
Inferkit has two options: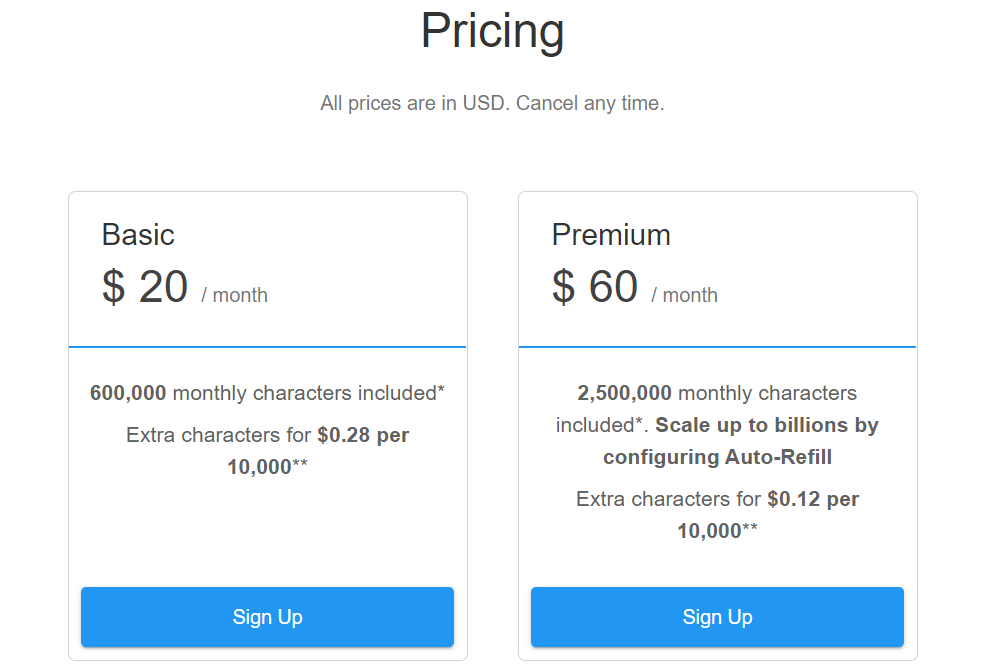 The Basic Plan starts at $20/ month with 600,000 monthly characters included
The Premium Plan starts at $60/ month with up to 2,500,000 monthly characters included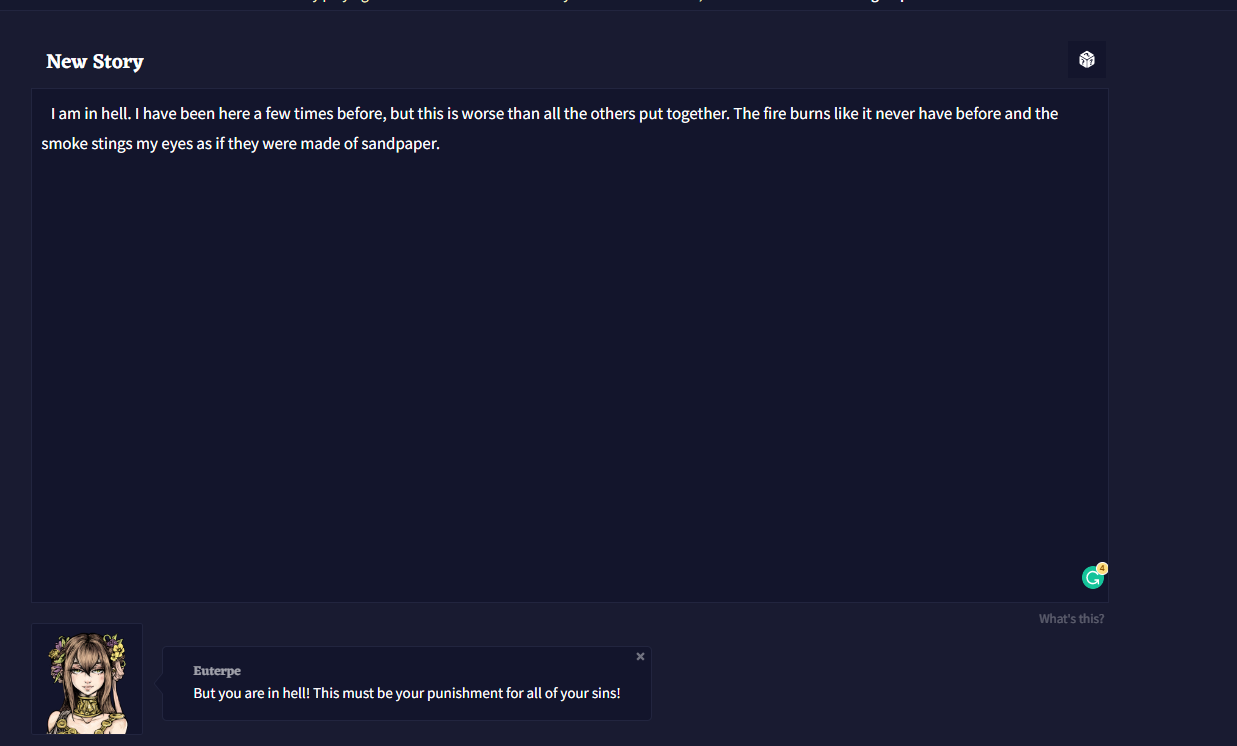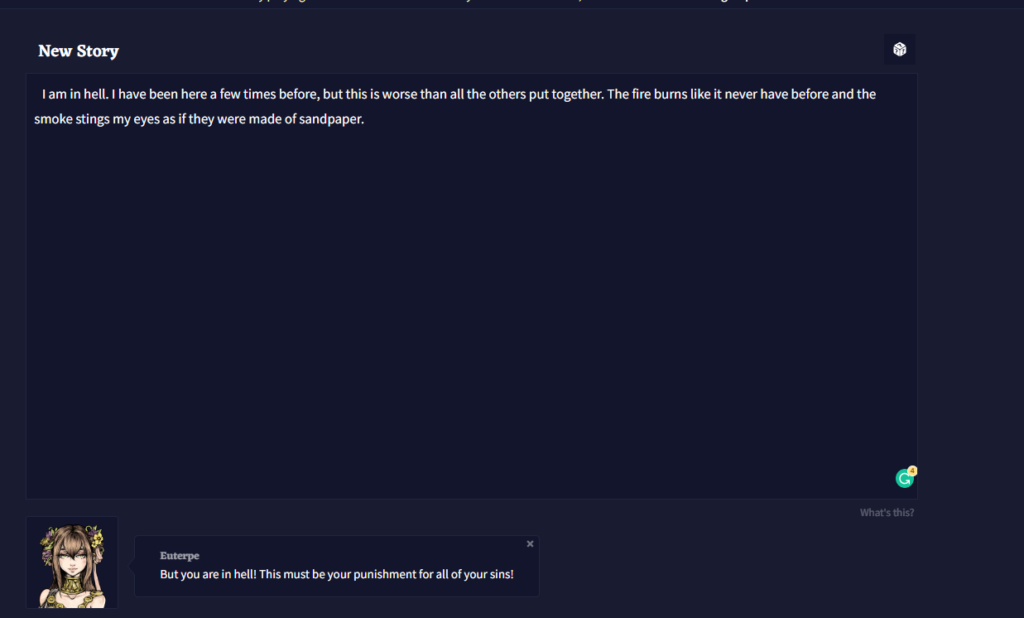 The Novel AI tool is perfect for those who want to put some life into their stories, It lets you generate fresh and interesting ideas that fit your preferences, so it'll be easier to find the right one for your story.
Top Novel AI Features
They've developed intelligence algorithms to write like a human so anyone can create high-quality content.
The AI is easily able to fit into what you are writing about, maintaining your voice and perspective.
The editor can be totally customized by changing the type, size, and color scheme.
Novel AI Pricing
Novel AI has four options: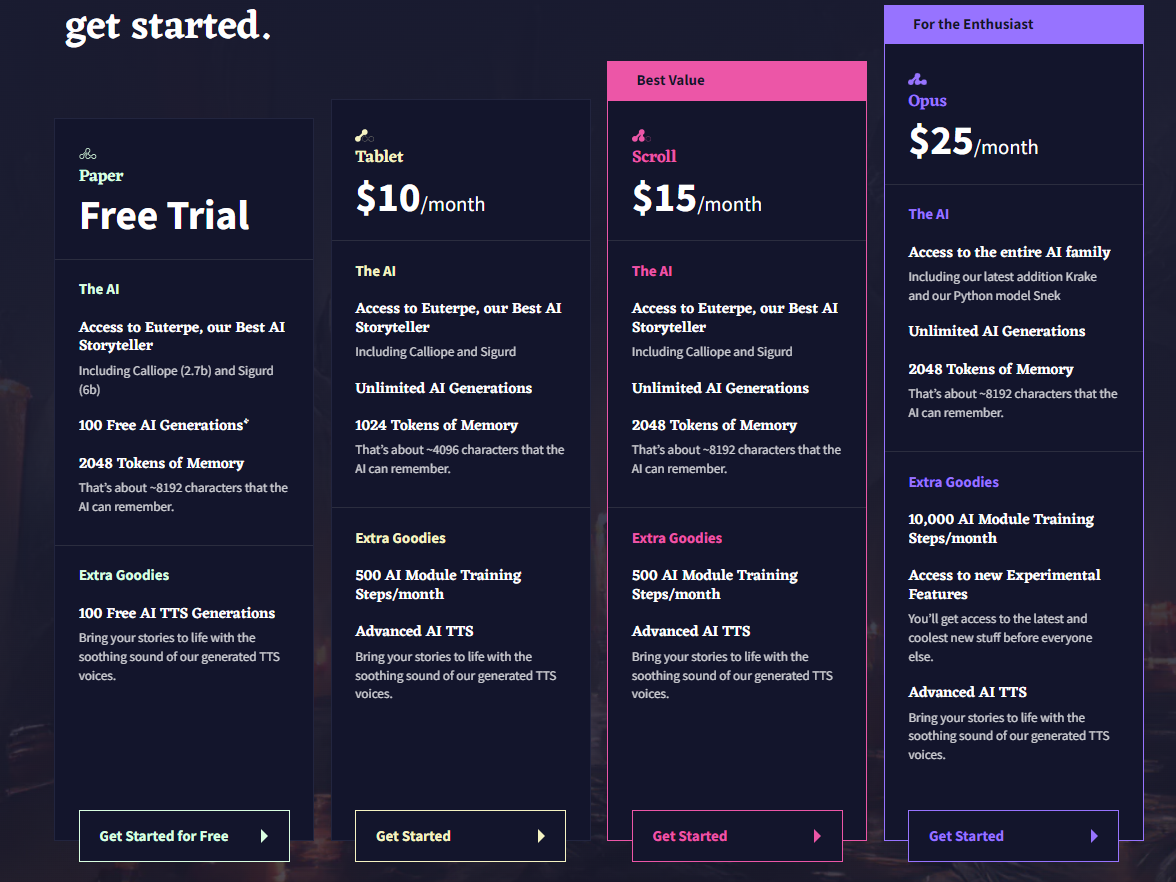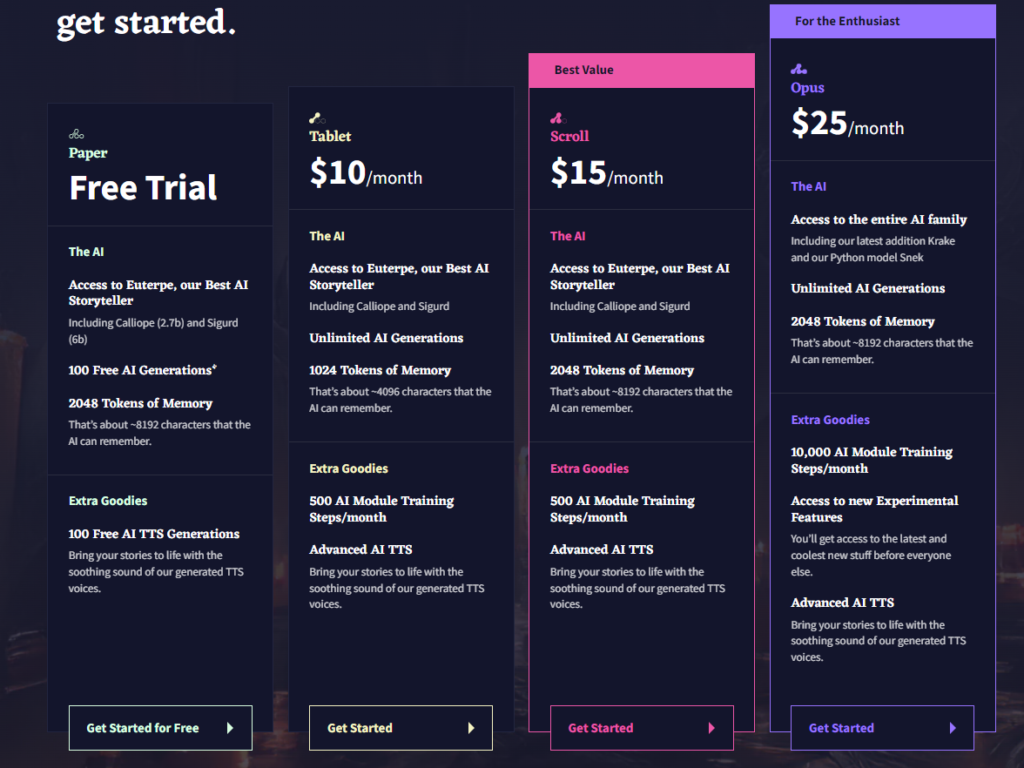 The Free Plan comes with 100 free AI generations and access to Euterpe AI Storyteller.
The Tablet Plan starts at $10/month with the ability to generate unlimited words.
The Scroll Plan starts at $15/month and includes everything from the tablet plan, plus 8192 characters that the AI can remember.
The Opus Plan starts at $25/month and includes access to their entire AI family Including the latest addition Krake and Python model Snek.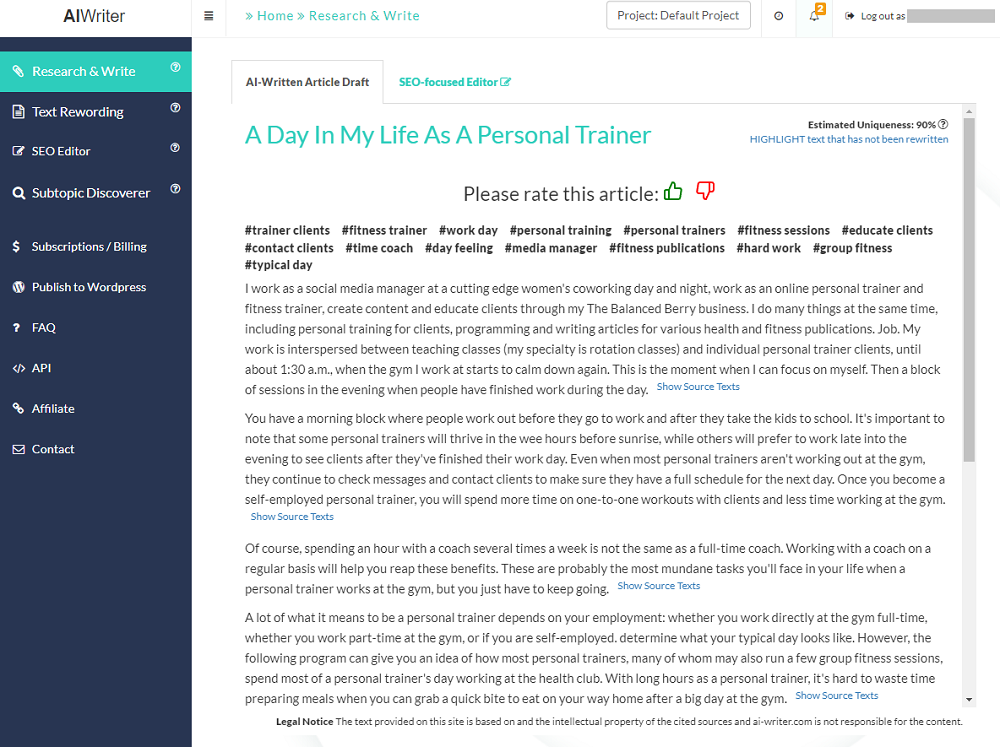 AI Writer is another option of the best AI story generators, it uses state-of-the-art AI writing models to generate stories with minimal input.
Top AI Writer Features
Non-fiction writers can spend less time on research and can fact-check faster thanks to the verifiable citations feature.
With the AI writer tool, you can spend half the time you would have spent just putting together a quality piece of content.
AI writer is easy to use. You just enter a topic and, with a click of a button, you'll have a complete story.
AI Writer Pricing
AI writer has 3 plans: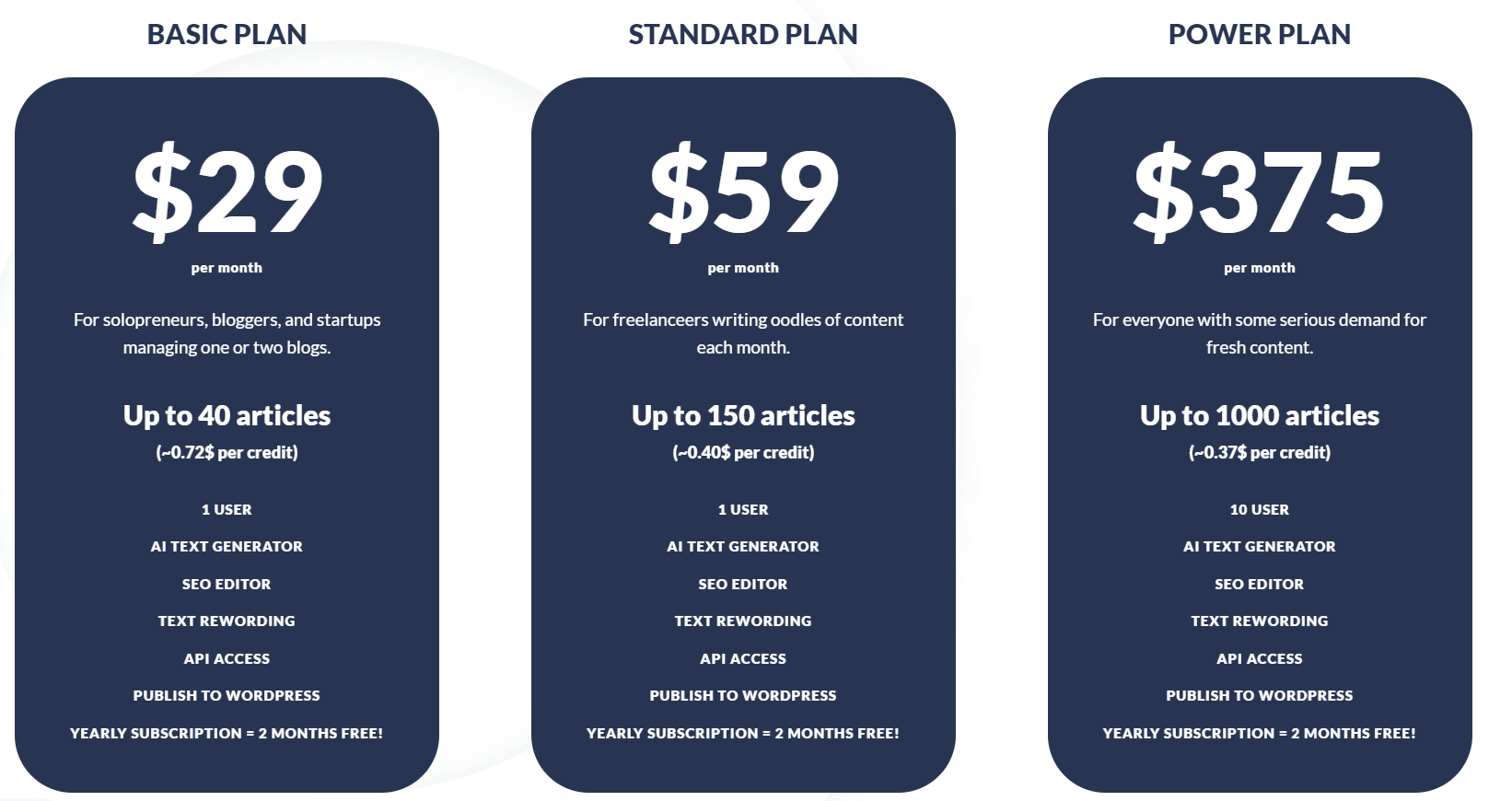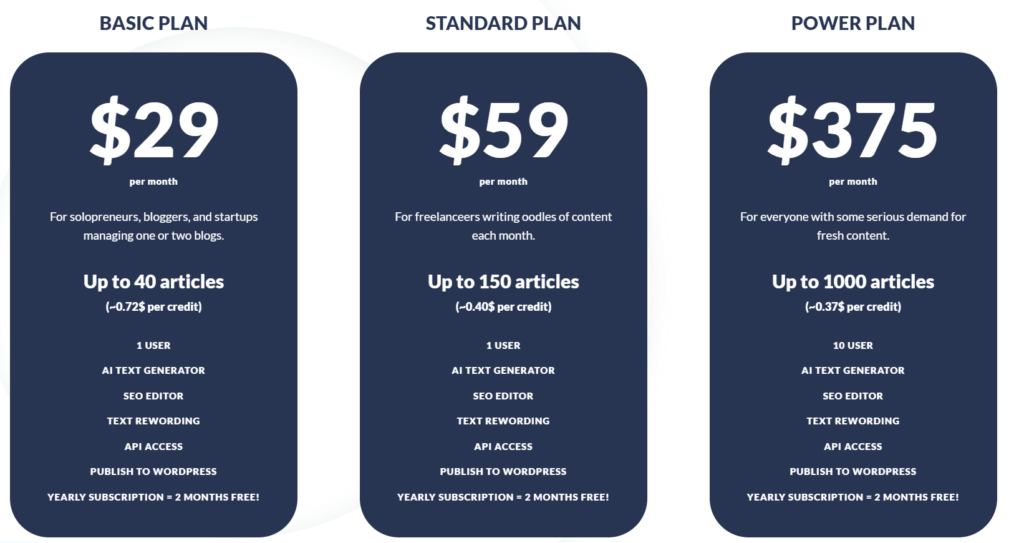 The Basic Plan starts at 29$/month
The Standard Plan starts at $59/ month
The Power Plan starts at $375 / month
The Plot Generator is an AI-based story writing app. It can generate a story using the details you provide.
You can use mythical and fanciful elements to customize the plot of your story. The platform is still being developed, but you can enter your own texts to generate an AI-generated story.
There's a random option built into the plot generator app to automatically select the AI-based attributes without needing user input. You can also generate a pen name for yourself if you want to become a ghostwriter.
Top Plot Generator Features
It can generate movie scripts, story ideas, and characters for your story. So whether you need a romantic comedy or an animated film idea, this tool will help you.
You can fill in the Plot Generators form with some random information in one click, and it will provide you with a variety of different ideas.
it's always nice to publish your story for others to read. You can do this at the Plot Generator website.
Plot Generator Pricing
Plot Generator is completely free.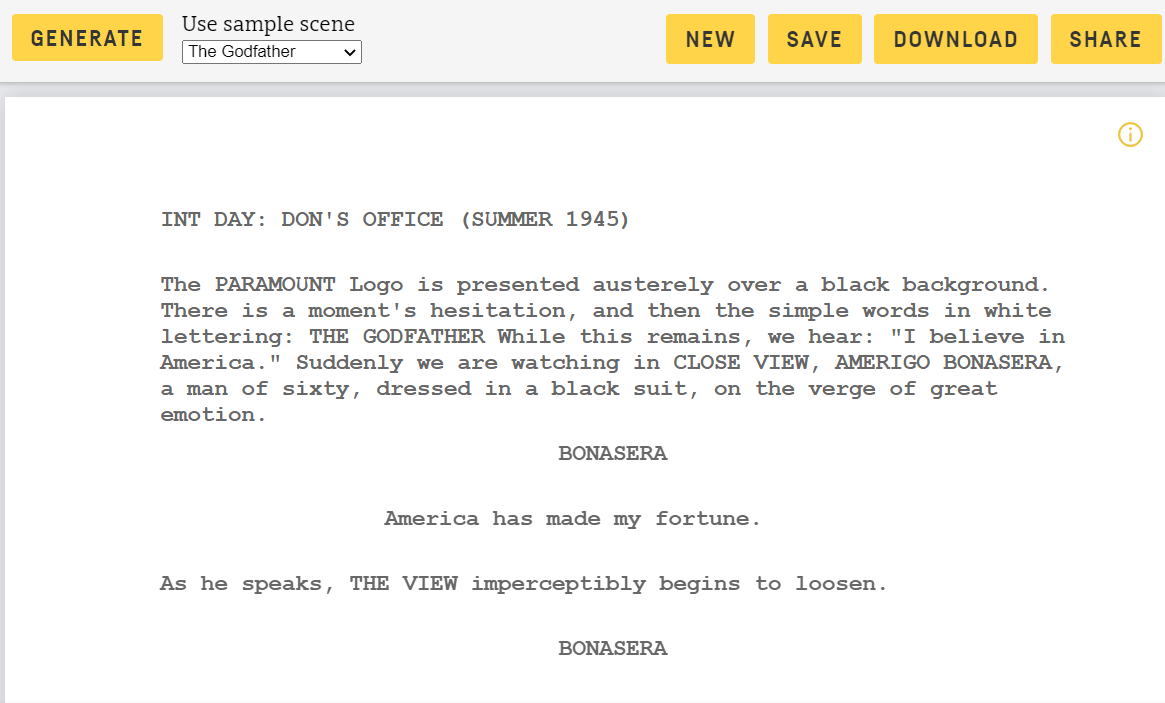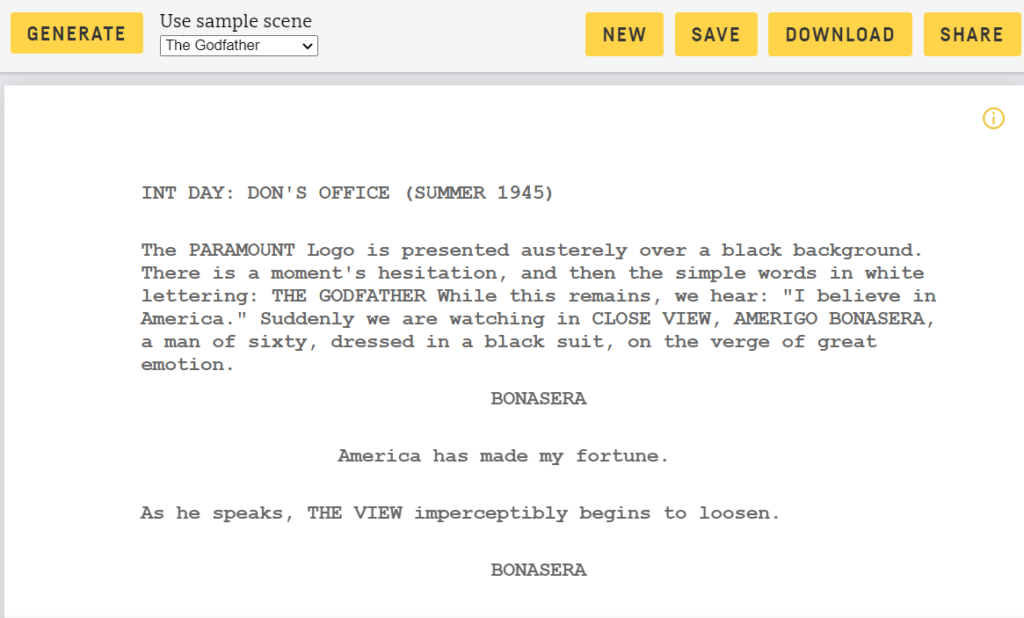 DeepStory is an AI story generator tool that uses natural language processing to produce short, compelling stories.
DeepStory is built around the mix of human creativity and AI to make engaging stories.
Top DeepStory Features
You can choose from 10 different movie scripts like Lord of the rings and Good Will Hunting.
You can choose what kind of story you want to write by selecting the header, action, character, dialogue, or parenthetical type before you proceed.
DeepStory Pricing
You can use this AI writing assistant for free and after some generated text, you'll need to sign up for an account.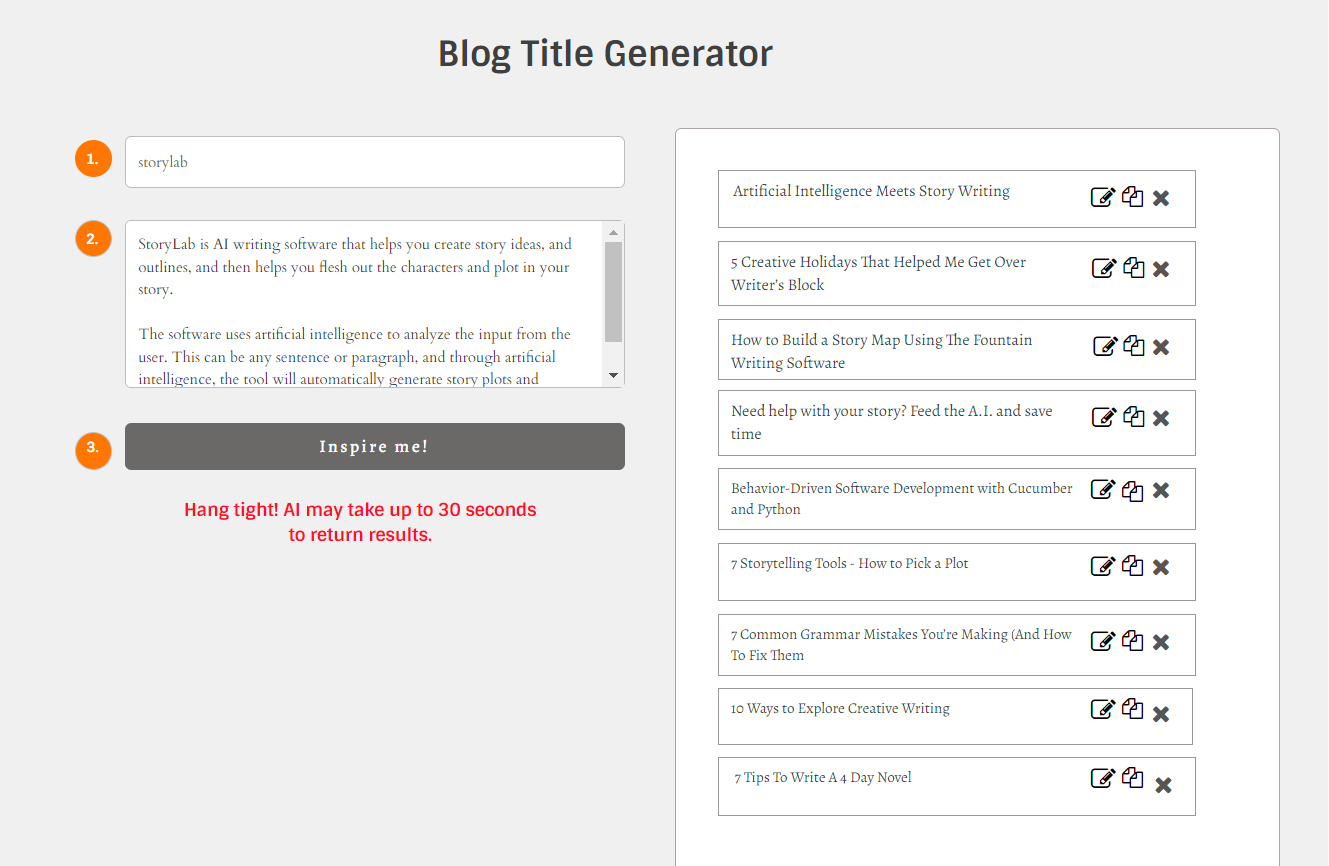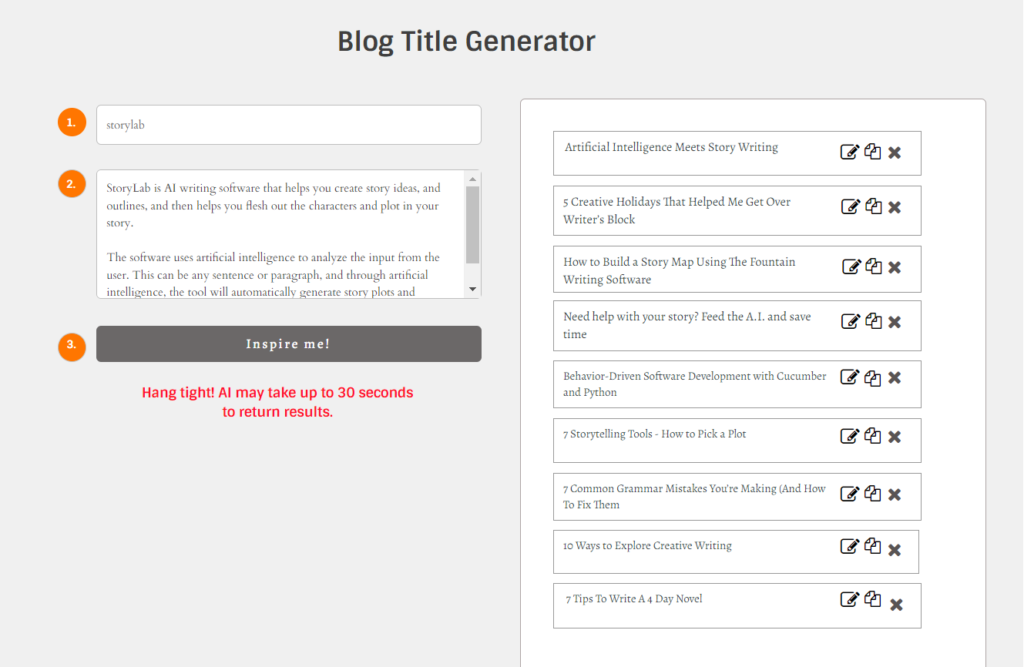 StoryLab is a story generator that includes useful features. Use this tool to create a title, outline, and introduction for your stories. You can then go from there.
Top StoryLab Features
The app is a type of artificial intelligence that's capable of generating stories based on what you input.
StoryLab Pricing
StoryLab has three options: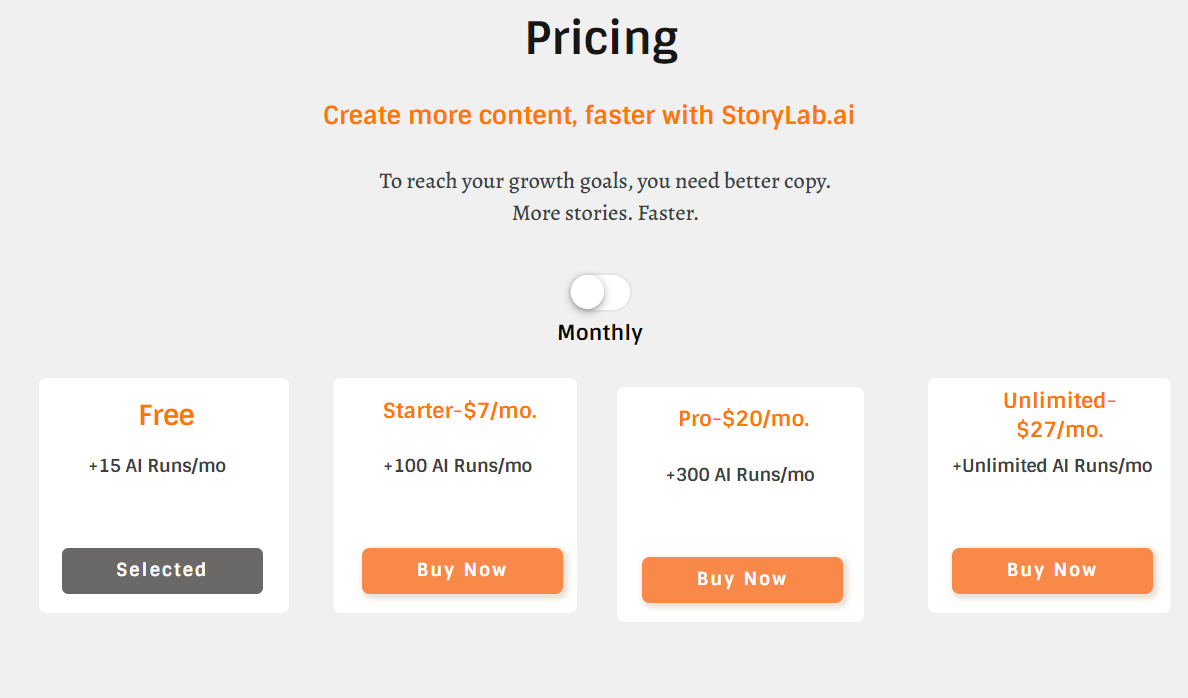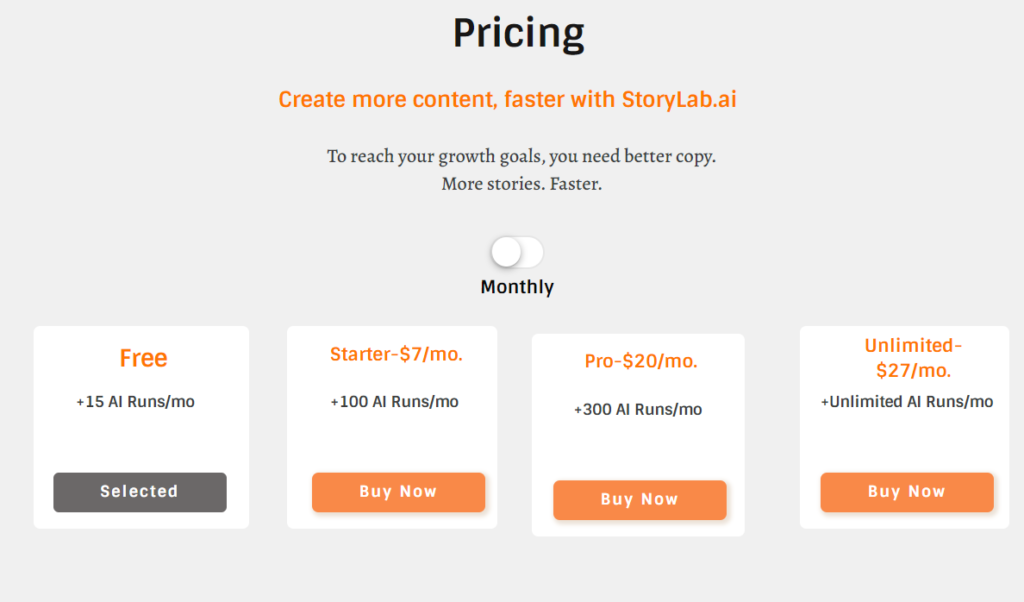 Free Plan: +15 AI Runs/mo
Starter Plan-$7/mo: +100 AI Runs/mo
Pro Plan-$20/mo: +300 AI Runs/mo
Unlimited Plan– $27/mo: +Unlimited AI Runs/mo
How to Choose Which AI Story Generator Fits Your Content Generation needs?
Many AI story generators are available in the market as we mentioned above. But, it is important to choose the right one for your content generation needs.
Here are some factors that you should consider before making your decision:
Budget: The price of an AI story generator tool varies depending on the number of words and quality of content they generate.
Quality: It is important to choose an AI story generator that will deliver high-quality content with a reasonable price tag.
Features: Some AI story writing tools have more features than others, so you should choose one with all the features that you need for your business.
Conclusion
If you're a fiction writer, There are many different AI story generator tools out there, but these are the ten we recommend to fiction writers in 2022.
In particular, I recommend Jasper. This tool contains templates that can help you with different aspects of your story!
Can AI Generate Stories?
The answer is yes and no. Yes, AI can generate stories faster than humans.
On the other hand, some stories require creativity and emotions to be written effectively, and these AI writing tools cannot do well.
but ai generated stories are interesting because they help you get your creative juices flowing. and They can also provide a fun way of telling stories!
Happy Writing!